When it comes to inspecting highway bridges, there is a wide variety of equipment available to facilitate the inspection process. However, when the region alongside and underneath a highway bridge deck must be accessed, safely reaching and working in the areas can be a challenge.
Because bridges can have spans hundreds of feet above the ground or a body of water, under bridge access usually must be accomplished from the bridge deck. This can involve the use of scaffolding of various types or even rope rigging methods for suspending workers from the side or underneath a bridge.
However, in most bridge access situations, bucket trucks, boom lifts, and under-bridge inspection trucks (or UBITs), are utilized for bridge inspection and maintenance work.
Under Bridge Inspection Equipment Choices Require Knowledge and Experience
At McClain and Company, we have provided top-of-the-line aerial access equipment and under bridge inspection equipment for over twenty years.
As we say on our websites' home page,
"Since 1998 our mission has been to provide quality support services to engineering companies and government agencies for the inspection and maintenance of highway and railroad bridges."
One of the many things we've learned over these almost two and a half decades is what type of under bridge inspection equipment is best suited to various types of projects.
For example, McClain's wide selection of under bridge bucket and platform equipment consists of a variety of vehicles from under bridge bucket trucks, vans, and aerial work platforms to under bridge bucket trucks and under bridge inspection trucks that can provide under bridge access of over 70 feet.
Not only are we experienced with the best choices for various types of bridge work and conditions, but we also have the selection of equipment to provide our clients with the right equipment with the right capabilities to fit the needs of a particular project.
In addition, McClain and Company provides flexible rental options.
For example, we offer fully operated equipment rentals of our under bridge bucket and platform vehicles. This means we provide a topside operator/driver as well as an under bridge operator to pull levers and navigate the under bridge bucket or platform underneath the bridge deck.
We also offer a rental option based on the level of experience and the company's insurance coverage to accommodate experienced engineers and contractors who prefer to navigate under bridges themselves.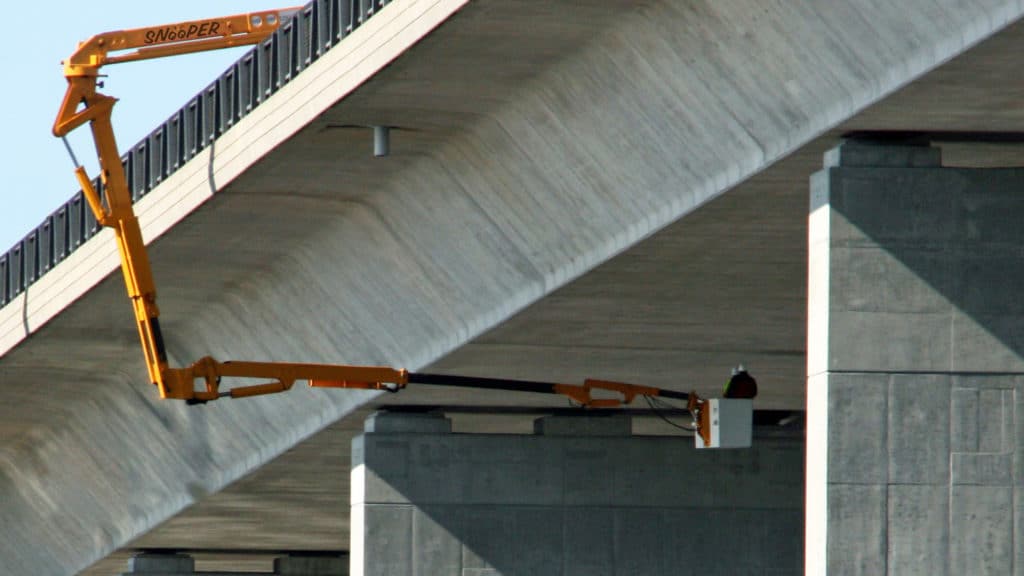 Determining the Type of Under Bridge Inspection Equipment You Need
There are several factors that should be considered including budget and the type of bridge being inspected or worked on.
However, perhaps the top three factors to consider when choosing under bridge inspection equipment are:
Horizontal reach (Bridge width)
Vertical reach (downward depth)
Bridge location
In addition, inspectors should take into account the weight load limits of the bridge as well as limitations for interfering with vehicle traffic flow.
A highway overpass bridge, for example, which is less than twenty feet above the ground could be easily accessed with a small bucket truck or van that has the capacity of providing 30 or more vertical feet of reach.
At the other end of the spectrum might be a highway bridge such as the Tappan Zee Bridge, officially known as the Governor Mario M. Cuomo Bridge. This twin cable-stayed bridge spanning the Hudson River between Tarrytown and Nyack, New York, has a combined width across both decks of 183 feet.
In addition, the distance from the water level to the underside of the bridge deck is 139 feet. All of this adds up to bridge inspection access requirements for equipment that can provide sufficient downward, or vertical, reach to place a bucket or platform underneath the bridge deck – and as far as possible horizontally.
As it happens, McClain and Company did, indeed, provide an under bridge inspection unit for work on this particular bridge with a horizontal under bridge reach of 75 feet.
Of course, even low bridges that are only twenty or thirty feet above the ground are often inaccessible from underneath due to the terrain or the fact that the bridge spans a high-volume roadway. Then you have multiple bridges that span waterways such as lakes, inlets, and rivers.
Unless those bridges are particularly narrow, two-lane structures, or have severely limited load capacities, the use of an under bridge bucket or platform truck is often the best option.
Other Considerations for Choosing Under Bridge Inspection Equipment
The scope of the work, whether it is an inspection or maintenance, will determine in part what type of access equipment is needed.
Most routine bridge inspections can be easily carried out by just one or perhaps two inspectors. In most situations, the equipment required is usually comprised of smaller and relatively lightweight instruments. All of which simply means that a standard "bucket" work platform is sufficient for the job.
These buckets typically measure roughly three feet by five feet and have a weight capacity of up to 700 pounds, many times, which can accommodate up to three persons.
On the other hand, if the work being done involves heavy equipment, multiple tools, and personnel, then a truck or trailer mounted inspection unit with a longer platform may need to be used. Some of these units, such as the MOOG MBI 210-2/S trailer mounted under bridge unit, have platforms that are six and half feet wide and can extend out to over 68 feet in length and hold up to 2,200 pounds.
However, if a crew is working on a smaller, narrower bridge that does not require such large equipment, a truck-mounted platform unit can be had that boasts a lowering depth of just 17 feet and horizontally up to 24 feet. With a platform weight capacity of 880 pounds, it can still support a small crew of workers and tools.
Consider Your Source for Under Bridge Inspection Equipment
Generally speaking, it is not overly difficult to find and rent large construction equipment, including under bridge construction and inspection equipment. However, finding a resource and vendor that is both professional and knowledgeable can be a challenge.
In addition to providing the right machines for the particular project and tasks you need to accomplish, knowing that the equipment you will rent is in proper working condition and fully inspected is critical. And having a highly trained and experienced support staff that you can consistently rely on is a key deciding factor, as well.
Ideally, the firm you choose to rent your under bridge inspection equipment from should be able to deliver your rental in a timely manner and should provide open, clear, and reliable communication throughout the rental process.
In addition, customer service should extend far beyond facilitating the rental application process.
Above all else, safety is and should always be the priority for both the firm renting the equipment as well as the operators and users of the equipment. Safety begins with the proper equipment rental recommendation for the client ad extends to the assurance that the equipment is fully functional to the manufacturer's specifications. Along with up-to-date inspections and current maintenance, every piece of equipment should be provided with any necessary training or with a rental company operator/driver.
Simply looking to save money with a "discount" vendor is a sure path to potential problems, safety issues, and possible liability concerns.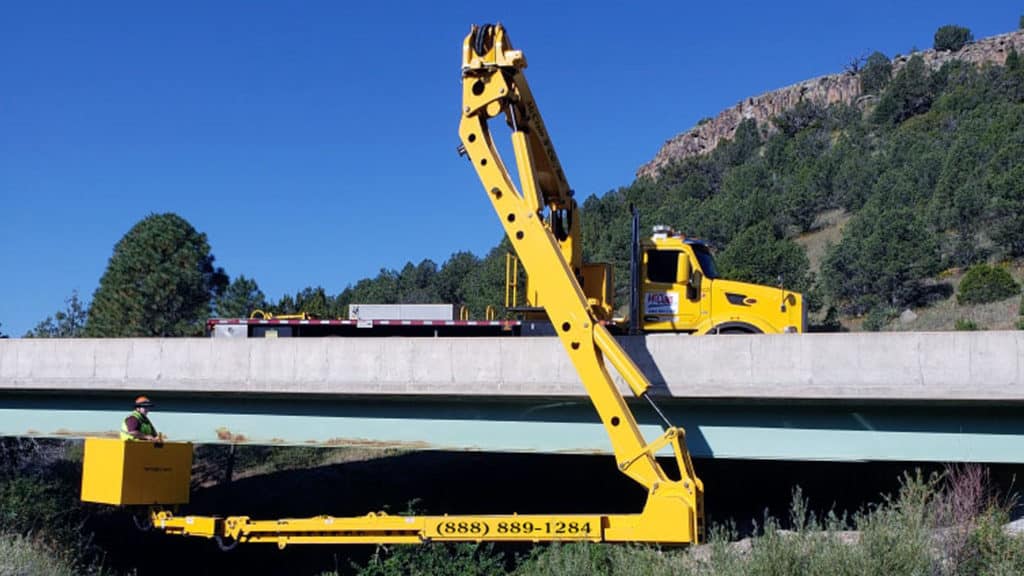 Timeliness, Communication, Quality, and Professionalism – McClain and Company
McClain & Co., Inc. has earned a reputation during the last two and half decades that is built on our track record of integrity, reliability, and expertise.
That overriding reputation of high quality is continually supported by our premier equipment rentals, our continual training and certifications, and our exceptional customer service. McClain has always believed that attaining a quality level of enterprise is the direct result of intentional decisions and choices by our leadership.
We've never resorted to marketing cliches nor less-than-truthful advertising to establish a competitive position in our industry. On the contrary, McClain and Company has simply pursued quality in everything we do and in every type of equipment and service we provide to our customers.
Our professional staff interacts with clients each day with the goal of ensuring the highest level of service and production for all our jobs and, as a result, helps them complete their projects effectively and efficiently.
And that is how we have successfully practiced our deeply held belief that customer service truly is our number one priority.
For the Best for Under Bridge Inspection Equipment You Can Rely on McClain and Company
Owner Daniel McClain and the team at McClain and Company believe in providing the very best in customer service. For us, this also means offering our customers the very best in under bridge inspection equipment rentals.
We firmly stand by the belief that your success is our success, which is why our goal is to do all that we can to provide you with the best under bridge inspection rental for your specific project.
Maybe you already know what under bridge inspection equipment you'd like to rent?
You can request a quote today and schedule your rental with us. And remember, in addition to Under Bridge Inspection Equipment rentals, McClain and Company also offers a wide variety of Utility and Aerial Equipment rentals as well as other related services.
If you have questions about our world-class underbridge inspection unit rental services or want to learn more about under bridge platforms and under bridge inspection unit rentals, you can contact McClain & Co., Inc., by calling us at 1.888.889.1284 or emailing us at [email protected].