Many of the country's highway bridges are in poor condition and require urgent attention. Out of more than 618,000 bridges across the United States, over 220,000 need some form of structural improvement, restoration, or replacement.
However, these critical infrastructure projects cannot simply halt or divert the traffic flow in many cases. Often, the work involves managing and maintaining the traffic in a safe and efficient manner.
This creates a high demand for traffic control equipment services.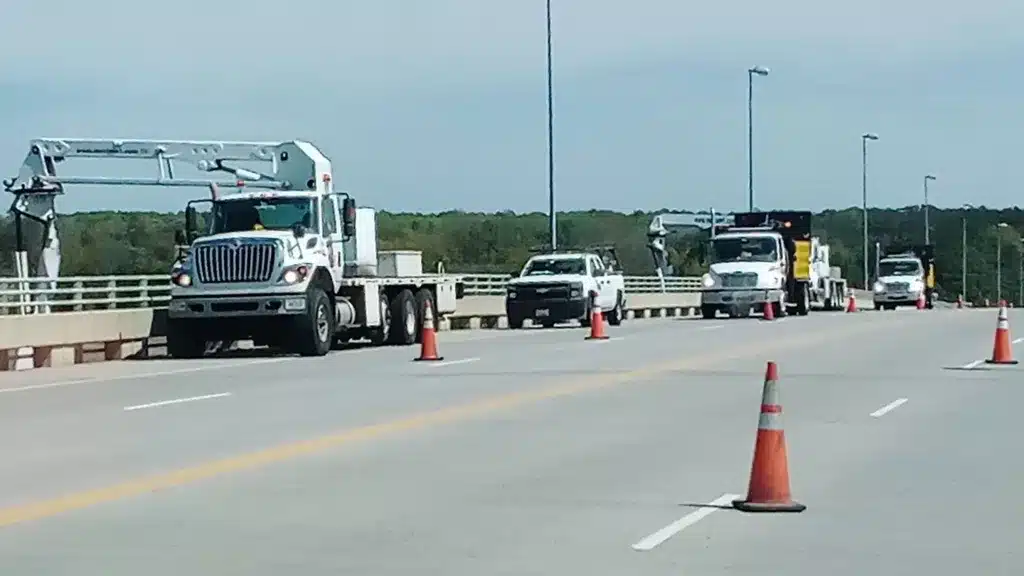 The Benefits of Choosing McClain & Co., Inc. for Traffic Control Equipment and Services
At McClain & Co., Inc., we are not only experts in bridge inspection equipment services, but we also have more than 10 years of experience in the bridge and highway construction industry.
We know the challenges and complexities of bridge and highway construction work, and that's why we value punctuality and communication. Our main objective at McClain & Co., Inc. is to help your company complete its projects successfully.
We achieve this by having a team of highly qualified and certified professionals who have a wide range of skills and knowledge. No matter what type of project you have, whether it's restoring existing structures, installing underbridge utilities, or setting up road signs and highway lights, we have the right equipment and expertise to meet your needs.
Renting traffic control equipment from us is a smart and efficient choice for construction companies, as it saves you time and money compared to buying your own equipment. Some of the real benefits include:
Ready access to a variety of traffic control and MOT equipment
No need to provide additional storage space for owned equipment.
The use of the best high-quality equipment
Cost savings through delivery of equipment versus transporting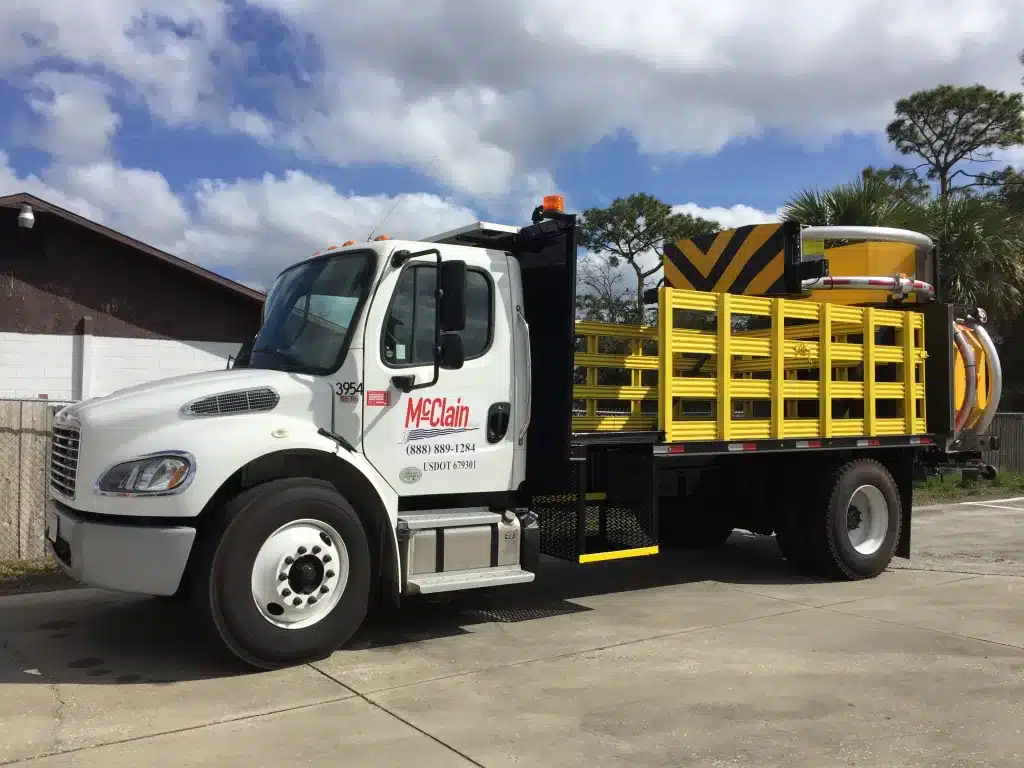 TMA Truck Rental and TMA Rental Equipment – Traffic Control Safety Services
Truck Mounted Attenuators (TMA) are also called safety trucks, crash trucks, or impact attenuator trucks. They are designed to protect the driver, workers, and pedestrians from collisions. They also allow for the safe transport of equipment between different work zones.
The TMA vehicle should be the first one that drivers see in a typical traffic control operation.
At McClain and Company, we are happy to offer the Scorpion® TMA Model C (TL-3) – Truck-Mounted Attenuator as a rental option, with or without a McClain operator.
The Scorpion TMA Model C can fold up and over the bed of various types of trucks, such as dump trucks, flat bed trucks, or stake bed trucks. The Model C has a compact and efficient design with balanced weight distribution that makes it suitable for high-speed travel. The Scorpion TMA can also be mounted on the side of the truck.
We also offer the SS180™ – TMA and the SS90™ HD-TMA – Truck-Mounted Attenuators.
Maintaining Traffic Control with McClain and Company Traffic Control Equipment Rental
There are a wide variety of traffic control safety services equipment available for maintaining traffic flow and control through and around bridge and road construction sites.
These include Temporary Traffic Control (TTC) planning for:
Temporary Shoulder Closure
Temporary Single Lane Closure
Temporary Lane Shift
Our Traffic Control Equipment Rental services include:
Towable Arrow Boards
4TN4000 – Towable Light Tower
Towable Message Signs and Traffic Control Signs
For the purposes of establishing traffic flow, we have various TTC Channelizing Devices:
Type I, II and III Barricades
Lifeguard Channelizer Drums
Hi-Visibility Fluorescent Traffic Cones (6″, 12″, 18″, 36″, and 42″ sizes)
In addition to services and equipment focused on safety and traffic control, the McClain and Company Construction division offers specialized services to aid and assist with your bridge and highway projects.
McClain & Co., Inc. has the experience and flexibility to ensure that all Preventive Bridge Maintenance projects are completed in a timely manner even with the most aggressive of scheduling timelines. McClain & Co., Inc. maintains one of the largest fleets of Underbridge Access Equipment in the industry, as well as an extensive group of Utility and Aerial Truck Rental Equipment. This fleet is available to our Construction Division as needs arise, even if those needs happen to rise unexpectedly.
For example, we can provide Bridge Rehabilitation projects that can include but not limited to:
Bridge deck repairs and overlays
Concrete substructure and superstructure repairs
Steel structure repairs and rehabilitation
McClain & Co., Inc. also offers Preventive Bridge Maintenance projects that include:
Bridge Washing and/or Cleaning
Deck Joint Sealing
Facilitating Drainage
Concrete Sealing
Channel Debris Removal
In addition, because we understand that well-maintained signs are essential to assist drivers in making the right decisions, we also know that highway signage must be clean, legible, and in excellent condition in order to be used correctly by drivers.
To that end, McClain Construction also provides highway signage installation services.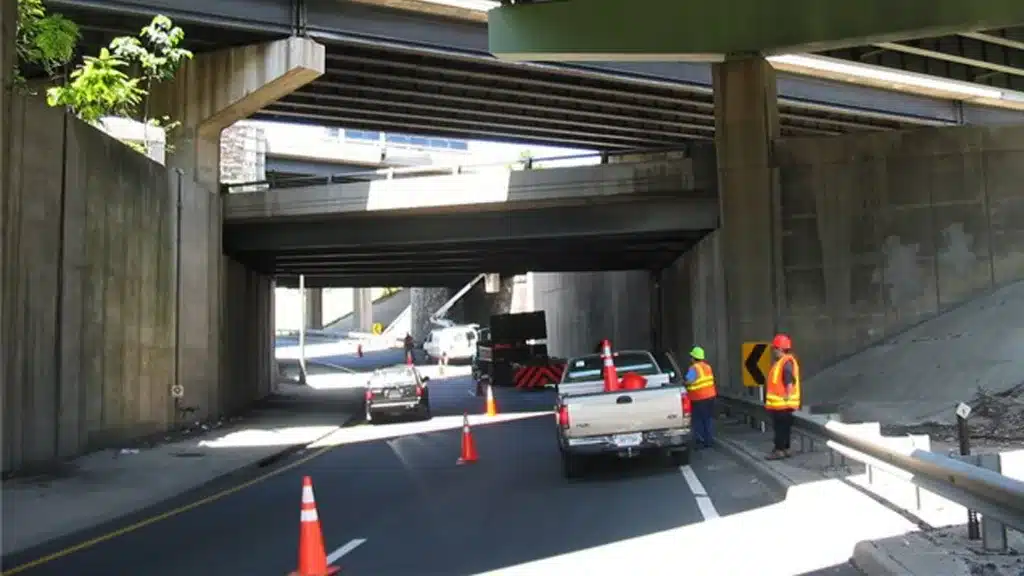 McClain and Company for the Best in Traffic Control Equipment Services
McClain is your trusted partner for bridge and highway construction, offering MOT and traffic control equipment services. We can provide you with everything you need, from cones for temporary traffic maintenance, to access equipment for highway signage or light pole installation work.
Our owner, Daniel McClain, believes that customer service is our top priority. We also believe that everything we do in our business must serve our customers.
We care about your success, because we know that your success is our success. That's why our main goal is to help you finish your project successfully.
If you want to know more about our excellent bridge, highway and MOT construction services, or our rental process in the Culpeper, Virginia area, please contact McClain & Co., Inc., by calling us at 1-888-889-1284, or emailing us at [email protected].