McClain and Co., Inc.: Taking Under Bridge Access Truck-Mounted and Trailer-Mounted Unit Rental to New Heights
Knowing exactly what equipment you need that best meets the requirements of a project can be challenging.
Performing bridge inspections, repairs, and maintenance work requires specialized equipment. Bridge inspectors must be able to carry out visual and "hands on" inspections effectively. And, in almost every situation, that requires having under bridge access.
That means using some type of under bridge inspection equipment that is either a truck-mounted or trailer-mounted unit that can place a bucket or platform underneath a bridge.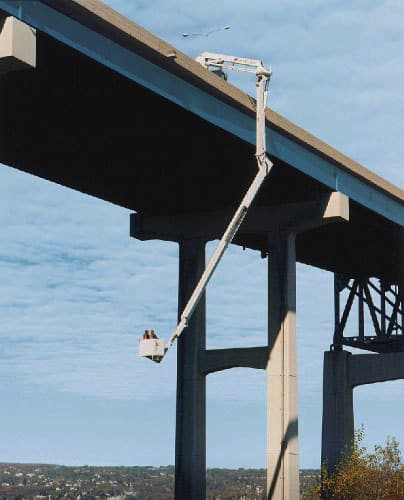 Professional Under Bridge Inspection Work Requires Specialized Equipment
In addition to bridge structures being beyond the reach of conventional telescopic bucket lifts positioned underneath, many bridges are situated over active roadways, waterways, or other inaccessible terrain. This means that under bridge inspection work must often be performed from the bridge deck.
As a result, crews must make use of truck-mounted or trailer-mounted under bridge inspection units that provide under bridge access from above.
We recognize that there are other under bridge access options available, including scaffolding and rope rigging. But for most bridge inspection, maintenance, and repair situations, an under bridge inspection unit is the preferred choice of equipment.
These units make up our quality selection of under bridge access truck-mounted and trailer-mounted rental units.
Under Bridge Inspection Unit Rental Options from McClain and Company
At McClain & Co., Inc. we offer a broad selection of different under bridge access truck-mounted and trailer-mounted units. Depending on the needs of your bridge work project, you can choose from a wide range of rentals.
Our largest unit offers an articulated boom under bridge inspection platform that provides a maximum lowering depth of 85 feet and a horizontal under bridge reach of up to 75 feet.
On the other end of the scale, our smallest units are perfect for many under bridge inspection and maintenance jobs, such as an agile trailer-mounted platform that offers a 24 foot reach under a bridge deck and a 17 foot lowering depth. 
Our rentals include both truck and trailer-mounted units featuring two or three man buckets, as well as units with extended platforms.
Your choice of a rental unit depends largely on the requirements of your project. Considerations include the horizontal under bridge reach, vertical or lowering depth, and the ability of a unit to place the bucket or work platform at required locations underneath the bridge deck.
An additional consideration when choosing which under bridge inspection unit to hire is its ability to raise the bucket or platform over bridge railings or fencing, and across catwalks or sidewalks, as well.
A few of the units that McClain and Co. provides are moved along the bridge deck to position their buckets in different work areas. Many of the larger units have a more extensive reach and can rotate their platforms or buckets 180 degrees from side-to-side.
McClain and Co., Inc. Provides Certified Operators with All Rentals
All under bridge inspection platform rentals come with trained McClain and Co., Inc. operators who function as CDL/DOT approved drivers for the units. In addition, a trained topside McClain operator is included.
All our operators are highly trained and fully certified. 
McClain and Company also knows that many experienced contractors and engineers may prefer to operate under bridge navigation themselves. We offer options to accommodate everyone based on their level of experience and their company's insurance coverage.
McClain and Co., Inc. requires a Certificate of Insurance for all under bridge inspection unit rental options.
McClain & Co., Inc. – Experience and Diversity of Services
Owner and founder Daniel C. McClain established McClain & Co., Inc. in 1998. In the more than two decades since, the company has expanded to provide support services to hundreds of government agencies and engineering companies for bridge inspections and maintenance.
During those years, McClain has become one of the largest suppliers of under bridge access equipment in North America. In addition, the company has evolved during the last 20 years into a diverse organization with several divisions.
Today, McClain & Co., Inc. is perhaps best known for its specialized under bridge access equipment rentals. We are proud to be the premier source for renting specialized under bridge equipment allowing for inspectors to safely access all parts of any bridge in North America.
Our company's goal is to provide our clients with the highest quality under bridge equipment in the industry to safely complete every job.
Superior Under Bridge Inspection Unit Rentals and Superior Customer Service
Owner Daniel McClain and the team at McClain and Co., Inc. believe in providing the utmost in customer service, and this means offering our customers the very best in equipment rentals.
We firmly believe that your success is our success, which is why our goal is to do all we can to help you choose the best inspection equipment to serve your needs.
Request a Quote and Schedule Your Next Nationwide Rental with Us. Traffic Control Service and Device Rentals Are Also Available in Select States from McClain & Co., Inc.
McClain & Co., Inc. was established in 1998 to provide support services to engineering companies and government agencies that inspect and maintain bridges. The company has grown to become one of the largest under bridge equipment suppliers in North America. To find out more, reach out to us at 1-888-889-1284 or contact us at [email protected] today!