As professionals in the transportation infrastructure field, the types of infrastructure you find yourself working on can range from interstates to railways. And in the case of the latter, renting hi-rail trucks can be a beneficial strategy for several reasons.
For railway work, whether that's on the rails and railbeds themselves or on the thousands of railway bridges in the rail system, specialized equipment is often required. And one of the most versatile is the hi-rail truck.
A Look at Hi-Rail Trucks for Railway Work
For those who have not yet worked on or around railways, the term may be somewhat unfamiliar.
Essentially, a hi-rail truck is a dual-purpose road-to-rail vehicle that can operate on both rail tracks and conventional roads. These specialized vehicles are also known as "high-rail" and "hyrail" trucks. These unique hi-rail trucks typically have a set of flanged steel wheels that can be deployed to allow the vehicle to travel on railways.
Because of the relative simplicity of the guide wheel attachments, all types of trucks and other vehicles can be converted into "hi-rail" vehicles. These include pickup trucks, inspection vehicles, signal maintainers, service trucks, and material handlers, as well as others such as welder vehicles, section trucks, and rotary dumps.
Regardless of the type, however, the common benefit of all hi-rail trucks is that they are dual-purpose road-to-rail vehicles that can be used on both railway tracks and bridges as well as on all conventional roads. Consequently, hi-rail trucks are used almost exclusively as part of railway construction and maintenance.
In addition, there are specific vehicles sometimes referred to as BIVs (Bridge Inspection Vehicles), under bridge inspection units (UBITs), or hi-rail bucket trucks that are used to perform a wide variety of rail construction and maintenance duties, including railway bridge inspections.
In the same manner as those large, under bridge access vehicles used for highway bridge inspections and bridge work, these particular types of hi-rail vehicles allow inspectors to be positioned below the bridge deck to inspect railway bridge structures such as load-bearing components, beams, and supports.
What many who work on railways find is that much of their work is comprised of short-term projects. And many will also find that there are benefits to renting hi-rail trucks for that reason.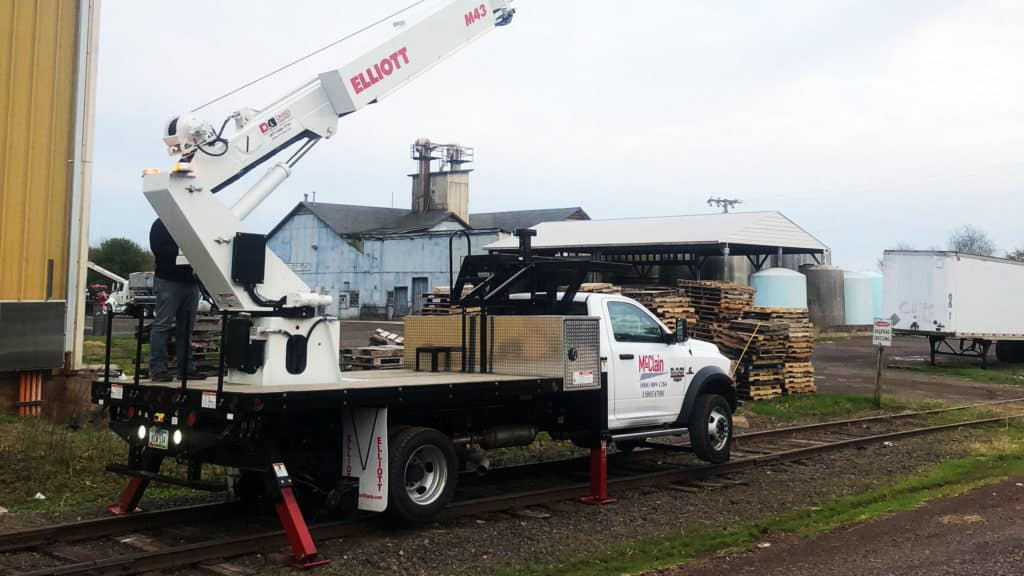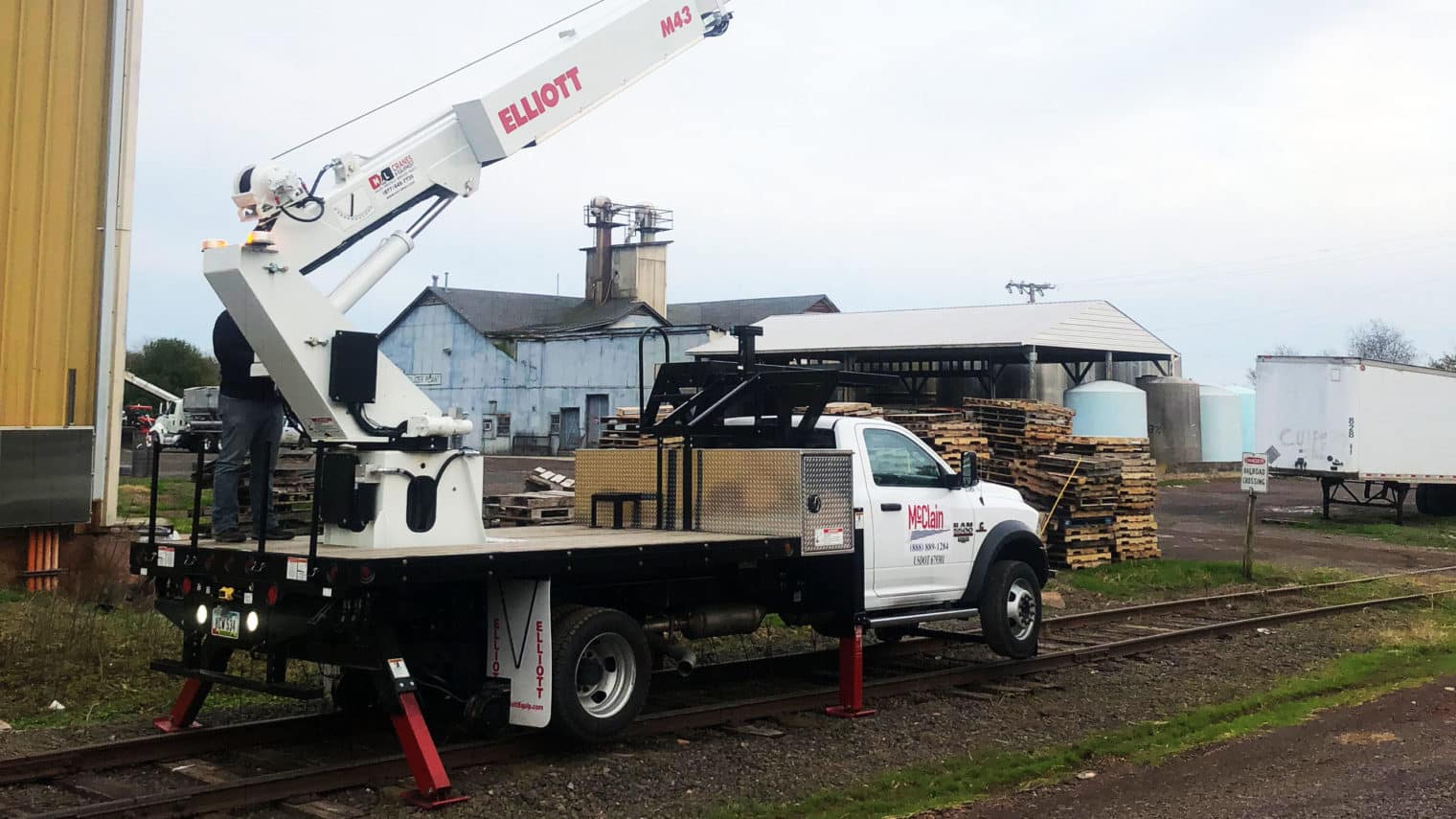 Benefits and Advantages of Renting Hi-Rail Trucks
While many large enterprises purchase and maintain hi-rail vehicles, renting hi-rail trucks for short-term projects has several advantages, including:
Renting Hi-Rail trucks for short-term projects can be a cost-effective solution because purchasing these vehicles can incur unnecessary expense. If you only need a vehicle for a short period, renting will save you money.
In addition, renting Hi-Rail trucks provides flexibility in choosing the right equipment for your project and for a rental period that matches the length of your project.
Because all reputable equipment rental companies provide well-maintained Hi-Rail trucks that are in excellent working condition, this will ensure that your project runs smoothly.
By renting Hi-Rail trucks, you will have reduced downtime that is associated with equipment breakdowns. Rental companies typically provide on-site support to ensure that any issues are resolved quickly.
When you rent Hi-Rail trucks, you also don't need to take care of maintenance or incur repair costs as the rental company takes care of all maintenance and repair needs.
Renting Hi-Rail trucks gives you access to the latest vehicle technology, which can help you complete your project more efficiently.
For most short-term project needs, renting Hi-Rail trucks can be an excellent solution for companies looking to save money, reduce downtime, and increase safety and project efficiency. Perhaps the greatest advantage, however, are the cost savings and versatility of being able to simply rent the vehicle you need when you need it.
Getting Around on Railroad Bridges with Hi-Rail Trucks
Hi-rail trucks are used for a variety of purposes on railways.
They are perfect for rail-inspection duty and especially for railway bridge inspections. In addition, rail crews can use these specialized vehicles for railway bridge maintenance and repair work. Not only do the beams and supports situated under a railway bridge deck need to be accessed safely, but many railway bridges are also built with overhead trusses and girders.
Hi-rail trucks with telescopic booms that support work platforms can be used to give workers safe and stable access to overhead bridge structures.
One of the challenges of inspecting, maintaining, and repairing railroad bridge structures is the wide variety of types and construction of these bridges.
In fact, there are approximately 10 types of railroad bridge designs. Of these various structural designs, the majority use beams, trusses, girders and spans. Most rail bridges in use today are built out of steel, iron and concrete. However, of the close to 100,000 railroad bridges in the United States, there are still approximately 30,000 that are constructed from timber.
Along with providing both below and above deck access, one of the other major advantages of hi-rail trucks is that they can be used on all railroad bridges regardless of their construction or design.
Much like the relationship between the Federal Highway Administration (FHWA) and state DOTs, the Federal Railroad Administration (FRA) oversees all the bridge safety efforts the railroad companies undertake. These include mandatory physical inspections as well as various types of maintenance, repair work, and even the periodic replacement of railroad bridges.
And, similar to the specifications laid out for highway bridges, railroad bridges have a definition based on the FRA's Code of Federal Regulations,
"Railroad bridge means any structure with a deck, regardless of length, which supports one or more railroad tracks, or any other undergrade structure with an individual span length of 10 feet or more located at such a depth that it is affected by live loads."
To this end, the railroad industry employs qualified railroad bridge engineers, inspectors, supervisors, and other personnel. These workers collectively use their extensive safety-oriented expertise for inspecting, reporting on, and providing specialized maintenance for railroad bridges.
Some of the common maintenance tasks also include dealing with bridges or smaller structures that use timber as a structural component.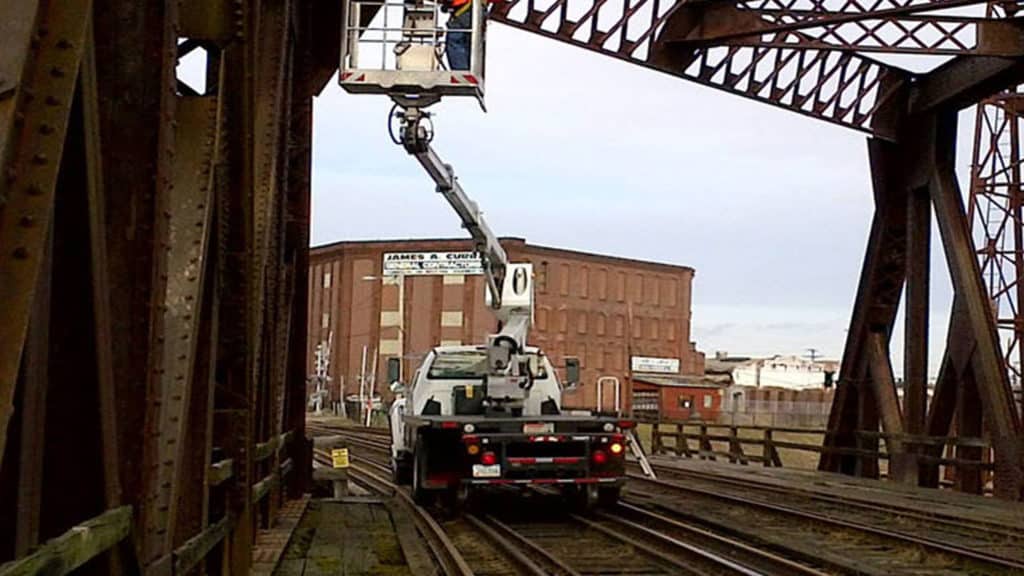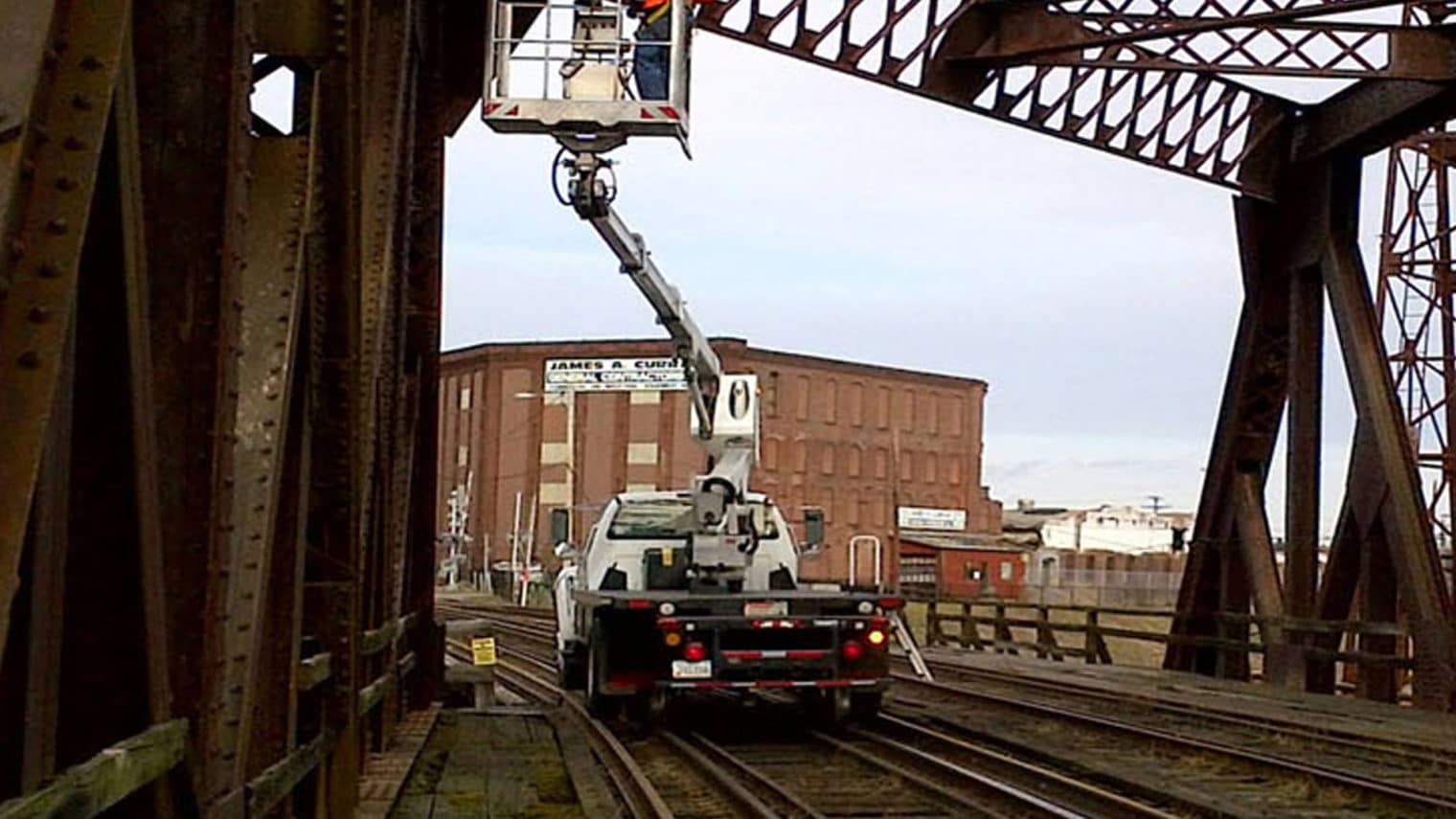 The Advantages of Renting Hi-Rail Trucks from McClain and Co.
Hi-rail trucks and equipment are great demand throughout the United States, which is understandable when one considers that there are over 140,000 route miles of rails in in our railway transport system. Add to that all the thousands of railroad bridges that span canyons, roadways, and waterways and it is easy to appreciate the scope of work required to inspect and maintain it all.
The Federal Railroad Administration provides the following data on the significance of our railways,
"The U.S. freight rail network is widely considered the largest, safest, and most cost-efficient freight system in the world. The nearly $80-billion freight rail industry is operated by seven Class I railroads (railroads with operating revenues of $490 million or more) and 22 regional and 584 local/short line railroads. It provides more than 167,000 jobs across the United States and offers ancillary benefits that other modes of transportation cannot, including reductions in road congestion, highway fatalities, fuel consumption, greenhouse gases, cost of logistics, and public infrastructure maintenance costs."
Unlike roadways, the nation's freight railroads are owned by private organizations that are responsible for their own maintenance and improvement projects. In addition, railroad owners invest one of the highest percentages of revenues compared with other major modes of transportation to maintain their system.
According to the Association of American Railroads (AAR),
"To the trained eye of railroad bridge safety experts, each bridge is amazingly complex. Of the more than 61,000 Class I railroad bridges in the United States, each one has a unique history, is tasked with supporting a unique pattern of rail traffic and must ensure safe and smooth travel for passengers and freight."
They also point out that, regular inspection of railroad bridges contributes more to the ability to safely carry trains than any other component of bridge maintenance and that trained experts inspect railroad bridges at least once a year.
This means that overhead and under bridge access must somehow be gained from the bridge deck, which is why specialized bridge inspection vehicles such as hi-rail bucket trucks are typically used.
Safety, reliability, and affordability are key requirements for renting hi-rail truck. Whether the need is for annual inspections, routine rail or bridge maintenance, or periodic repairs, it is critical for railroads and workers to have a reputable and knowledgeable source for hi-rail equipment rental.
And the team at McClain and Company wants to be that source.
McClain and Company for the Best in Hi-Rail Truck Rentals
When it comes to renting hi-rail trucks, the team at McClain and Company works hard to deliver the absolute best in both hi-rail rental equipment and customer service.
And, in addition to our great selection of Hi-Rail Equipment rentals, McClain also has a wide variety of other Utility and Aerial Equipment rentals as well as other related services.
If you have questions about our hi-rail truck rentals or any of our other equipment rental services – or simply want to learn more about Hi-Rail trucks – you can contact McClain and Company by calling us at 1.888.889.1284 or emailing us at [email protected].