As noted in a previous article, the United States boasts a network of railways that carry almost 30 percent of U.S. freight movement by ton-miles, which is the length and weight of freight travel.
These privately owned tracks add up to about 140,000 route miles and are found in every state except for Hawaii. In addition, the thousands of freight trains that haul this portion of the nation's freight crosses thousands of railroad bridges in the process.
And these railway bridges must be regularly inspected to maintain the standards of safety and integrity required by federal mandates.
Railroad Bridge Inspections Require Special Equipment Like Hi-Rail Bucket Trucks
Simply put, hi-rail vehicles are used by railroad personnel to travel on and maintain railway track systems.
In particular, hi-rail bucket trucks allow inspectors to be positioned below the bridge deck to inspect load-bearing components, beams, and supports. In addition, under bridge access provided by a hi-rail bucket truck also lets inspectors look at the underside of railroad ties.
A versatile hi-rail-bucket truck will also be able to position the working bucket overhead so that workers can inspect any trusses above the bridge deck and rails.
In a similar fashion to the inspection of highway bridges, railway bridges consist of many parts and components that cannot be seen nor accessed from the bridge deck itself. This requires some form of support either underneath or alongside the bridge structure.
And the most efficient form of access and support platform is a hi-rail bucket truck.
Most all railroad bridges are built with steel plate girder construction, trestle bridge construction, and through-truss steel construction, among others.
As an article from American-Rails.com has noted,
"The most common railroad bridges are probably variations of the span plate girder designs. These bridges typically only span small streams, cuts, or open areas and are relatively cheap and inexpensive to build."
One other bridge construction type warrants mention here is the arch bridge.
While not as common in the U.S. as most other bridge construction methods, these structures are often notable for their beauty and striking designs. Many engineers also consider the arch bridge as the perfect form for handling the heavy load of a train since the materials in the bridge are always in compression.
The Tunkhannock Viaduct in Nicholson, Pennsylvania, for example, is the highest and largest concrete railway arch bridge in North America, with a span of 2,375 feet (724 m) and crossing 240 feet above the creek bed.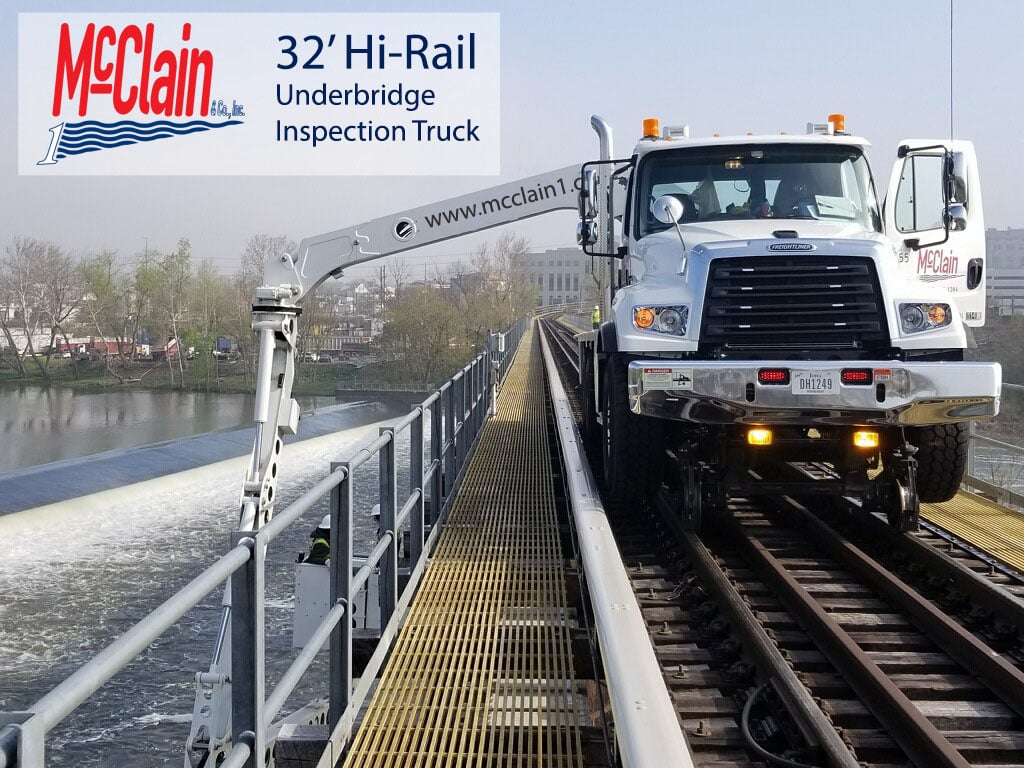 Why a Hi-Rail Bucket Truck is the Equipment of Choice for Railway Bridge Inspections
Railway bridges are notoriously difficult to traverse on foot, and inspectors obviously can't perform the work they must carry out from a train engine. Even the trusty handcar has massive limitations when it comes to supporting bridge inspection work.
Accessing the under bridge regions of a railroad bridge structure is often impossible from the ground below. Even if a bridge is relatively low, it often spans a creek, river, or other body of water. And in many cases, these bridges traverse highways. All of this means that aerial lift equipment positioned on the ground beneath these low bridges is still impossible.
Above a certain height, this option becomes moot. Scaffolding, ladders, or ropes are sometimes used, but these methods, too, are often limited, which is why the use of a reliable hi-rail bucket truck for under bridge and overhead access is preferred by most inspectors.
The use of this specialized vehicle is regulated, and operators must be trained. The trucks themselves are often standard roadway vehicles that have been modified with the addition of retractable flanged wheels so that the vehicle may travel over the highway or on railroad tracks.
Hi-rail vehicles, sometimes referred to as "road-to-rail capable" vehicles, provide relatively easy access to railroad tracks from any road crossing that is at grade. With the front flanged wheel guide assembly in position, it lifts the front wheels off the track, which allows it to use the vehicle's front suspension.
This design supports the vehicle as it was intended and helps the truck navigate curves smoothly and dampen out the effects of track irregularities.
In addition, these rail and roadway maintenance machines are manufactured to meet Federal Motor Vehicle Safety Standards.
As dual-mode vehicles, they can operate on rail tracks, highways, or roads. This dual-mode capability is what gave rise to the name "hi-rail," referring to "highway" and "railway" usage.
In addition to the flanged wheels, a steering lock is installed in hi-rail equipment to ensure that the vehicle doesn't steer off the track. Fortunately, when on the railway, hi-rail bucket trucks and similar vehicles don't need to be steered, as the track itself determines the forward direction.
Another advantage of using a hi-rail bucket truck is that it serves as an inspection vehicle for working on the railway and provides easy access to a railway bridge when there are no access roads to the railway being worked on.
Working with a Hi-Rail Bucket Truck for Inspections
Those who have never operated or worked from a hi-rail truck may wonder how the truck is set from the road onto a railway track.
The procedure is essentially as follows:
After ensuring no oncoming road traffic or trains are visible on adjacent tracks, the hi-rail truck is driven slowly up onto the track. The wheels are carefully lined up with the rails. The truck could be derailed if the tires are turned inward or outward.
The rear gear is lowered so that the flanges of the hi-rail wheels rest comfortably inside the ball of the rail.
The same procedure is then carried out to lower the front gear.
Before traveling, a short brake test is performed to determine the stopping distance needed. This is important since weather conditions such as rain and snow can affect the effectiveness of the vehicle's braking system.
Once the truck is placed on the track, the inspectors simply drive into position on the bridge and, if the truck utilizes outriggers, deploys them, and secures the vehicle for operation.
At McClain and Company, we offer three models of hi-rail bucket trucks:
A 60-foot Hi-Rail Bucket Truck featuring a 2-man bucket with a 500-pound capacity and booms that provide a working height of 66 feet and horizontal reach of 30 feet. In addition, this unit comes with an in-cab closed circuit TV for an audio/visual monitor and cameras for enhanced safety.
A 43-foot Hi-Rail Bucket Truck provides a working height of 48 feet to position a 500-pound capacity bucket and a telescoping boom that can rotate 360 degrees.
And a 40-foot Hi-Rail Bucket Truck with a 46-foot work height and a work bucket that can hold up to 1,000 pounds. It, too, has a telescopic boom that can rotate 360 degrees.
In addition to our versatile and robust hi-rail bucket truck equipment rentals, we offer two hi-rail UBITs, or under bridge inspection trucks.
These vehicles are especially useful for inspection projects that require substantial downward reach to access underneath a railway bridge.
You can choose between our 32-foot Hi-Rail UBIT, which provides an overhead vertical reach of almost 34 feet, and a downward vertical reach of 33 feet. Once the two-man, 600-pound capacity bucket has been lowered, this unit can position it out to just over 31 feet under a bridge deck.
The second unit is our 30-foot Hi-Rail UBIT. With a vertical reach up of 30 feet and up to 40 feet down, this UBIT can place its 3-man combined, 600-pound capacity work bucket almost 31 feet underneath a railway bridge.
With a versatile range of hi-rail vehicles available to tackle any railroad bridge inspection, it is easy to see the advantages of using hi-rail bucket trucks for all types of inspection, repair, and maintenance work on railroad bridges.


McClain and Company for the Best in Hi-Rail Under Bridge Equipment Rentals
When it comes to railroad bridge inspections, the safety and integrity of the structures are of paramount importance. And the safety of railroad crews and others, including the inspection teams, must be maintained.
This is why the team at McClain and Company works hard to provide the absolute best in Hi-Rail truck rental equipment, along with exceptional customer service.
Our mission is to do all we can to help you make your project a success, and our goal with each rental is to help you select the right under bridge inspection unit rental for your project.
We know that not all bridges are the same, nor are all inspection projects. And it is our collective years of experience and knowledge that allows us to be your premier partner for under bridge and aerial access equipment rentals.
If you're already familiar with our fleet of inspection vehicles and know which Hi-Rail Bucket Truck rental unit you'd like, simply call us and request a quote today. We'll be glad to assist you and can even schedule your rental with us.
Along with our selection of Hi-Rail equipment rentals, McClain and Company also provides our customers with a wide range of Utility and Aerial Equipment rentals and several other related services.
Suppose you have questions about our company, our equipment rental services, or you just want to learn more about Hi-Rail bucket trucks or other under bridge inspection unit rentals. In that case, you can contact McClain by calling us at 1.888.889.1284 or emailing us at [email protected].