The trucking industry has estimated that close to 12 billion tons of freight were moved by truck over America's highways. And according to the American Trucking Association, trucks move roughly 72.5 percent of the nation's freight by weight.
And all those trucks regularly traversed many of the almost 620,000 highway bridges across the nation. But not everything that is transported in the United States goes on a truck.
And not every bridge in the U.S. is a highway bridge.
Railroads, Bridges, and Railroad Bridge Inspection Equipment
According to Federal Railroad Administration (FRA), the U.S. rail network accounted for approximately 28 percent of U.S. freight movement by ton-miles (the length and weight of freight travels).
In the course of the 140,000 route miles of privately owned track in every state (except Hawaii), freight trains must cross many of the thousands of railroad bridges. And much like highway bridges, the safety and integrity of these structures are federally regulated.
As an article from Florida Atlantic University noted,
"There are about 100,000 railroad bridges in the U.S., and approximately 30,000 of them are constructed from timber. More than half of these timber bridges were built before 1920. The FRA now mandates North American railroad bridge owners to closely assess the structural capacity of their bridges. Consequently, in order to comply, railroad companies need new and effective ways to help them improve and develop bridge safety."
As the FRA has pointed out in its Bridge Safety Standards,
"There are nearly 100,000 railroad bridges in the United States, and over 600 different entities own these bridges. The bridges vary in length, load capacity, design, and construction material. Everything that is shipped or transported via rail likely travels across one or more railroad bridges."
In fact, the U.S. Department of Transportation's Federal Railroad Administration issued its Final Rule on Bridge Safety Standards in 2010. In the summary of that document, the FRA explained that,
"FRA is establishing Federal safety requirements for railroad bridges. This final rule requires track owners to implement bridge management programs, which include annual inspections of railroad bridges, and to audit the programs. This final rule also requires track owners to know the safe load capacity of bridges and to conduct special inspections if the weather or other conditions warrant such
inspections."
So, in a fashion similar to the requirements for routine and other inspections of the nation's highway bridges, the private railroad companies that own the tracks and the bridges that connect them carry out thousands of bridge inspections annually.
And this usually requires the use of special bridge access vehicles and equipment.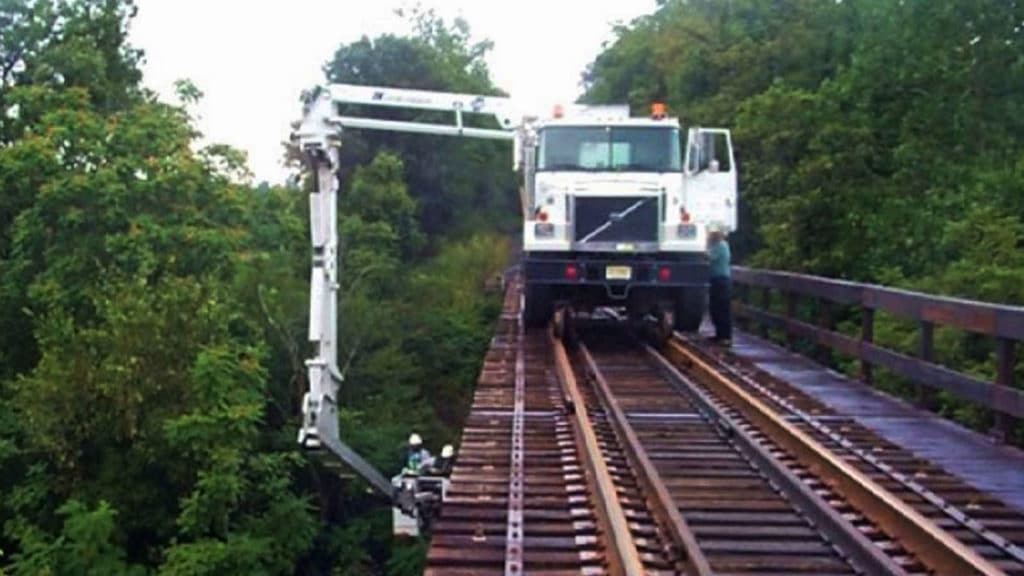 Hi-Rail Bridge Inspections and Access Equipment
One source states that the name "hi-rail" comes from the shortening of highway and railway, and a vehicle referred to as such will generally have standard rubber wheels with retractable flanged steel wheels attached that allow it to travel along railroad tracks.
Of course, there is also a legal definition that is actually quite helpful.
According to the Law School at Cornell University's website,
"Hi-rail vehicle means a roadway maintenance machine that is manufactured to meet Federal Motor Vehicle Safety Standards and is equipped with retractable flanged wheels so that the vehicle may travel over the highway or on railroad tracks."
These incredibly unique and versatile vehicles are used for all types of railroad work. However, one exceptionally special type of these already special vehicles are Hi-Rail bucket trucks and Hi-Rail Under Bridge inspection trucks.
Many railroad bridges span deep gorges, canyons, rivers, and other waterways.
For example, Norfolk Southern Railway's Lake Pontchartrain Bridge in Louisiana is the longest railroad bridge in the country at 5.8 miles long and the longest railroad bridge over water in the world.
The most common types of railroad bridge inspections are:
Periodic
Detailed
Emergency
Inspections under load
Railroad bridge inspections are, in many ways, quite similar to the routine highway bridge inspections that must be carried out every two years in the United States. And in order to reach or access all the elements of the railroad bridge structure, specialized equipment known as Hi-Rail trucks are often used.
With the assistance of a Hi-Rail bucket truck, for example, inspectors will usually focus on the following:
Top of the bridge deck
Bridge approaches
Underside of the deck
Bearings
Beams/superstructure
Abutments and wings
Piers, if any
A truck-mounted articulated bucket aerial that can be driven up to and then along railroad tracks is essential for carrying out required railroad bridge inspections.
Taking a Closer Look at McClain and Company's Hi-Rail Equipment Rentals
Railroad bridges range from small structures spanning rural streams and roadways to massive spans with complex networks of beams, girders, and trusses. Many are only dozens of feet above the ground or waterway, while a few soar across chasms hundreds of feet in the air.
The highest railroad bridge, for example, is the Pit River Bridge on the Union Pacific Railroad at Shasta Lake, California, a highway and two tracks over Shasta Lake, 433 feet above the original water level of the Pit River.
Because the size of these bridges varies in terms of height and width, Hi-Rail access equipment needs to be versatile enough to meet the inspection reach requirements. In addition, because so many of the railroad's bridges are truss bridges, having sufficient overhead reach and access is vital.
At McClain and Company, we understand the need for options when choosing a Hi-Rail equipment rental, which is why we offer a broad range of vehicles to best suit your inspection project needs.
You can choose from a 60-foot Hi-Rail bucket truck, a 43-foot Hi-Rail bucket truck, and a 40-foot version. In addition, for those structures that require more extensive under bridge access, we offer both a 32-foot and 30-foot capacity Hi-Rail Under Bridge Inspection trucks (UBITs)
The UBITs, for example, can position a three-man bucket with a downward vertical reach of up to 33 feet and a horizontal reach underneath the bridge out to just under 32 feet. In comparison, the 30-foot UBIT can lower a two-man bucket to 40 feet below the bridge deck and then horizontally to almost 31 feet.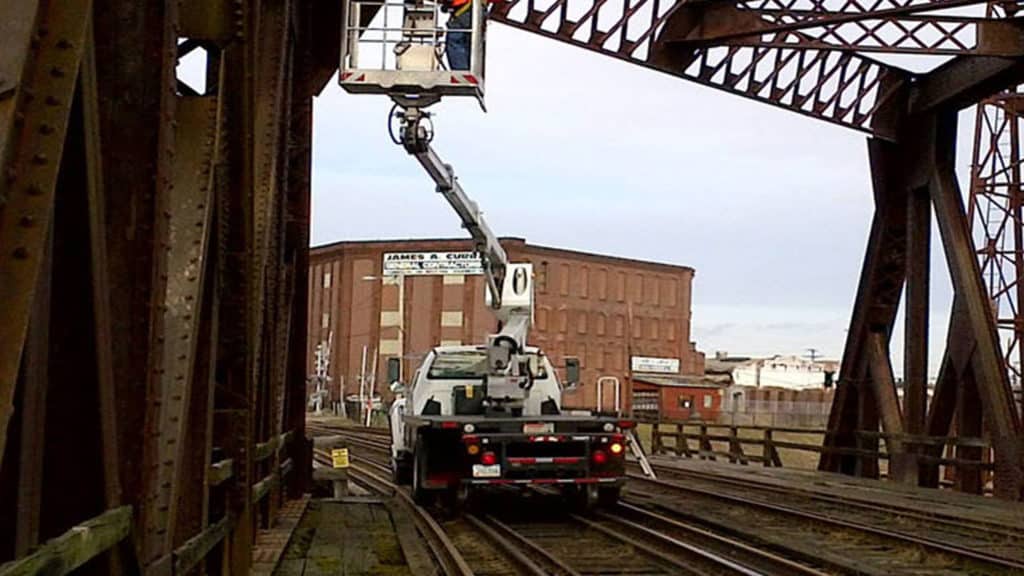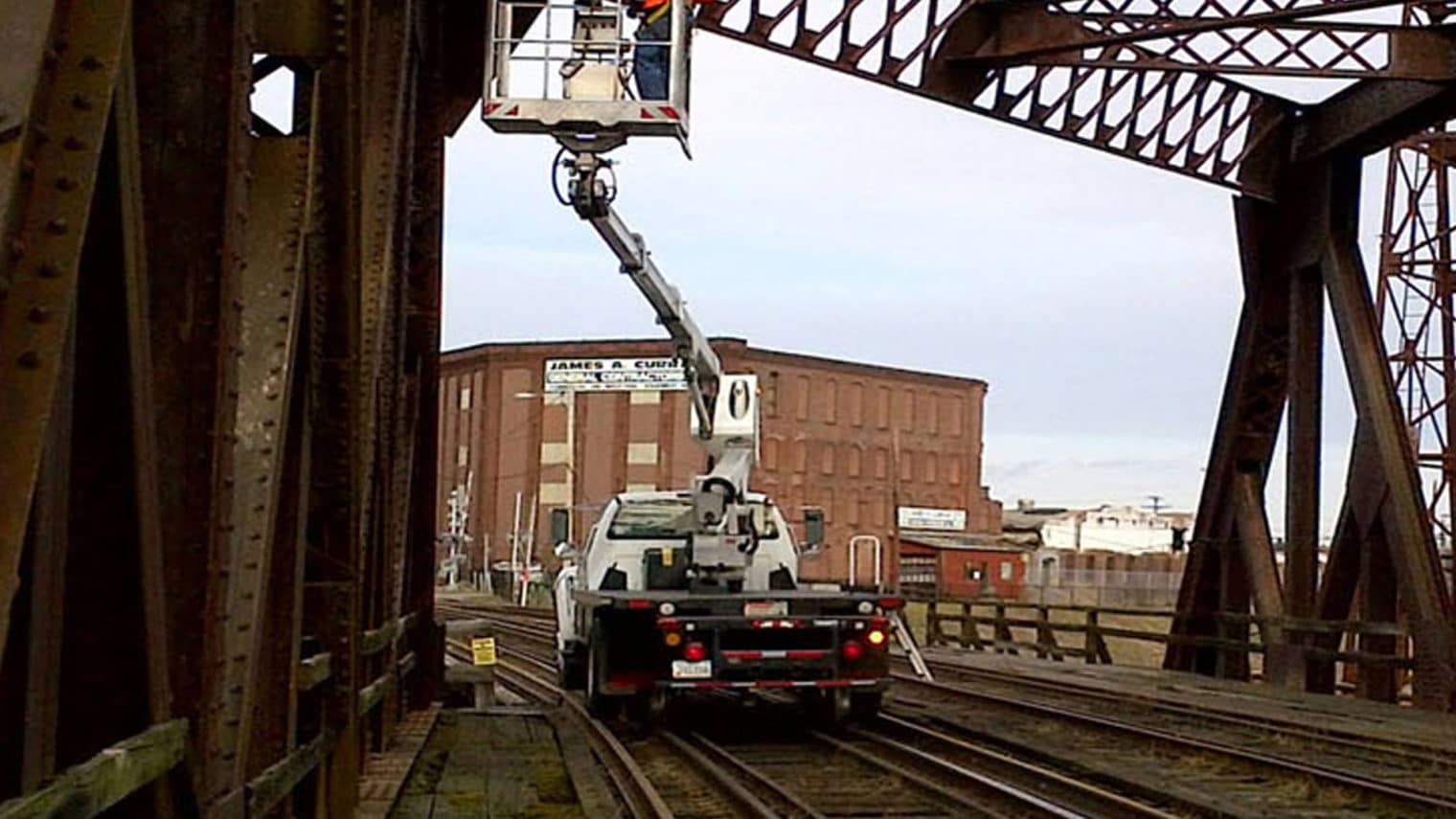 Renting Your Hi-Rail Equipment from McClain and Co.
In the United States, most railroad bridges cross waterways that do not allow for under bridge access from the ground. Many others span gorges and canyons that are far too deep for the bridges to be accessible from below. This means that under bridge access must be attained from the bridge deck. And because this requires operating from railroad tracks, specialized, under bridge inspection vehicles such as Hi-Rail UBITs are needed.
Railroad bridges, much like highway bridges, require continual and periodic inspections.
In fact, the safety and integrity of these bridges depend on these inspections. As the Association of American Railroads reminds us,
"Regardless of age, history, traffic, or conditions, regular inspection of railroad bridges contributes more to the ability to safely carry trains than any other component of bridge maintenance. In adherence with federal regulation, trained experts inspect railroad bridges at least once a year."
Railroad bridge inspectors and crews must be able to navigate under railroad bridge decks to carry out all the required physical, visual, and manual inspection processes. And this means having safe and reliable access to the under bridge structures.
At McClain & Co., Inc., providing the proper equipment to meet the specialized requirements of Hi-Rail under bridge work is a significant part of what we do.
By offering a variety of high-quality, reliable Hi-Rail bucket trucks and UBITs, we can ensure that your railroad bridge inspectors can safely access those structures, both overhead and underneath.
Safety, reliability, and capability are key requirements for renting and operating Hi-Rail bridge access equipment. Whether you and your team carry out annual inspections, conduct routine rail or bridge maintenance, or make bridge repairs, having a reputable and knowledgeable equipment rental source is vital.
And McClain and Company is here to fill that role for you and your team.
McClain and Company for the Best in Hi-Rail Under Bridge Equipment Rentals
Regarding Hi-Rail truck rentals, the team here at McClain and Company works hard to provide the absolute best in rental equipment and customer service.
At McClain, our goal is to help you select the best under bridge inspection unit rental for your project.
Perhaps you're familiar with our fleet of inspection vehicles and already know which Hi-Rail unit you'd like to rent? Call us to request a quote today, and we can even schedule your rental with us.
And remember, in addition to Hi-Rail Equipment rentals, McClain and Company also offers a wide variety of Utility and Aerial Equipment rentals as well as other related services.
If you have questions about our equipment rental services or want to learn more about Hi-Rail trucks or other under bridge inspection unit rentals, you can contact McClain by calling us at 1.888.889.1284 or emailing us at [email protected].