America's interstate and highway system has often been described as the lifeblood of our nation's commerce. Upwards of 75 percent of America's freight by weight is transported by trucks. The trucking industry earned almost $876 billion in revenue in 2021, and, as of 2020, there were about 900,000 employed truck drivers in the U.S.
But the vast majority of the remaining 25 percent of America's goods and materials are transported by the nation's vast railroad network. America's freight rail is part of a continental-wide, integrated network of trains, trucks, and barges that ships around 61 tons of goods per American every year.
In fact, according to the American Association of Railroads (AAR), in a typical year, the freight railroads of the United States move around 1.7 billion tons across nearly 140,000 miles of track. And in 2021, a staggering 27,000 or so U.S. Class I railroad cars were in service, hauling a vast variety of commodities.
Far from being a fading vestige of America's "Golden Age" of train travel, the Federal Highway Administration (FHWA) forecasts that total U.S. freight transports will increase from around 19.3 billion tons in 2020 to 25.1 billion tons by 2040. That's an increase of 30 percent.
And across those 140,000 miles of railroad are more than 61,000 bridges. These structures are critical parts of the railway network and must be maintained and inspected regularly.
Of course, the entire railroad system requires regular and ongoing rail maintenance operations, and this means the use of hi-rail trucks – and hi-rail truck rentals.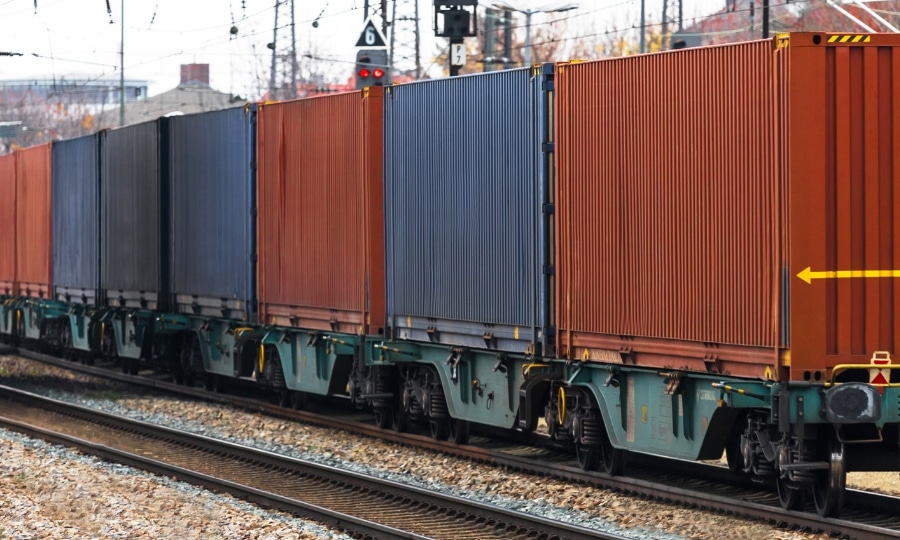 The Need for Consistent and Effective Rail Maintenance Operations
While train derailments do occur periodically, they are not nearly as common as the public perception might be. Much of this is due to the phenomenon of media "spotlighting" of derailment incidents and the attention given to them in the moment. However, in the larger scope of railroad traffic volume, they are not that common.
In addition, fatalities from train derailments are extremely rare.
According to a recent article in The Washington Post,
"About 1,000 derailments occur each year, according to the Federal Railroad Administration. The number of trains coming off their rails has been on a decline, coinciding with a reduction in miles covered by the industry. There were 1,049 such instances in 2022, out of roughly 535 million miles traveled."
And railway bridge structural failures are also rare.
According to information provided by the American Association of Railroads (AAR), it has been almost 60 years since a fatality occurred due to the structural failure of a railroad bridge on any U.S. railroad. In fact, the AAR states that railroad bridges are among the safest segments of the nation's rail infrastructure.
Freight railroads invest billions of dollars annually, employ the most-well trained bridge safety personnel, and annually inspect the more than 61,000 Class I railroad bridges in the United States.
This work is accomplished largely from the efforts of qualified railroad bridge engineers, inspectors and supervisors who work under the oversight of the Federal Railroad Administration (FRA). This agency, which is part of the United States Department of Transportation (USDOT), is responsible for the bridge safety efforts the railroads undertake. These safety operations include the physical inspection, maintenance, repair, and replacement of railroad bridges.
Despite the growing role of automation and remote sensing technology, including Unmanned Aerial Vehicles (UAVs), or drones, only the trained human eye can reliably determine safety.
And, while the FRA and the freight rail industry are certainly concerned about the appearance of railroad bridges, the cosmetic appearance of a railroad bridge rarely has anything to do with its structural integrity.
Using Hi-Rail Truck Rentals to Facilitate Rail Maintenance Operations
Maintaining, repairing, and rebuilding the various components of our nation's railway system is a major undertaking for the freight (and passenger) rail industry.
Overall, maintaining railways in the United States is a complex and ongoing process. The work involved in maintaining the railways in the U.S. is made up of a variety of activities and resources, including:
Inspection and Maintenance of Track: Railway tracks must be inspected regularly to ensure they are in good condition. In addition, maintenance activities can include repairing or replacing rails, ties, and other components as needed.
Signal and Communication Systems: The trains operating on the railways rely on signal and communication systems to keep them running safely and efficiently. These systems also need to be maintained and upgraded regularly.
Rolling Stock: Rolling stock refers to the fleet of locomotives, freight cars, and passenger cars used by the rail industry. These, too, must be inspected, repaired, and replaced as needed.
Human Resources: A skilled workforce is required to operate and maintain the rail system. This includes engineers, conductors, mechanics, signal maintainers, and several other specialized roles, such as railroad bridge engineers and inspectors.
Compliance: The railway industry must comply with various federal and state regulations and safety standards to ensure the safety of its operations. Compliance requires ongoing effort, investment, and equipment.
One of the more significant types of equipment commonly used for rail maintenance operations is the hi-rail truck.
While there are several iterations of hi-rail vehicles, when it comes to railway bridge inspections and maintenance, hi-rail under-bridge inspection trucks (UBITs) and hi-rail bucket trucks. And these are quite often hi-rail truck rentals that are used to supplement existing rail company fleet vehicles.
Hi-rail bucket trucks are quite useful for various types of railroad maintenance work. These specialized trucks are designed to operate on both roads and railroad tracks, which makes them particularly suited for maintenance work on railways. This ability to travel on roadways as well as on railroad tracks is what gave rise to the designation of "hi-rail", or "highway-railway" trucks.
Hi-rail bucket trucks are equipped with rail wheels that can be lowered to allow the truck to travel along railroad tracks, in addition to having traditional wheels for driving on roads. The work platform, or bucket, on the truck can be raised or lowered, and then extended to provide a stable work platform for maintenance workers and bridge inspectors, giving them access to hard-to-reach areas, such as girders, overhead power lines, bridges, and tunnels.
Because of their versatility and access capabilities, hi-rail bucket trucks help to streamline maintenance operations for railway maintenance work.
For example, these agile vehicles can be used to reduce the amount of time and labor required to complete many inspections and maintenance tasks, as they allow workers to access areas more quickly and efficiently.
In addition, they also enhance safety by providing a stable work platform and reducing the need for workers to use ladders or other unstable equipment to access high areas.
Many entities make use of hi-rail truck rentals as valuable tools for railway maintenance work, and they are regularly used by railway maintenance crews to improve efficiency, safety, and productivity.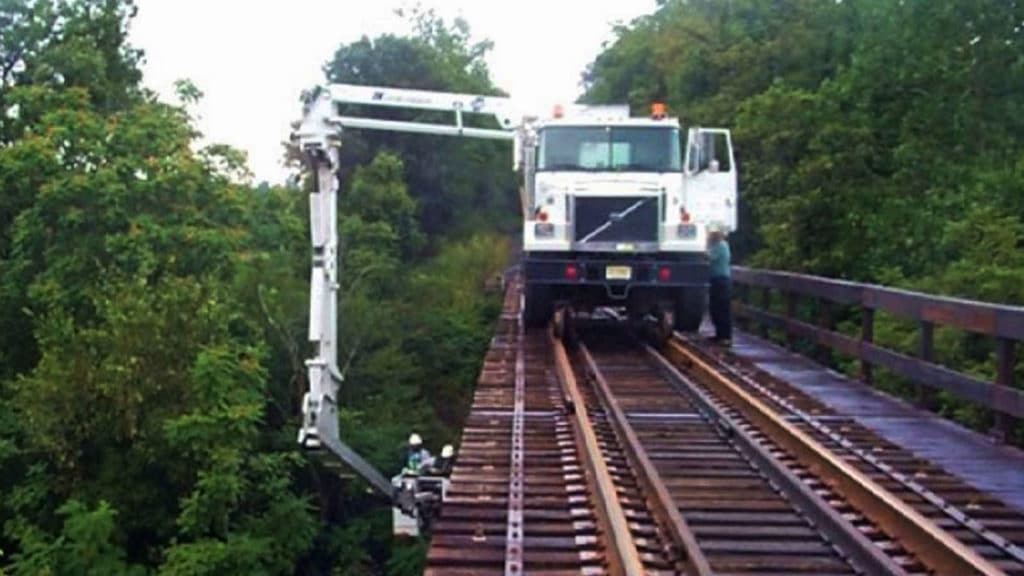 Renting Your Hi-Rail Equipment from McClain and Co.
In the United States, most railroad bridges cross deep chasms, active roadways, and waterways that prevent under-bridge access from the ground. This means that underbridge access must somehow be gained from the bridge deck. In addition, reaching overhead structures such as trusses requires some type of reliable access.
In addition, these forms of access must originate from railroad tracks, which is why specialized under-bridge inspection vehicles such as hi-rail UBITs are typically used.
The continued safety and structural integrity of our nation's rail bridges depend on regular inspections.
The Association of American Railroads (ARA) points out that,
"Regardless of age, history, traffic, or conditions, regular inspection of railroad bridges contributes more to the ability to safely carry trains than any other component of bridge maintenance. In adherence with federal regulation, trained experts inspect railroad bridges at least once a year."
Because those engaged in carrying out the required physical, visual, and manual inspection processes must have safe and reliable access to these bridge structures, McClain & Co., Inc., has long provided the equipment needed to meet these specialized requirements. In fact, hi-rail-truck rentals is a significant part of our service offerings.
Safety, reliability, and capability are key requirements of hi-rail truck rentals. And for annual inspections, routine rail or bridge maintenance, or periodic bridge repairs, having a reputable and knowledgeable equipment rental source is critical.
Which is why the team at McClain and Company is here to meet that need.
McClain and Company for the Best in Hi-Rail Truck Rentals
When it comes to hi-rail truck rentals, the folks at McClain and Company work hard to always deliver the very best in both hi-rail rental equipment and customer service.
Simply put, our goal is to help you select the best under-bridge inspection unit rental for your project.
And if you are familiar with our fleet of specialty inspection vehicles and you know which hi-rail truck rental you need, feel free to call us for a quote. In most cases, we can even schedule your rental with us on the same day.
Along with our great selection of Hi-Rail Equipment rentals, McClain also has a wide variety of other Utility and Aerial Equipment rentals as well as other related services.
So, if you have questions about our hi-rail truck or other equipment rental services – or simply want to learn more about Hi-Rail trucks or other under bridge inspection unit rentals, you can contact McClain by calling us at 1.888.889.1284 or emailing us at [email protected].