Most people never notice, but they always happen: highway bridge inspections.
Of course, traffic flow might be interrupted with lane shifts on large bridges requiring especially large overhead or under-bridge access equipment. And that's when drivers notice the workers and the equipment used for these under-bridge inspections.
Yet, the vast majority of these regular or routine bridge inspections go unnoticed by the general public.
This is, in itself, somewhat interesting in that there are approximately 620,000 highway bridges in the continental United States that are inspected at least once every two years. This means that, on average, over 800 bridge inspections are likely to occur every day somewhere in the U.S.
And, because highway bridges vary significantly in location, size, and height, the equipment needed can also vary significantly.
The Right Size Under Bridge Inspection Unit Matters
As the U.S. Department of Transportation notes,
"The 'routine' inspection is the most common type of inspection performed and is generally required every two years. The purpose of "routine" inspections is to determine the physical and functional condition of a bridge on a regularly scheduled basis."
The DOT further notes that visual inspection is the primary method used to perform routine bridge inspections. Visual inspection typically requires various cleaning, probing, sounding, and measuring tools. In addition, specialized visual aids are often used as well.
Just as importantly, the type, location, accessibility, and condition of a highway bridge, as well as the type of inspection, are some factors that determine what inspection practices are used.
And this extends to the type and size of under-bridge inspection equipment required.
As bridge inspectors and others involved with bridgework, repair, maintenance, and construction all know, most of what makes up a highway bridge exist beneath the bridge deck. And inspecting those often vast areas underneath a bridge superstructure requires safe and reliable access equipment.
Gaining safe and broad access to the regions of a highway bridge structure beneath the bridge deck is an absolute necessity for bridge inspectors. And, while this can be accomplished in several ways with different types of equipment, under-bridge access is most easily achieved with specific types of aerial access equipment.
And these truck- and trailer-mounted under-bridge inspection units come in various sizes and styles.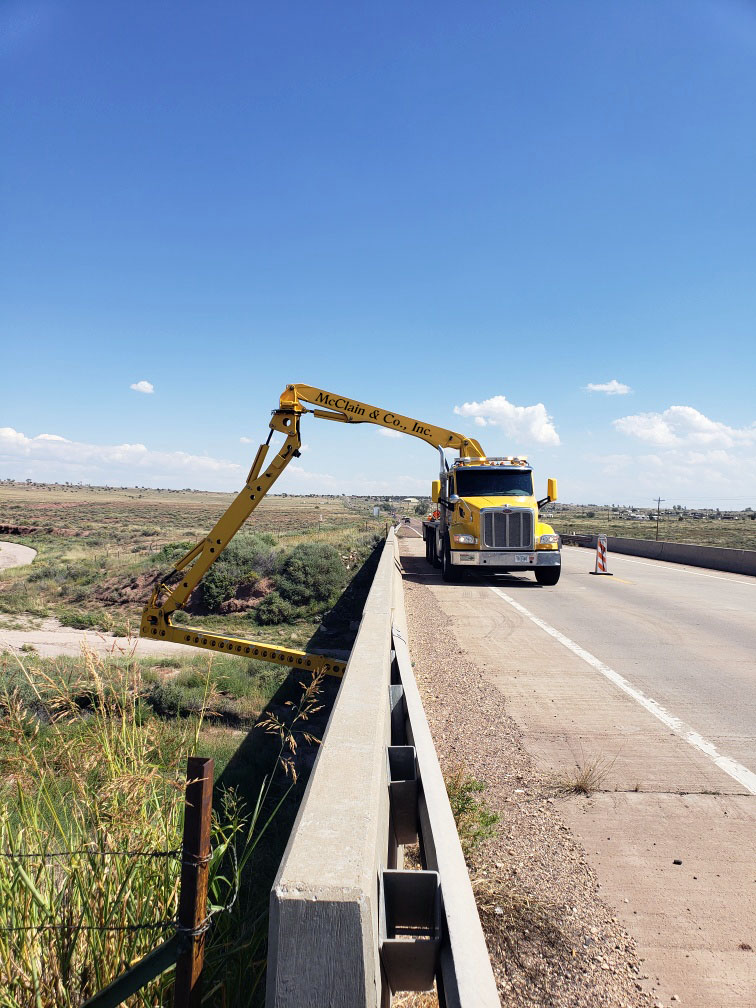 Equipment Designed for Getting Down and Under Bridge Decks
Highway bridges can be quite short – just over 20 feet long – and not exceedingly high above the ground or a waterway. For example, most highway bridges spanning active roadways are just over 14 to 16 feet above the ground.
The Federal Highway Administration (FHWA), for example, defines a bridge as,
"A public vehicular structure more than 6.1 meters (20 feet) in length that spans an obstruction or depression."
However, while many of the more than 600,000 highway bridges in the United States are roadway overpasses or spans that cross ditches, ravines, depressions, and so on, others are quite high and also quite long.
So, what do inspectors and engineers look for when it comes to equipment sufficient in capacity to be effectively used for bridge inspections?
As one source points out, there are four major factors, or capabilities, that must be considered when renting under-bridge inspection equipment.
Vertical reach: The downward distance that a bridge inspection unit can be extended
Horizontal reach: The horizontal distance that a unit can extend in any one direction
Underbridge reach: The distance under a bridge that a platform can be extended
Sidewalk clearance: Additional horizontal reach to clear pedestrian traffic.
The distance from a bridge deck to the point where the under-bridge areas can be reached varies from structure to structure, depending on the construction of the bridge. This vertical, downward reach is of great importance when renting a unit.
In addition, moving and navigating in the under bridge regions is dependent on both the under bridge reach of the vehicle's booms and the horizontal or side-to-side movement. Units with a broad and wide horizontal reach can be deployed with much less repositioning of the platform unit on the bridge deck.
And, speaking of the bridge deck, any size of articulated boom of an inspection unit must have the ability to easily clear any distances between the equipment and the outside railing. This includes any sidewalks or walkways as well as the railings.
Determining the Right Size for an Under Bridge Inspection Unit Rental
Time and efficiency are critical and go hand-in-hand when bridge inspections are carried out. So, having a vehicle or trailer-mounted inspection unit that can provide sufficient vertical and horizontal reach is a primary qualification.
For example, using a 30-foot capacity under bridge inspection unit on a highway bridge with a span width that is more than 60 feet is inefficient and can be unnecessarily time-consuming. Not to mention that it will be quite likely that inspectors will be hard-pressed to adequately inspect the entire under bridge areas.
On the other hand, weight limitations and physical size can be problems if a crew were to utilize an excessively large under-bridge inspection unit. An example would be using a large unit with a horizontal under bridge reach of more than 70 feet on an overpass that is only 30 feet across and 14 feet above the ground.
Some bridges, too, have substantial overhead superstructure components that must be inspected, including trusses and suspension components. Consequently, the "right" size of the under bridge inspection unit would also have overhead access capability.
This is far more common when the bridge inspections involve railroad bridges, for example, requiring Hi-Rail inspection units.
And because every bridge inspection is different in terms of access and bridge structure dimensions, highly trained service personnel are needed when renting equipment. In terms of an Underbridge inspection unit, their is not a one size fits all solution. But a knowledgeable and experienced rental service technician can help determine the right size for your rental unit.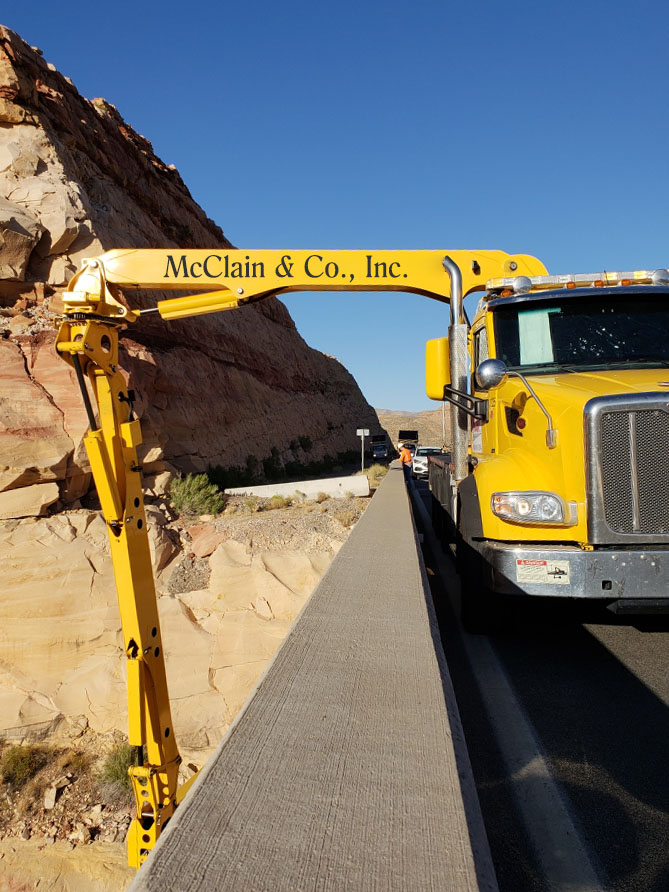 When It Comes to Renting Under Bridge Inspection Units, McClain is Number One
The sterling reputation that McClain & Co., Inc. has earned during the last two and half decades resulted from our attention to service, quality, and professionalism. In addition, the name McClain has become synonymous with integrity, reliability, and expertise.
And it is this reputation for quality that is consistently demonstrated by our premier equipment rental service. We are the best at what we do in large part due to our continuous employee training and certifications and our commitment to superior customer service. From the time of our company's founding, McClain has always believed that attaining and perpetuating the status of a high-quality enterprise comes from the quality decisions made by our leadership.
For example, it was decided long ago to avoid trite and empty marketing slogans or insincere and hollow advertising campaigns to boost our position in this industry.
Instead, owner Danial McClain and our leadership team have simply made quality in everything we do and in every type of equipment and service we provide the basis for our success.
Our experienced and professional staff works with clients daily and always to maintain the highest level of service. In addition, we work to ensure that our clients receive all that they need in order to help them complete their projects both cost-effectively and efficiently.
This is how we demonstrate our belief that customer service is our number one priority.
For the Best Under Bridge Inspection Equipment Rentals, Look to McClain and Company
The team at McClain and Company believes in providing the absolute best in customer service. For us, this also means offering our customers the best in under-bridge inspection equipment rentals.
As McClain and Company owner Daniel McClain has communicated many times, we firmly hold to the belief that, when it comes to under-bridge and aerial access equipment rentals, your success is our success. This is why we continually make it our goal to do all that we can to provide you with the best under bridge inspection unit rental for your specific project.
Perhaps you already know which model of under-bridge inspection equipment you want to rent? That's great! Just give us a call for a quote today, and you even schedule your rental with us.
And remember, in addition to our broad selection of under-bridge inspection units, McClain and Company also offers a wide variety of Hi-Rail inspection equipment, utility and aerial equipment rentals, and other related services.
Suppose you have questions about equipment rentals from McClain or want to learn more about under-bridge access equipment and under-bridge inspection unit rentals. In that case, you can contact McClain & Co., Inc. by calling us at 1.888.889.1284 or emailing us at info@mcclain1.com.