Hi-rail trucks are used for a wide variety of tasks on our nation's railway systems. For those who may be unfamiliar with the term, "hi-rail" is short for highway-railroad and refers to the travel capability of specialized vehicles known as hi-rail trucks.
These types of trucks are commonly used in the railroad industry.
Hi-rail trucks are dual-purpose road-to-rail vehicles that can travel and operate on both rail tracks and on conventional roads. In addition to their standard rubber truck tires, hi-rail trucks are also equipped with a set of flanged steel wheels that, when deployed, allow the vehicle to travel on railways.
They are most often used in the work of railway construction, maintenance, inspection, and repair, as well as transportation of goods and materials. While most railroad companies own varieties of hi-rail vehicles, making use of hi-rail rentals is common practice in the industry.
Hi-Rail Rentals: What They're Used For
Hi-rail trucks are versatile vehicles that play a crucial role in maintaining and improving the safety and efficiency of railway operations. And hi-rail rental trucks are commonly used in the railroad industry for a variety of tasks, including:
Track Maintenance: Hi-rail trucks are equipped with specialized attachments and tools that enable them to perform maintenance tasks on railroad tracks. They can be used to transport workers and equipment to remote locations along the track and perform repairs, such as replacing rail ties, repairing switches, and clearing debris.
Track Inspection: Hi-rail trucks are used to inspect railroad tracks for signs of damage or wear. These trucks can carry specialized equipment, such as ultrasonic testing devices and track geometry measurement systems, to collect data on the condition of the track.
Equipment Transport: Hi-rail trucks are used to transport heavy equipment, such as railcars, locomotives, and construction machinery, between job sites and rail yards. They can also be used to transport workers and materials to job sites.
Emergency Response: Hi-rail trucks can be used for emergency response situations, such as derailments, to transport workers and equipment to the site and to help clear debris from the track.
In addition, hi-rail rentals are often used for railroad bridge inspections.
In fact, their ability to travel both on conventional roadway as well as on rail tracks makes them ideal for accessing and inspecting railroad bridges that are located in remote or hard-to-reach areas.
During bridge inspections, hi-rail rental trucks are typically equipped with specialized equipment, such as boom lifts or bucket lifts, which allow inspectors to access hard-to-reach areas of the bridge structure. These areas can be overhead such as trusses and other similar structures, as well as under bridge regions.
Hi-rail rentals are also employed for carrying tools and equipment for testing the integrity of the bridge, such as ultrasound devices for measuring the thickness of steel components or ground-penetrating radar for detecting hidden defects.
In addition to performing bridge inspections, hi-rail trucks can also be used to transport materials and equipment required for bridge repair and maintenance. These specialized vehicles are especially valuable as they can transport workers and their equipment to the bridge site, which can otherwise be difficult to reach with other means of transportation.
Overall, hi-rail trucks are valuable tools for the railroad industry and play a crucial role in maintaining the safety and integrity of railroad bridges.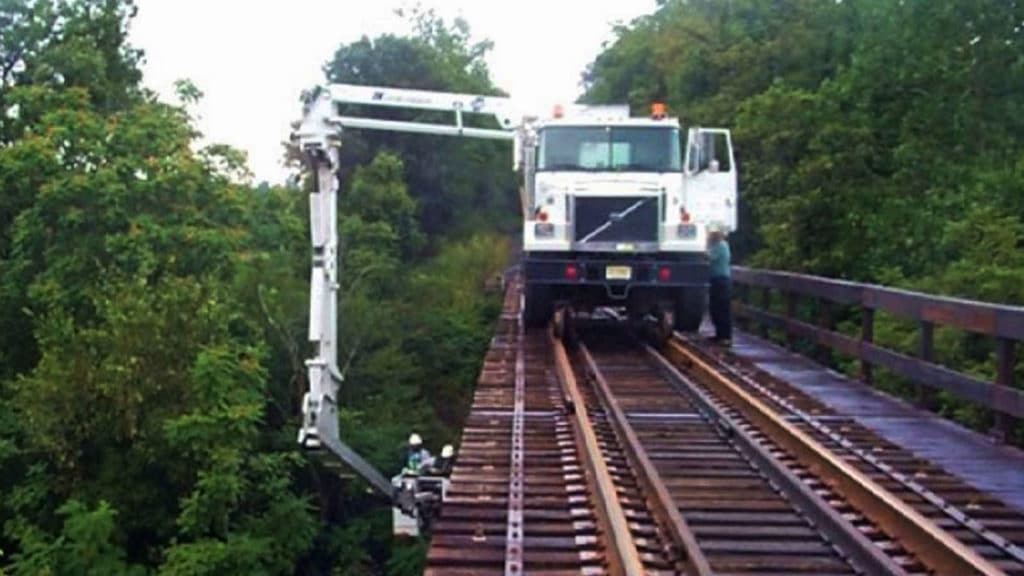 A Look at the Benefits of a Professional Hi-Rail Truck Rental Company
Because of the costs involved in purchasing and maintaining fleets of various hi-rial vehicles, many railroad companies and other entities routinely make use of hi-rail rentals.
Hi-rail rentals, of course, refers to the services provided by professional companies that offer trucks and vehicles with railroad wheels, allowing them to operate on both highways and rails.
Working with a professional hi-rail truck rental company can provide several benefits. Here are a few of the most significant:
It is cost-effective: Renting hi-rail trucks can be more cost-effective than buying new or used ones, especially if you only need them for a short period of time.
It offers flexibility: Renting hi-rail trucks gives you the flexibility to choose the right equipment for your specific needs without having to worry about maintenance, storage, and other related costs.
Allows access to expertise: Professional hi-rail truck rental companies have experienced staff who can provide you with expert advice and guidance on choosing the right equipment for your project.
Provides reliable safety: Hi-rail trucks are designed to operate on both roads and railways, which requires specialized knowledge and training. Professional rental companies ensure that their equipment is well-maintained and meets all safety standards.
Increases efficiency: Renting hi-rail trucks can help you complete your project more efficiently by providing you with the right equipment at the right time.
It means fewer delays and downtime: Professional rental companies ensure that their equipment is well-maintained and in good working condition, which can help reduce downtime due to equipment failure.
Can provide improved cash flow: Renting hi-rail trucks can help improve your cash flow by reducing upfront costs and allowing you to allocate your resources more effectively.
One of the main benefits of working with a professional hi-rail truck rental company is their expertise in the field. These companies specialize in providing the right equipment and vehicles for railroad work and have extensive knowledge of the industry. They understand the requirements and regulations for using hi-rail vehicles, ensuring that all necessary permits and certifications are in order.
Another benefit of working with a professional hi-rail truck rental company is their ability to provide a wide range of equipment options. Depending on the project, different types of hi-rail vehicles may be needed, such as cranes, excavators, and dump trucks. A professional rental company will have a fleet of vehicles available to choose from, ensuring that the right equipment is used for the job.
Working with a hi-rail rental company can also save time and money for railroad companies and contractors. Purchasing and maintaining hi-rail vehicles can be costly, especially for smaller companies that only require them for occasional projects. Renting hi-rail vehicles from a professional company eliminates the need for expensive purchases and maintenance, allowing companies to allocate their resources more efficiently.
Additionally, working with a hi-rail rental company can enhance safety and reduce liability. Hi-rail vehicles require specialized training and certifications to operate safely on railroads, and a professional rental company will ensure that their drivers are professionally trained and certified. This reduces the risk of accidents and ensures that all safety protocols are followed, minimizing the potential for liability issues.
The Role of Hi-Rail Rentals in Railroad Bridge Inspections
The Federal Railroad Administration (FRA) is responsible for inspecting railroad bridges in the United States. While the FRA does not conduct actual bridge inspections, the agency oversees all the bridge safety efforts the railroads undertake — including the physical inspection, maintenance, repair, and replacement of railroad bridges.
As the Association of American Railroads (AAR) points out on their website,
"Railroads employ qualified railroad bridge engineers, inspectors and supervisors who use their extensive safety-oriented expertise to inspect, report on and provide customized maintenance for railroad bridges."
Through its field enforcement staff, however, the FRA participates in bridge accident investigations, performs bridge assessments and bridge management program reviews. In addition, their staff works to provide direction and technical advice in bridge inspection, maintenance and management, guides railroad bridge worker safety, as well as working directly with railroads to resolve any issues found through an evaluation.
Much of the work undertaken by the railroads in the course of railroad bridge inspections, maintenance, and repairs is carried out with the extensive use of hi-rial rentals secured from hi-rail truck rental companies like McClain and Company.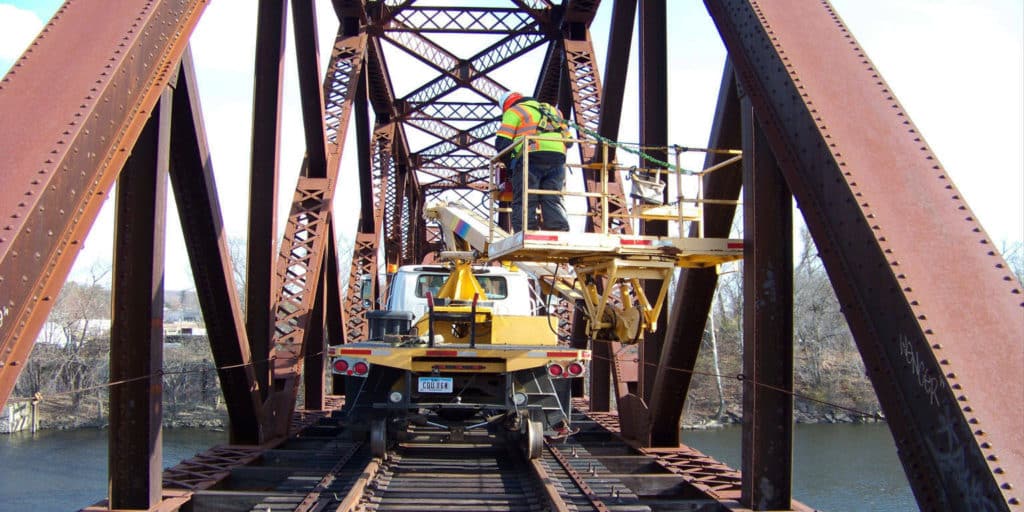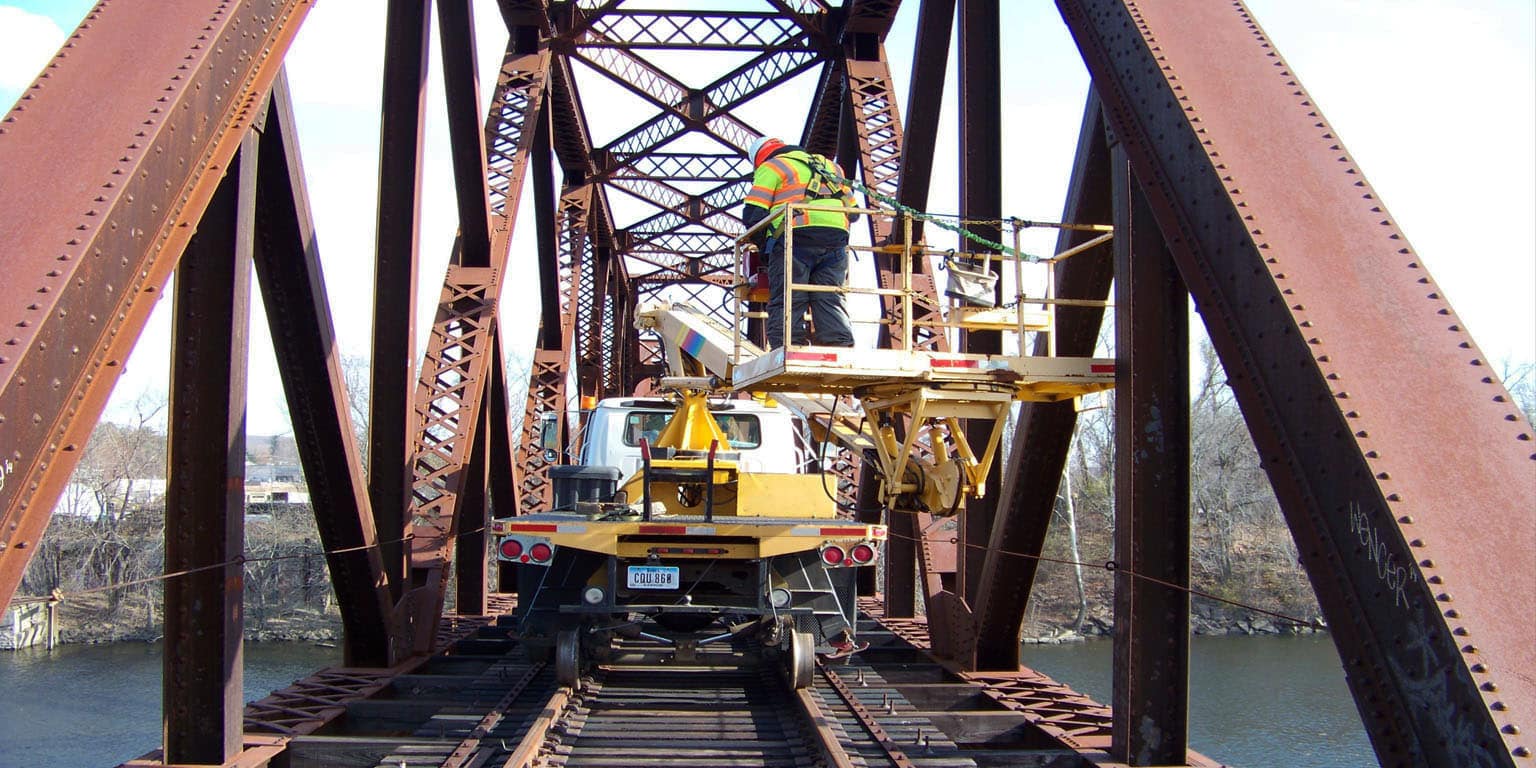 The Benefits of Working with McClain & Co., Inc. for Hi-Rail Truck Rentals
As we've noted here, the nation's freight railroads owned by private organizations are responsible for the inspection, maintenance, and repair of their railway systems.
According to the Association of American Railroads, railroad bridges in the U.S. are inspected at least once a year by trained experts in adherence with federal regulations. In addition, more frequent inspections occur for those bridges with more intensive traffic or whose structural conditions may require closer monitoring.
For railroad professionals and others in the field, the key requirements for hi-rail rentals are safety, reliability, and affordability. Whether the hi-rail trucks are being rented for annual bridge inspections, routine rail or bridge maintenance, or simply for periodic repairs, it is essential for railroads and their workers to have a reputable and knowledgeable source for hi-rail equipment rental.
And McClain and Company is that source.
For the Best in Hi-Rail Truck Rentals Call on McClain and Company
The team at McClain and Company works hard to deliver the absolute best in both hi-rail rental equipment. And we do the same with customer service when it comes to not only renting hi-rail trucks, but in everything we do.
Along with our great selection of hi-rail equipment rentals, McClain also has a wide variety of other Utility and Aerial Equipment rentals as well as other related services.
If you have questions about our hi-rail trucks or our other equipment rental services, or you just want to learn more about hi-rail rentals, we invite you to contact McClain and Company today by calling us at 1.888.889.1284 or emailing us at [email protected].