As we've noted in previous articles, construction work can be one of the most dangerous industries in terms of injuries and work-related fatalities. And road construction can be the most hazardous.
While it can seem like a bleak topic to consider during the holiday season, as any highway construction worker knows, the work doesn't stop for the holidays.
Given the nature of road work and the presence of heavy equipment, often harsh environments, and vehicle traffic, any time of year can be dangerous, and workers must be cautious. For example, this is brought out in stark detail by data that the Federal Highway Administration (FHWA) reports on.
The number of vehicle driver deaths from crashes occurring in work zones averages more than 770 victims each year. And according to the Bureau of Labor Statistics (BLS), the fatal injuries to highway workers at road construction sites average over 120 workers killed at road construction sites.
Sobering statistics, to be sure, but they highlight an ever-present reality in the road construction industry: that safety needs to be an overriding priority for the sake of both the workers and civilians driving by or through construction zones.
One of the ways this is accomplished is with the consistent and proper use of traffic control services.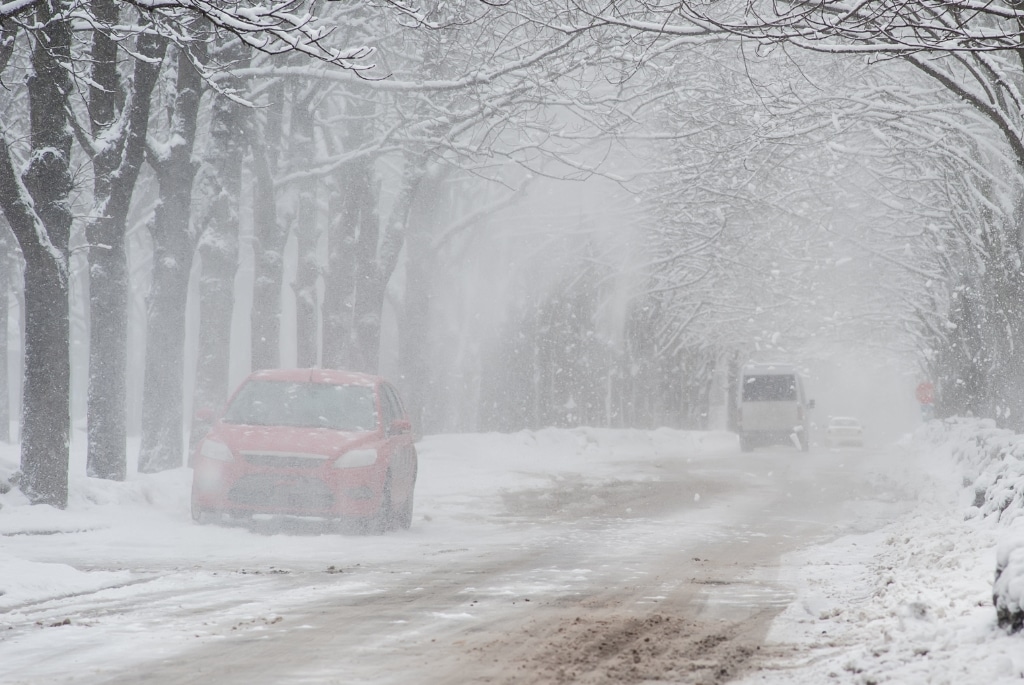 Nighttime Work, Holiday Drivers, and Winter Weather: The Perfect Storm for Accidents
With days averaging less than 10 hours of daylight during late fall and early winter, highway construction projects are typically carried out during those times. What this means for workers on those sites is an increased number of hours working in the dark.
In addition to the long hours working after sunset and in various degrees of dusk and darkness, the winter weather often makes for hazardous working conditions. Ice, snow, slush, and freezing cold accentuated by frigid winds can create a difficult environment for workers.
Then there is the statistically higher percentage of drivers who are either distracted by the weather conditions, the increased darkness, or worse – the added element of alcohol. Whether they're on their way home from a holiday office party or leaving their favorite "watering hole" after some holiday cheer, these drivers are an added hazard.
Of course, Christmas parties are one thing, but New Year's – both before and after – can be particularly dangerous times to be on the road. And that includes roadside construction sites! Interestingly, a recent study from AutoInsurance.org found that during the years 2019 through 2021, Christmas was the safest holiday for drivers, with an average of just 325 fatal crashes over the four-day holiday period. That's compared to the worst holiday, Memorial Day, which averaged 448 fatal crashes over those three years.
All of these factors combined can make the holiday season – particularly New Year's – an especially dangerous time for roadside construction workers. However, despite this "perfect storm" of high-risk elements, road construction crews can benefit from properly designed and implemented traffic control safety equipment and practices.
And making use of McClain and Company's traffic control services can help make maintaining New Year's safety easier.
Temporary Traffic Control Planning and Proper Traffic Control Equipment
Federal and state regulations provide minimal guidance, but a fully thought-out and comprehensive plan is fundamental to worker safety.
As one industry blog has noted,
"Every road construction project should have a transportation management plan. The plan should consist of a temporary traffic control plan to protect workers by safely conducting traffic around or through the work zone. You should also have a traffic control plan for inside the work zone that manages the flow of heavy equipment, construction vehicles, and workers."
The blog article goes on to point out that the work zone should have an advanced warning area with warning signs alerting motorists of upcoming changes in driving conditions.
In addition, there should be a transition area that uses traffic control devices for lane closures and traffic pattern shifts, as well as a buffer area, a work area, and a termination area that allows vehicle traffic to resume back to normal. This should all be followed up with signage indicating that the work zone has ended.
A good traffic control plan will include details on the proper and effective arrangement and placement of temporary traffic control equipment.
An article at Industrial Safety & Hygiene News shared these tips regarding traffic control signs ,
"Distance is important. For example, when a single warning sign is used (on low-speed residential streets), the advance warning area should be at least 100 feet. However, when two or more warning signs are used on higher-speed streets, the advance warning area should extend a greater distance. Typically, signs should be placed in advance of your work zone based on the following distances:
1st Advance Warning: 300ft-5,140ft
2nd Advance Warning: 200ft-4,140ft
3rd Advance Warning: 100ft-2,640ft"
Of course, all the best planning and placement cannot prevent every incident from occurring. And certain jobs on a roadway construction site are far more hazardous than others.
For example, as one article has pointed out,
"Flaggers have one of the most dangerous jobs in the country. Even if a flagger has the best training and is paying attention to what is going on around them at all times, they still put their lives in danger every day to direct traffic in work zones and make conditions safer for workers and drivers."
General contractors, their site supervisors, and foremen have hundreds of "action items" and real-time concerns when they're in the throes of a road construction project. And finding and procuring proper and sufficient numbers of needed traffic control equipment can be significant burden.
Fortunately, McClain and Company's traffic control services can work with clients to make this part of their job easier and faster.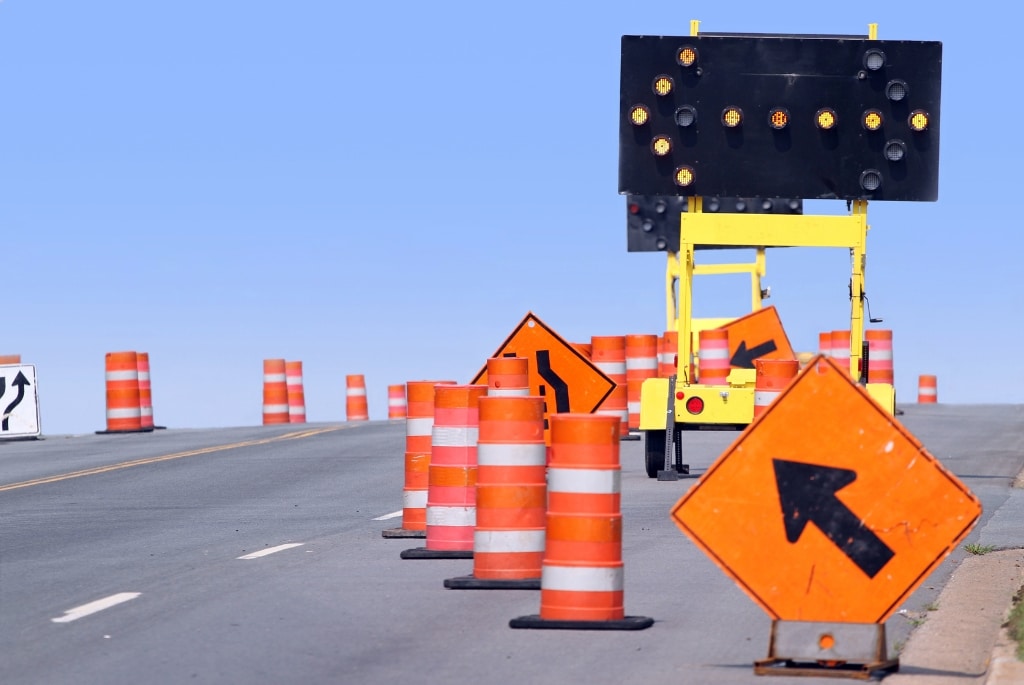 Quality Traffic Control Safety Equipment Rentals for Highway Construction Needs
While a few "mega-corporations" might have the resources to purchase, store, and distribute traffic control equipment using only their own resources, most contractors do not. In fact, most road construction firms opt to rent traffic control equipment as needed and when needed.
The problem many contractors often run into, however, is a dearth of quality equipment and sometimes a lack of selection.
Fortunately for our clients, McClain and Co., LLC, offers a wide range of reliable, versatile, and high quality traffic control equipment and traffic safety vehicle rentals.
Along with standard traffic cones and drums for use as temporary traffic control channelizing devices, for example, McClain has a variety of trailered and towable equipment that includes towable arrow boards, traffic message signs, and portable construction light towers.
Highway and road work projects operating in high-traffic areas will often require additional safety equipment such as various types of truck-mounted attenuators. Positioning one of these truck-mounted apparatuses on a roadside between a work crew and oncoming traffic can be a lifesaving benefit for roadway workers.
With the increased number of anticipated infrastructure projects being launched across the nation, including the repair, rehabilitation, and replacement of highway bridges, more crews will be "on the road" through the holidays and into the new year.
One of the aspects that will continue to be a major concern and priority during this new work is the safety of the work crews and vehicle drivers. Safety must be made paramount in the face of an increased amount of new infrastructure projects and ongoing routine maintenance, repairs, improvements, and other types of highway construction work.
And having the proper equipment helps make this possible and it is one the main reasons we are proud to offer our wide range of traffic control services and products to our clients.
McClain and Company for the Best in Traffic Control Safety Equipment Rentals
As with all our products and services, when it comes to our traffic control safety equipment rentals, the team at McClain and Company makes it our business to provide our customers with the absolute best in both rental equipment and customer service.
Regardless of the types of equipment that are needed, we make it our primary objective to help our customers select the best equipment rentals to fit the needs of their particular projects. With our combined years of experience and knowledge, the McClain and Company team can provide customers with the information and assistance they need to complete their highway or bridge project in a timely and cost-effective manner.
In addition to our selection of traffic control equipment rentals, McClain and Company also provide customers with a broad selection of high-end Under Bridge Inspection Units, Hi-Rail Equipment, Utility and Aerial Equipment rentals, along with our construction services.
Perhaps you're already familiar with our equipment selection and know what equipment you want to rent. In that case, feel free to simply give us a call to request a quote and let us arrange your rental for you.
So, if you have questions about our equipment rental services or want to learn more about our under bridge inspection unit rentals, you can contact us by calling 1.888.889.1284 or emailing us at [email protected].