When it comes to the work required for highway tunnel and bridge repairs, there are two major requirements. These are the funding needed to finance the projects and the specialized equipment that must be used to provide the access needed for the work to be accomplished.
Of course, there are several other required elements, such as personnel both on the job sites and for the planning and administration of the projects. And there are hundreds of other tools, gear, and equipment needed to make a large-scale repair or rehabilitation project possible.
And, while roadways and tunnels are usually approached on the ground level, bridges present their own unique accessibility challenges. Which is where McClain and Company plays a major role.
The New Era of Infrastructure Investments: Roadway, Tunnel, and Bridge Repairs and Improvements
A long-anticipated and welcomed bill was signed into law by President Biden back on November 15, 2021. Of course, this was the bipartisan Infrastructure Investment and Jobs Act (IIJA), and in the year or so since the enactment of the law, funding for major infrastructure projects has been provided to several states.
Recently, it was announced that $1.2 billion was being awarded from what is known as the National Infrastructure Project Assistance (Mega) discretionary grant program for nine projects across the country. Ultimately, the Mega program is expected to invest a total of $5 billion through 2026 to help rebuild portions of the United States' infrastructure.
The Mega grant program was created by the IIJA to fund infrastructure projects that are too large or complex for traditional funding programs. These select projects include highway, bridge, freight, port, passenger rail, and public transportation projects.
And, Secretary of Transportation Pete Buttigieg has noted, the larger goal of these projects is to create jobs, grow the economy, strengthen supply chains, improve mobility, and create a safer transportation system.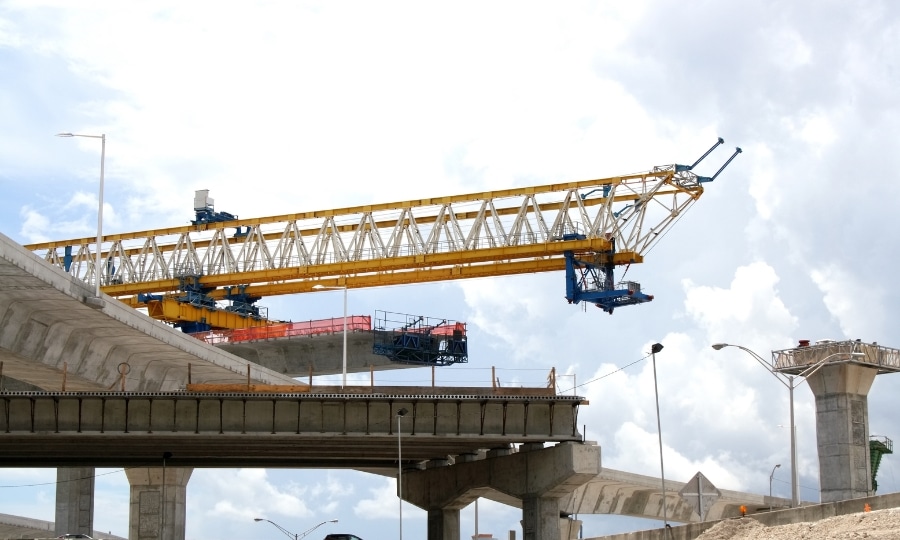 Nine Nationally Significant Mega Projects
Here is an overview of some of the major projects involving tunnel and bridge repairs being funded beginning in 2023, as reported in a recent press release from the U.S. Department of Transportation,
The Brent Spence Bridge project in Ohio and Kentucky will receive $250 million. The funding will support critical improvements to the Brent Spence Bridge, which supports over $400 billion in freight movement annually and is among the worst trucking bottlenecks in the nation. The grant will fund the construction of a new bridge alongside the existing bridge to relieve congestion and improve travel time reliability.
The Hudson Yards Concrete Casing, Section 3 in New York, will receive $292 million. The funding will help fund the final section of concrete casing intended to preserve future right-of-way for the new Hudson River Tunnel and lay the groundwork for the much-anticipated Gateway Project. Amtrak expects the Hudson Tunnel project to provide 72,000 direct, indirect, and induced jobs during construction with union partnerships for job training.
The Roosevelt Boulevard Multimodal Project in Pennsylvania will receive $78 million. Currently, Roosevelt Boulevard has one of the highest crash rates in Philadelphia, accounting for 14 percent of all crash-related fatalities in the city. This project aims to will make improvements along approximately 12 miles of the Boulevard to improve safety and accessibility for all users, including pedestrians and cyclists.
The I-10 Calcasieu River Bridge in Louisiana will receive $150 million. The existing bridge, constructed before the Interstate Highway System began in the mid-1950s, is structurally and functionally deficient, resulting in significant freight bottlenecks. The bridge will be replaced with a new structure, seeing as the old bridge is deteriorating.
The 60-year-old Alligator River Bridge on U.S. 64 in North Carolina will receive $110 million. The existing bridge is a machinery-driven, movable swing bridge that is a critical hurricane evacuation route but is in a deteriorated condition, causing costly delays for travelers. This award will support the construction of a modern high-rise fixed-span bridge that will improve travel times and safety, for cars, bikes, and pedestrians, along a primary east-west route in northeastern North Carolina between I-95 and the Outer Banks.
The I-10 Freight Corridor in Mississippi will receive $60 million. The funding will widen I-10 from four to six lanes from just west of Diamondhead and strengthen access to locations across the Mississippi Gulf Coast, and major southern cities. In addition, the project will promote future economic growth, including freight industries that also support international trade, and vitality in the region.
Bridge and Aerial Access Equipment, Construction Services, and Traffic Safety
Wherever bridge repairs, highway construction, and temporary traffic control is taking place, McClain & Co., Inc. has made a significant impact with timely and high-quality equipment.
From under-bridge inspection trucks and hi-rail equipment to bridge and highway construction services to providing various types of traffic safety devices and equipment, McClain has built a respected reputation for quality.
As the nation begins launching a vast array of infrastructure projects involving bridge repairs, highway and tunnel rehabilitations, and a variety of new construction, our involvement is sure to grow. And our goal is to continue to be the company of choice when it comes to under bridge and aerial access equipment rentals as well as traffic safety services rentals. Keeping pace with the growing demands of bridge repairs, rehabilitation, and replacements – as well as ongoing bridge inspection work – is a major priority for the team here at McClain and Company.
We've been actively involved in the industry for 25 years now, and we look forward to being a valued and prominent partner in the immediate and long-term future of our nation's infrastructure revitalization.
While innovations, advancements, and new techniques have been introduced into the work of bridge inspections and bridge repairs, the fundamental need for manual inspections and under-bridge access equipment will be unlikely to diminish.
Today, technology such as Unmanned Aerial Vehicles (UAVs), or drones, are being used increasingly for bridge inspection tasks. But the question often asked is whether they are adequate for replacing human inspectors on under bridge platforms?
As an article in Roads & Bridges observed,
"Will conventional inspection procedures give us the necessary information at a similar cost and efficiency?
This will come down, in large part, to the bridge's structure type and condition. For example, fracture-critical structures require hands-on access, not to mention the fact that deficiencies may not be visible using drones in similar steel details. Cracks in concrete are quite often more noticeable. For steel structures, however, key defects may be on the scale of less than an inch in size and located in hard-to-reach areas. Relying on drones to find these defects may overlook critical parts of the structure."
Looking ahead, more extensive use of drone technology will likely be a beneficial tool for bridge inspection work, as will many other technologies, such as nondestructive testing (NDT) methods, including magnetic particle, ultrasonic testing, dye penetrant testing, and ground penetrating radar (GPR).
In addition, bridge repairs can benefit from the utilization of sonar-based methods that can supplement underwater inspections where visibility is low or unsafe for divers. As technology continues to develop, so will our procedures pertaining to bridge inspection.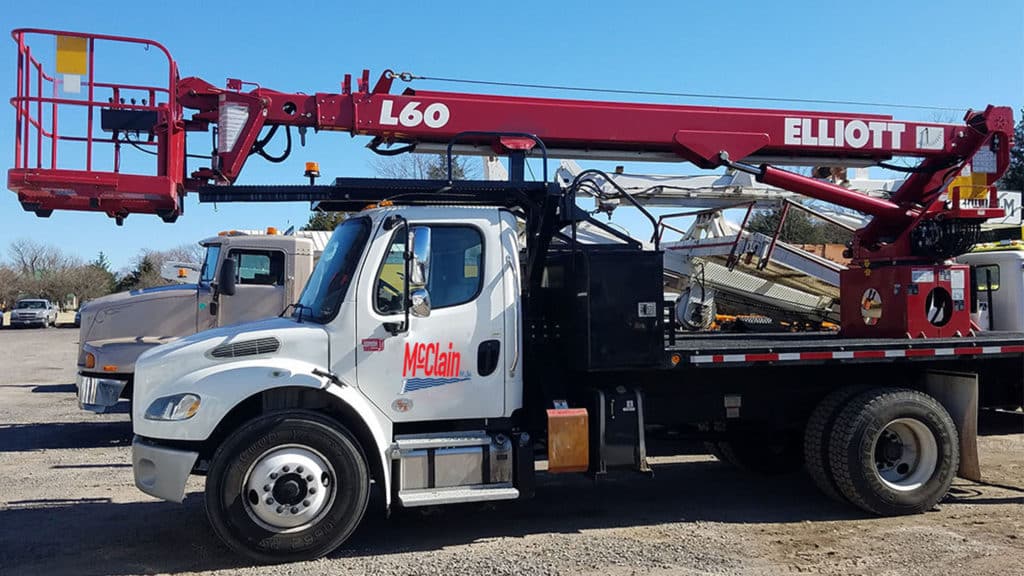 McClain and Company: Your Partner for Bridge Repairs and Tunnel Work
One of the reasons we have maintained our sterling reputation in our industry is that McClain and Company have always believed in providing our customers with the highest quality service. For us, that means the service our customers receive when they engage us, as well as the work we do before and after an equipment rental.
In addition, we believe that the "highest quality" in terms of customer service also means providing our customers with the best in under-bridge inspection equipment rentals.
At McClain, we adhere to the principle that providing customers with the best in underbridge and aerial access equipment rentals is just one way that we can ensure that their projects are successful. And their success is of the utmost importance to us.
As we like to say at McClain, "Your success is our success."
This is why we have always made it our mission to do all we can to provide you with the best equipment rental unit for your specific project.
However, you may already know which model of under bridge inspection or other equipment you want. If so and you're ready to start, don't hesitate to give us a call to ask for a quote today. And in most cases, we'll even be able to schedule your rental with us right then.
In addition to an extensive selection of high-quality under-bridge inspection units, McClain and Company also offers a wide variety of utility and aerial equipment rentals along with Hi-Rail inspection equipment. For highway construction needs, we provide traffic safety equipment and highway construction-related services. If you have questions about equipment rentals from McClain or want to learn more about under bridge access equipment and under bridge inspection unit rentals, simply contact McClain and Company by giving us a call at 1.888.889.1284 or emailing us at info@mcclain1.com.