Almost everyone living in the United States is aware of the massive networks of roads, highways, and Interstates crisscrossing the nation. In fact, according to the Federal Highway Administration (FHWA), there are more than 3,950,000 miles of roads in the United States.
However, not so many of us are familiar with the extent of our railway system.
A Long Heritage of Rails, Locomotives, and Railroad Bridges
Engineers and contractors have been building, repairing, and maintaining railroad bridges since the early 1800s.
According to a blog article at American Rails,
"One of the first railroad bridges to be built in the country is credited to the Baltimore & Ohio Railroad which constructed its Thomas Viaduct in 1835 located at Elkridge, Maryland over the Patapsco River."
And surprisingly, that bridge still stands today and is still in use. The Thomas Viaduct is located on the Baltimore and Ohio Railroad line at the point where it crosses the Patapsco River. It also happens to be the world's oldest multiple-stone arched railroad bridge.
At its peak, the railway system in the United States boasted over 254,000 miles of track and connected just about every region throughout the country.
Today, while the overall length is just over half that amount at about 137,000 miles of railway, the U.S. still ranks number one in terms of rail transport network size. And according to the Association of American Railroads (AAR), freight rail accounts for around 40 percent of U.S. long-distance ton-miles — more than any other mode of transportation — and hauls approximately one-third of the country's exports.
In addition, along those almost 140,000 miles of rails, there are more than 61,000 railroad bridges.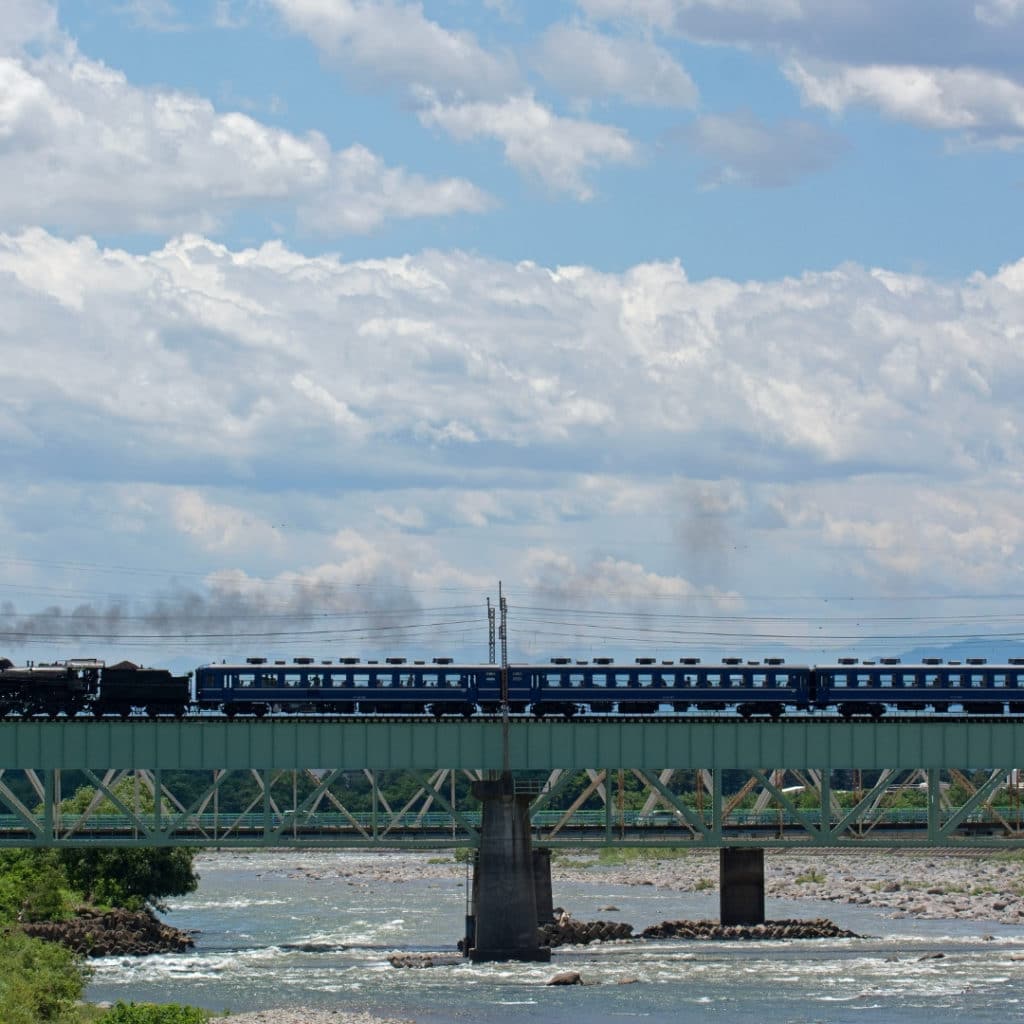 Safety Requirements for Railroad Bridges
Much like our nations' highway bridges, these structures must be routinely inspected, maintained, and repaired – jobs that the Federal Railroad Administration (FRA) has been overseeing since 1967.
As the AAR website points out, America's railroads employ qualified railroad bridge engineers, inspectors, and supervisors who use their extensive safety-oriented expertise to inspect, report on and provide customized maintenance for railroad bridges.
Which, of course, includes railroad bridge repairs.
There are nearly 100,000 railroad bridges in the United States, and over 600 different entities own them. All of these railroad bridges vary in length, load capacity, design, and construction material. And everything that is shipped or transported via rail likely travels across one or more railroad bridges.
This is why the Federal Register notes in its Bridge Safety Standards document,
"The structural integrity of bridges that carry railroad tracks is important to the safety of railroad employees and to the public. The responsibility for the safety of railroad bridges rests with the owner of the track carried by the bridge, together with any other party to whom that responsibility has been assigned by the track owner. The severity of a train accident is usually compounded when a bridge is involved, regardless of the cause of the accident."
Railroad Bridge Repairs and Railroad Bridge Safety
Because In July 2010, the Federal Railroad Administration released a Bridge Safety Standards Final Rule requiring private owners of railways to adopt and follow specific procedures to protect the safety of their bridges and to strengthen federal oversight of railroad bridge programs.
The Bridge Safety Standards Final Rule requires rail carriers to:
Implement bridge management programs that include, at minimum annual inspections of railroad bridges
Conduct special inspections if the weather or other conditions warrant such inspections
Maintain an inventory of all railroad bridges and know their safe load capacities
Maintain design documents and document all repairs, modifications, and inspections of each bridge
Ensure bridge engineers, inspectors, and supervisors meet minimum qualifications
Make sure bridge inspections are conducted under the direct supervision of a designated railroad bridge inspector
These requirements include the necessity for carrying needed and anticipated railroad bridge repairs.
Also known as FRA 237, this legislation helped codify and regulate railway bridge safety.
As an article from RT&S points out,
"For example, the Union Pacific says that 95 percent of its bridges are inspected a minimum of twice annually by one of 29 specially-trained two-person bridge inspection teams. UP bridges that are less than 10 years old and have no defects are inspected once annually. In addition, every railroad needs to have designated bridge engineers, inspectors and supervisors."
Railway Bridge Inspections and Safety: Tools and Tech
And, while newer technology, such as the use of unmanned aerial vehicles (UAVs), or drones, allows inspectors to inexpensively view parts of a bridge that are otherwise difficult to see, there are still limitations. For example, operating drones around steel bridges can cause their GPS and compass to malfunction because of the vast amount of steel.
Other technology allows railroad bridge engineers to use digital photography applications that are run through touchpad computers. Inspectors can view images taken from previous inspections and compare them with new images.
Many such programs are connected to other software systems, linking multiple data points, and making them available to inspectors.
However, while railway companies continue to use drone technology where appropriate, the consensus is that making extensive use of standard inspection vehicles combined with human expertise is still a powerful combination.
Or as Kevin Halpin, the former manager of bridges and structures for CN and now the owner of KRH Engineering LLC, put it: "Good ole snooper trucks still do a very good job."
The term "snooper" truck is, of course, a generic name for most any aerial access or under-bridge inspection truck and was derived from the popularity of the trademarked SNOOPER™ trucks built by Paxton-Mitchell Co., LLC.
However, the point is well made that specialized railroad bridge inspection vehicles are the mainstay of effective and efficient bridge inspection equipment for the railway industry.
Railroad Bridge Inspections Means Hi-Rail Equipment
Equipment utilized for railway bridge inspections includes, among other things, specialized vehicles known as BIVs, or Bridge Inspection Vehicles, also known as Hi-Rail vehicles. These are standard highway-type trucks that are equipped with flanged steel wheels that can be deployed to allow the vehicles to travel on railroad tracks.
Hi-rail under-bridge inspection vehicles are specially equipped to allow safe access to inspect the entire bridge structure.
As the website for Union Pacific points out,
"Inspectors carefully examine each bridge component looking for corrosion or cracks in trusses, and decking. These inspections include a detailed "snooper" examination in a truck-mounted articulated basket crane that gives inspectors detailed access above and below the bridge deck."
The use of hi-rail bridge inspection vehicles allows railroad bridge inspectors to conduct detailed examinations of above and below the bridge deck. While not every railroad bridge has trusses or other forms of superstructure above the bridge deck, many do, and this necessitates the use of inspection vehicles that can provide sufficient overhead reach.
The dimensions of the bridge structure usually determine the type and size of specialized hi-rail equipment required. Certain box-girder designs, for example, require substantial downward or vertical reach in order to position a work bucket underneath a bridge deck.
In addition, some truss bridges require a significant upward, vertical reach. And the width of a railroad bridge deck will determine the maximum horizontal reach required from a hi-rail under-bridge inspection vehicle. While many bridges accommodate a single set of rails, many are constructed with two tracks running side-by-side, which results in a much wider structure.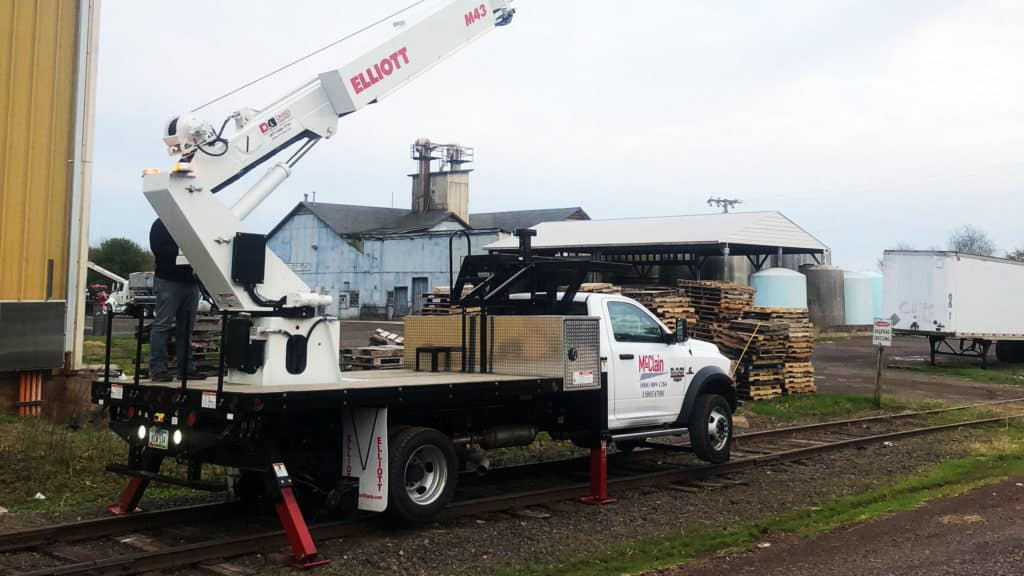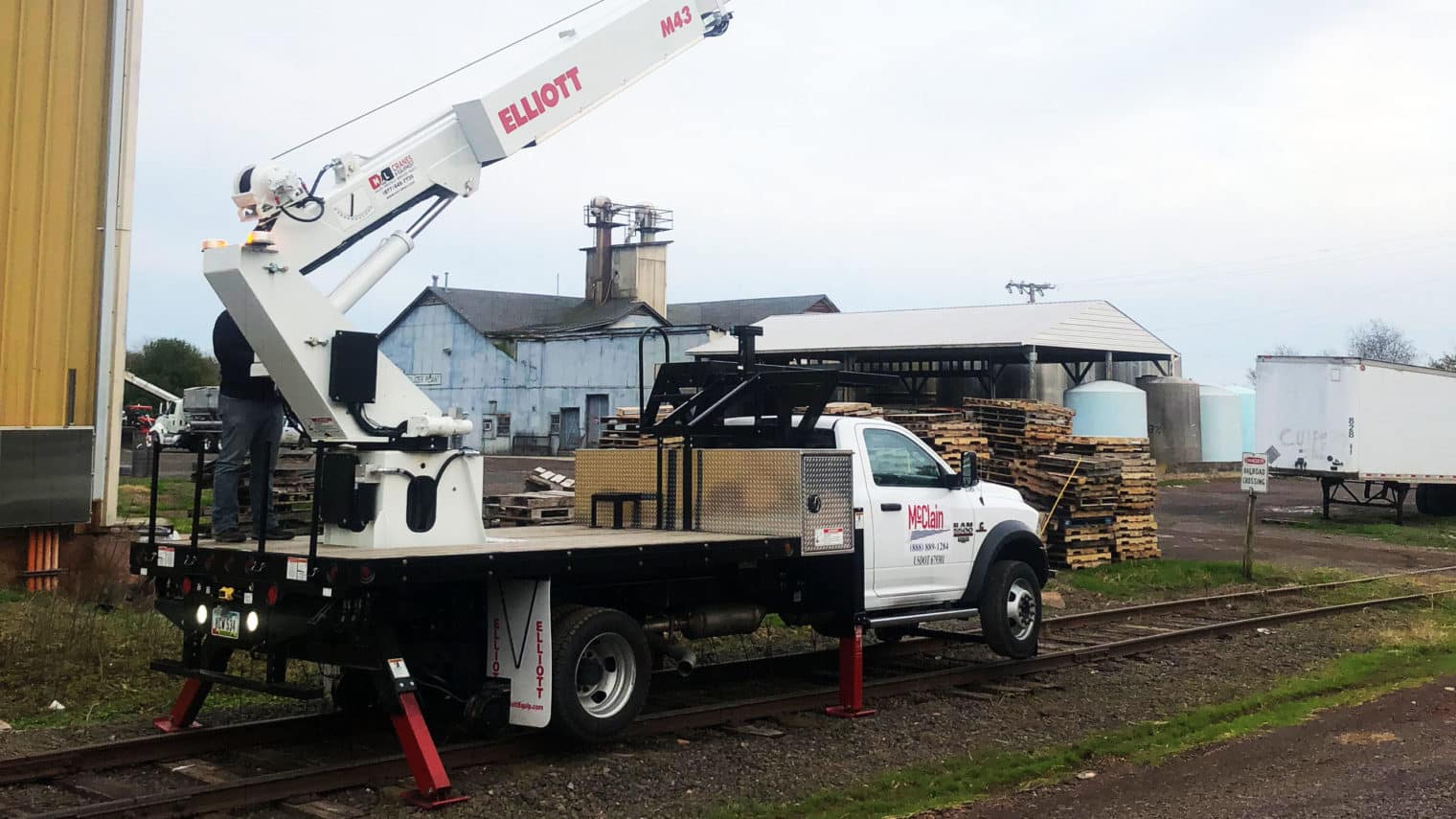 Quality Hi-Rail Equipment Rentals for Easier Railroad Bridge Inspections and Repairs
We offer a great fleet of quality, reliable, and versatile hi-rail bridge repair and inspection vehicles at McClain and Co., LLC.
For example, our massive 60-foot Hi-Rail bucket truck can provide a vertical reach of up to 66 feet and place a two-man bucket 30 feet underneath a bridge deck. In addition, you can choose from either an Elliott 43-foot Hi-Rail bucket truck or the 40-foot version, both of which can provide over 40 feet of height and bucket load capacity.
In addition, for those structures without overhead truss and beam structures that still require an extensive degree of under-bridge access, you can choose from either a 32-foot or 30-foot capacity Hi-Rail Under Bridge Inspection truck (UBIT).
With the vast number of railroad bridges across the nation, the safety and integrity of these vital structures require routine and other types of inspections and repair and maintenance work.
And having the proper equipment to make this work possible is the reason we make our hi-rail bridge access vehicles available.
McClain and Company for the Best in Hi-Rail Under Bridge Equipment Rentals
When it comes to hi-rail vehicle rentals, McClain and Company have always "gone the extra mile" to provide the very best in hi-rail rental equipment as well as exceptional customer service.
Our overriding goal has always been to help our clients select the best highway and railway under bridge inspection unit rentals for their projects. Our combined years of knowledge and experience means that we can provide the information and assistance you need to complete your project on time and cost-effectively.
And if you're already familiar with our selection of top-rated inspection vehicles and know which unit you'd like to rent, simply call us to request a quote and let us schedule your rental.
Along with our selection of Hi-Rail Equipment rentals, McClain and Company also provide our clients with a wide variety of other Utility and Aerial Equipment rentals and related services.
So, if you have questions about our equipment rental services or want to learn more about hi-rail trucks or other under-bridge inspection unit rentals, simply contact us by calling 1.888.889.1284 or emailing us at [email protected].