This Blog Was Updated In November of 2022
In addition to bridge inspections and maintenance of highway and railroad bridges, several common work projects involve high reach.
For a long-term project, one might prefer to use scaffolding to access an elevated and complex reach area. But if your job is only going to take a day to two, scaffolding can be far too time-consuming to set up and take down, not to mention limiting you to a fixed and stationary work platform.
In those instances, a quality bucket truck rental can be the best and most cost-effective solution.
Simply put, a bucket truck, or boom truck, as they are sometimes called, consists of an extendable boom mounted on a vehicle. The boom, which can be either straight (telescopic) or articulated, has a small work platform attached to it, referred to as a bucket.
Sometimes the boom may be installed on a van, which is called a bucket van. Some bucket trucks are designed primarily for lifting materials and supplies to workers.
The Half Century Legacy of the Bucket Truck
Bucket trucks. We've all seen them, and quite a few of us have actually worked with them.
Technically speaking, a bucket truck is more appropriately referred to as an aerial work platform but is also known as an aerial device, an elevating work platform, a cherry picker, or a mobile elevating work platform.
And according to Merriam-Webster, the first known use of the term "bucket truck" dates back to 1960. However, the same source notes that a "cherry picker" – a traveling crane equipped for holding a passenger at the end of the boom – was first known to be used as early as 1940.
As we've noted in other articles, there is a bit of debate about the true origins of the bucket truck, or "cherry picker" as it was likely first called.
One specialized type of bucket truck, for example, that was initially designed for under bridge inspection work is commonly referred to as a "Snooper" truck. However, SNOOPER™ is a registered trademark name. They are, in fact, a series of inspection vehicles especially designed and manufactured by Paxton-Mitchell.
The company produced the world's first dedicated under bridge inspection bucket truck back in 1964 and was appropriately named the Paxton-Mitchell Snooper Truck.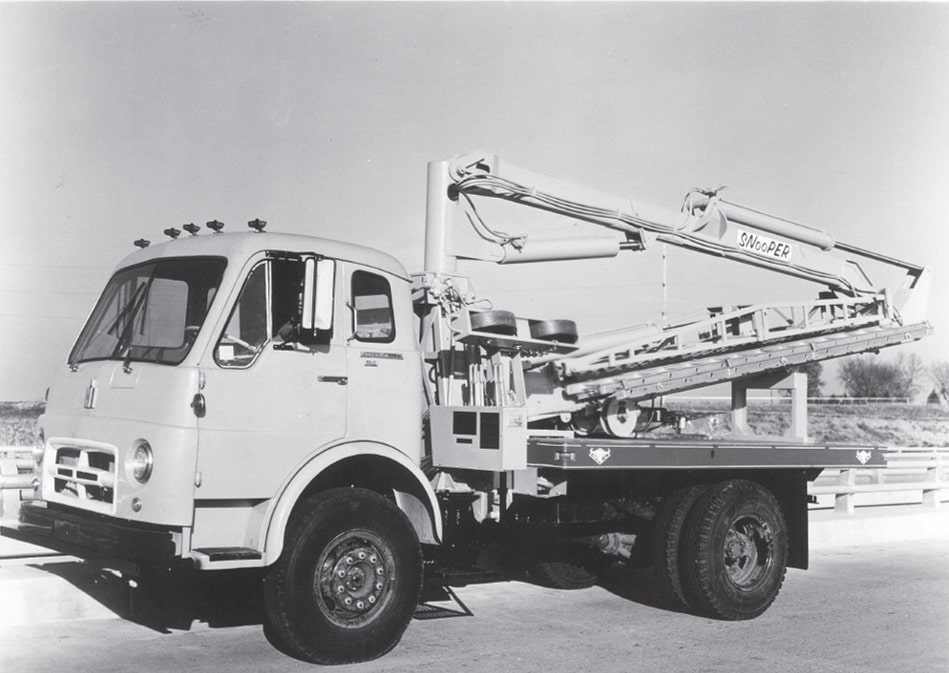 Bucket Trucks: Who Was First?
As we noted, there are a few claims to the origins of the first "cherry picker" or bucket truck.
Based on an article from Lift and Access magazine,
"In 1944, Jay spent a tedious summer day picking cherries. After a frustrating day of positioning and repositioning the ladder, the inefficiency of this chore led him to design a device he called the "cherry picker." On evenings and weekends he built a highly maneuverable, telescoping, steel structure mounted on a truck chassis with a simple one-lever control. When World War II ended, he started his own company known as the Telsta Corporation. The innovative man-carrying bucket-lift became the familiar "cherry picker" used by the Bell Telephone Company and many other utilities in a great variety of applications."
And an article from the July 1950 issue of Popular Mechanics featured a description of a "Crow's Nest" on a boom:
"With its "crow's nest" mounted on a double-jointed boom, an elevating maintenance platform rises to its full height of 33 feet in six seconds. Useful in servicing traffic and streetlights, signs and electrical lines, and for trimming trees, the platform reaches any point within a 180-degree swing and a radius of 20 feet. Operated by three finger-tip controls from the crow's nest, the device is powered by the hydraulic power of any truck of one-ton capacity or larger. A self-leveler keeps the operator's cage at even keel at all times."
Another well-known contender for inventing one of the very first bucket trucks, or boom lifts, was a Canadian gentleman named Walter E. Thornton-Trump. He invented what he called a
"MACHINE WITH ELEVATABLE AND TRAVELING CARRIAGE" which he filed with the U.S. Patent Office on November 19, 1952.
Today, while much has changed with the design and capabilities of bucket trucks, much remains the same.
Most bucket trucks are typically equipped with a hydraulic, extendable boom or booms which support a work platform, or bucket, attached at the far end of the boom. This platform, usually designed for one or two workers, allows for work to be performed safely in areas high above the ground.
These trucks allow for otherwise dangerous and challenging tasks to be accomplished safely and easily compared to other access methods.
Several industries and common projects require a bucket truck, and we've highlighted some of them here.
Electrical and Telephone Line Repair or Maintenance
For most of us, this type of work is what we most often associate with the use of a bucket truck. However, contractors and others often use these specialized, insulated bucket trucks to protect workers when positioning them to work on potentially dangerous high-voltage equipment that must be repaired or replaced.
Utility Maintenance Projects
Utility companies and others often use bucket trucks to carry out routine maintenance and repairs. However, contractors and property owners can use bucket truck rentals to work on a variety of tasks, such as replacing lights or maintaining signs. For low-clearance highway bridges, a bucket truck rental can often be used to access signage and utility structures.
Storm Damage Repair Work
As we enter the winter season, we also go into the storm season for many parts of the country. While not every storm is a tornado or hurricane, high winds can still wreak havoc on tall buildings and other elevated structures. Using a bucket truck rental for storm damage repair can allow for quick and easy access to roofs, broken branches in tall trees, and other emergency work.
Cleaning Tasks in Elevated Areas
While cleaning chores are somewhat mundane, cleaning areas on tall buildings and other structures require additional tools such as bucket trucks. Whether it's power washing outer walls, windows, church steeples, or tall storefronts, making use of a bucket truck rental allows for quick and easy access.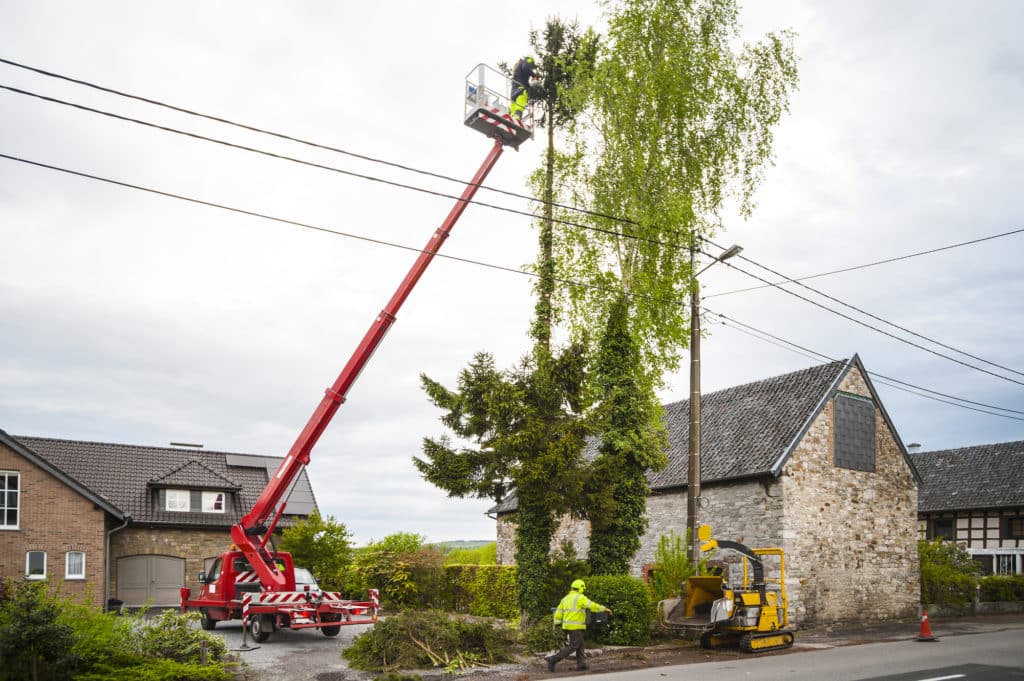 Trimming Trees for Utility Maintenance
Arborists regularly use bucket trucks, for example, to access tree limbs that are out of reach of ladders or inaccessible for tree climbers. Others often use bucket trucks to trim or clear away branches from utility poles, roofs, and highway signs. Specially insulated bucket truck rentals can be used to keep workers safe when trimming near potentially dangerous high-voltage wires.
Some Less Common Uses for Bucket Truck Rentals
While the bulk of work involving the use of bucket trucks probably occurs with utility companies, there are many other uses for these versatile vehicles.
Here is a short list of some of the not-so-common applications of the venerable "cherry picker" or boom lifts that we commonly refer to as bucket trucks.
Agricultural Work
As we noted several times here, the original bucket trucks were often called "cherry pickers" by many since they were originally designed and built to lift fruit pickers to where they could safely reach the highest branches of fruit trees. And they are still often referred to as cherry pickers and are still widely used to harvest fruit in orchards today, along with a variety of other agricultural tasks that require high access overhead.
First Responder Equipment
On occasion, firefighters or others actually do rescue animals – and children – from tall trees and other high and hard-to-reach places. Whether it's kittens, kiddos, or even injured birds tangled in fishing lines from trees, streetlights, or power poles, some type of bucket truck is often brought in to provide safe access to high overhead.
In fact, one specialized version of a "bucket truck" is the platform fire truck. These specially designed vehicles are used to reach tall buildings to put out fires.
Entertainment Industry
One of the more glamorous uses of these multi-purpose pieces of equipment is on movie sets and theater stages. In fact, bucket trucks are routinely used for added dramatic elements in stage performances. In addition, when it comes to filming movies and television programs, bucket trucks are commonly employed to give cameramen and photographers a staple work platform above ground.
This allows for a variety of activities, from scenic filming to dramatic movie shots to landscape photography and even overhead portraits of large groups.
Holiday Decoration Services
Holiday lighting installation is a growing service business opportunity that serves homeowners and others in addition to commercial clientele. Service providers typically make use of bucket trucks or bucket vans to hang lights and large decorations on housetops, as well as stores, commercial properties, and public buildings in towns and cities across the country. In addition, bucket trucks are just the thing for all the seasonal holiday lights and decorations on streetlamps in town.
In practice, there are probably dozens of vastly different and varied uses for large and small bucket trucks.
Other types of bucket truck rentals include those specially designed for under bridge inspection and maintenance work, as well as Hi-Rail units used on and under railroad bridges. In addition, there are some aerial work platforms that are specifically built for use as "sign trucks." Any and all of these various types of "bucket truck rental" vehicles can be found at McClain & Co., Inc.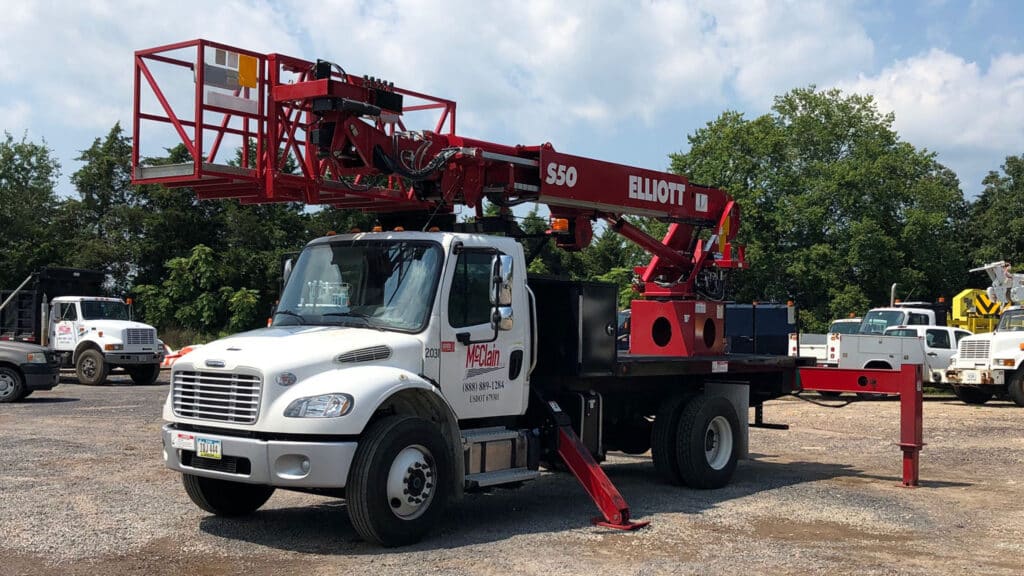 McClain and Company for Your Bucket Truck and Aerial Access Equipment Rentals
At McClain, customer service is our number one priority, and we believe in that. For us, great customer service also means offering our customers the absolute best in bucket trucks and other aerial access equipment rentals.
As we are proud to say, at McClain and Company, our corporate mission has always been to offer our customers only the highest quality, most dependable, and most versatile bucket truck and under bridge inspection equipment rentals available.
When it comes to bucket trucks, for example, McClain offers world-class access equipment that ranges from the Aspen Aerials A-75, which enables operators to access virtually any location on large bridge structures with ease, to our lightweight and agile 35-foot bucket truck units to nimble bucket vans.
Another thing that the McClain and Company team believes is that your success is our success. And we make it our goal to do everything we can to help you select the bucket truck and aerial access vehicles for your project rentals.
Do you already know which unit you want to rent?
Request a quote from us today, and you can quickly schedule your rental with us. In addition to bucket trucks, we also rent high-quality under bridge, Hi-Rail, and other aerial work platforms and access equipment. No matter what the structure and the location, McClain most likely has the perfect rental equipment for your project's needs.
And we off much more than bucket truck and under bridge access equipment rentals!
McClain and Company also provides Traffic Control Services, Device rentals, and construction services in several states.
Let McClain & Co., Inc. Help Make Your Projects Easier
If you have questions about our top-of-the-line aerial access equipment rental services or want to learn more about under bridge platforms and under bridge inspection unit rentals, you can contact McClain & Co., Inc., by calling us at 1.888.889.1284 or emailing us at [email protected].