For many of our customers, the first and foremost use for a SNOOPER™ truck is for under bridge applications.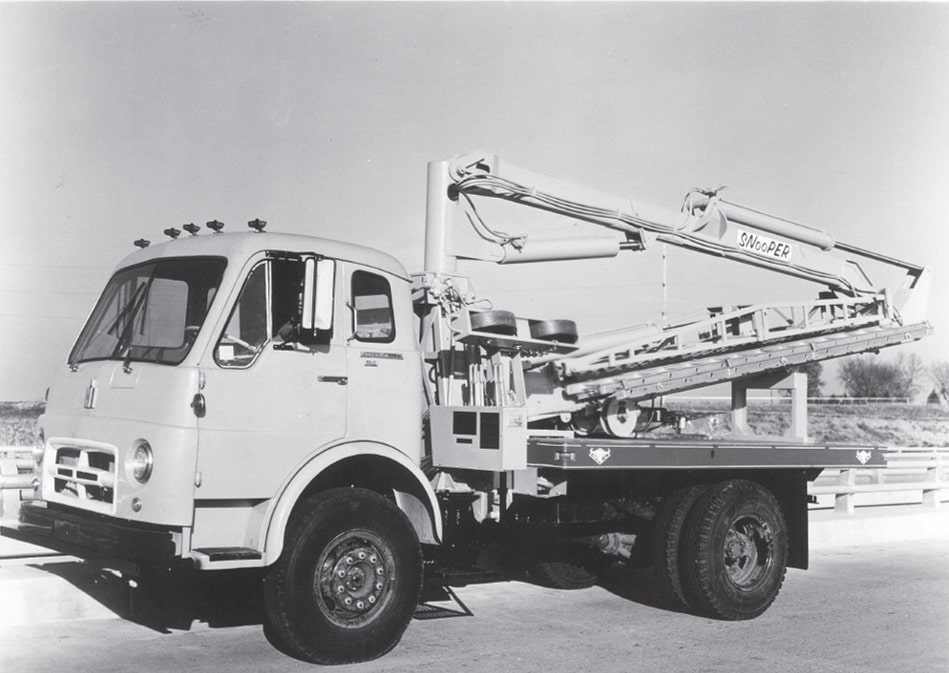 This could be, as an original SNOOPER™ put it, to "…inspect, repair, sandblast, paint" underneath a bridge deck. In fact, authentic Snooper™ under bridge inspection and maintenance trucks have been widely used for these purposes since 1964.
But the term "snooper truck" has been used as a common name for any under bridge inspection vehicle, as well as any number of other types of aerial lifts, including bucket lifts.
So, it is a fair question to ask, "What is a SNOOPER™ truck?"

Many are Called a "Snooper", But There is Only One Original SNOOPER™ Truck
The name "SNOOPER" is a registered trademark of the Paxton-Mitchell Co. and in the more than five decades since the production of that first under bridge SNOOPER™ truck, the name has become synonymous with under bridge inspection vehicles.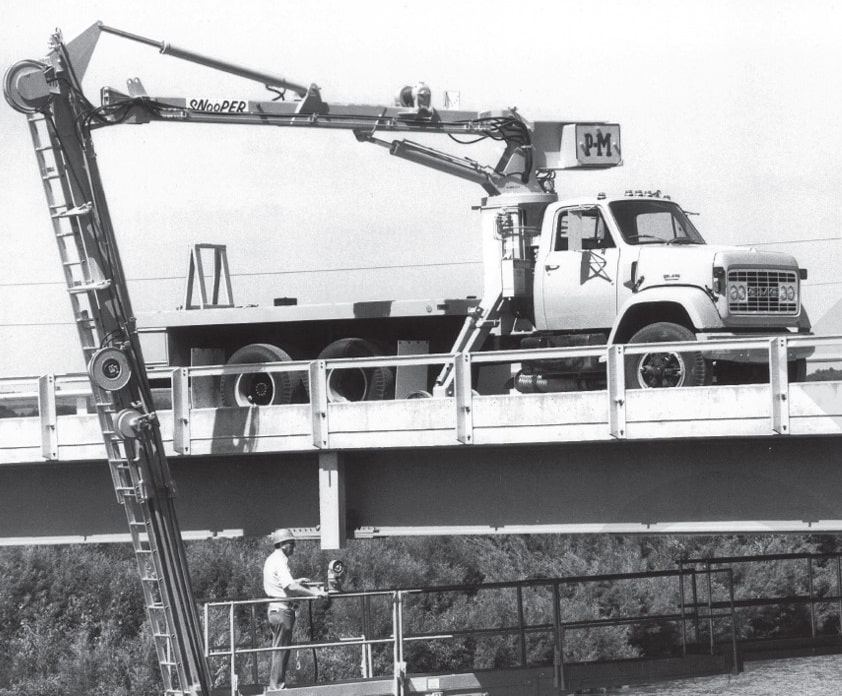 The famed SNOOPER™ under bridge trucks became so popular and common throughout the first few decades of their debut that the name "snooper truck" has since become a practically generic name for any under bridge inspection and maintenance truck, regardless of the make.
And, when one thinks of a SNOOPER™, bridge inspection and maintenance typically comes to mind. In addition, when the job at hand means getting under a bridge, SNOOPER™ truck rental options also come to mind.
But, because we specialize in SNOOPER™ truck rentals here at McClain and Company, we also know that there are many other uses for a SNOOPER™ truck besides providing under bridge access for inspections, maintenance, and repairs on those types of structures.

SNOOPER™ Trucks: When You Need Up, Over, Down, and Under
While using a "snooper" truck to rescue goats trapped on a bridge beam isn't included in any manuals, this did happen once in Pennsylvania back in 2018. Turns out that a "snooper" truck was just the thing for reaching a recalcitrant goat on a ledge.
Far more often, however, "snooper" trucks are used for other types of work on bridges.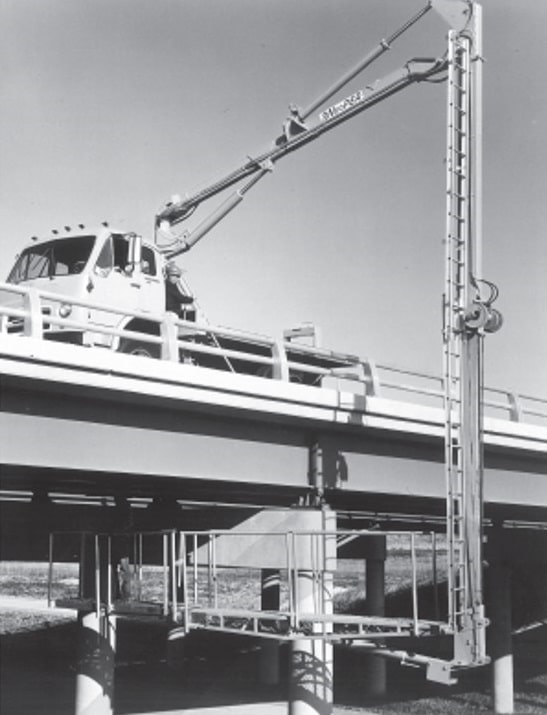 Most commonly, SNOOPER™ truck rentals are used for carrying out the thousands of routine inspections that are required on highway bridges across the country every two years.
With more than 60,000 bridges subject to these mandatory inspections, which means approximately 30,000 unique inspections are occurring annually – or almost 120 inspections each weekday.
In addition to routine inspections, however, a series of other types of inspections take place, as well. These include:
Initial inspections for new bridge structures
In-depth inspections to find deficiencies not otherwise detectable
Special inspections to monitor a known or suspected deficiency
Damage inspections to assess structural damage
Damage inspections, while unfortunate, are critical and often require "snooper" trucks repeatedly during the course of bridge repairs.

(Image courtesy commercial appeal )
Another common use for "snooper" trucks is bridge cleaning.
For example, one article noted,
"Minnesota Department of Transportation workers used a "snooper truck" to basically power wash the Minnesota Highway 23 Granite City Crossing… in St. Cloud. The specialized truck has a multi-jointed articulated arm attached to a basket that holds workers. The truck is also used by bridge inspectors."
In addition to cleaning bridge structures and the various equipment often attached to bridge decks, regular maintenance and repair work usually necessitates the use of a SNOOPER™ truck rental.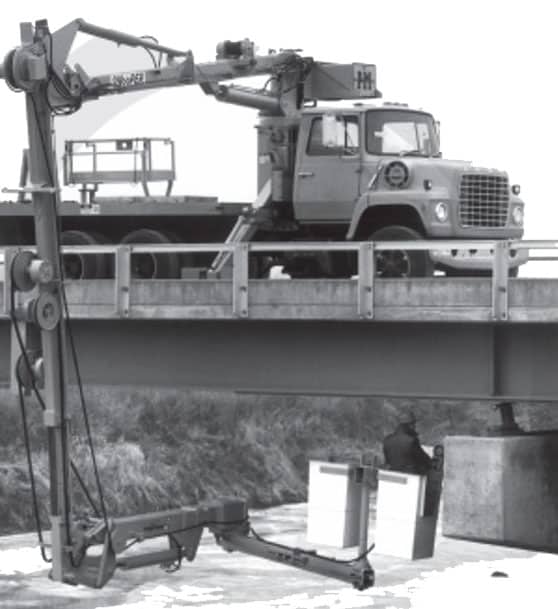 In addition to the replacement of lighting fixtures and other equipment, a short list of common bridge maintenance tasks could include the following:
Sealing deck joints
Lubricating bearings
Protecting against scour
Sealing cracks
Painting exposed elements
Other Less Common Uses of "Snooper" Trucks
While the typical "snooper" is usually employed underneath the bridge deck, many bridges have complex superstructures rising above their decks that must be cleaned, maintained, repaired, and even inspected.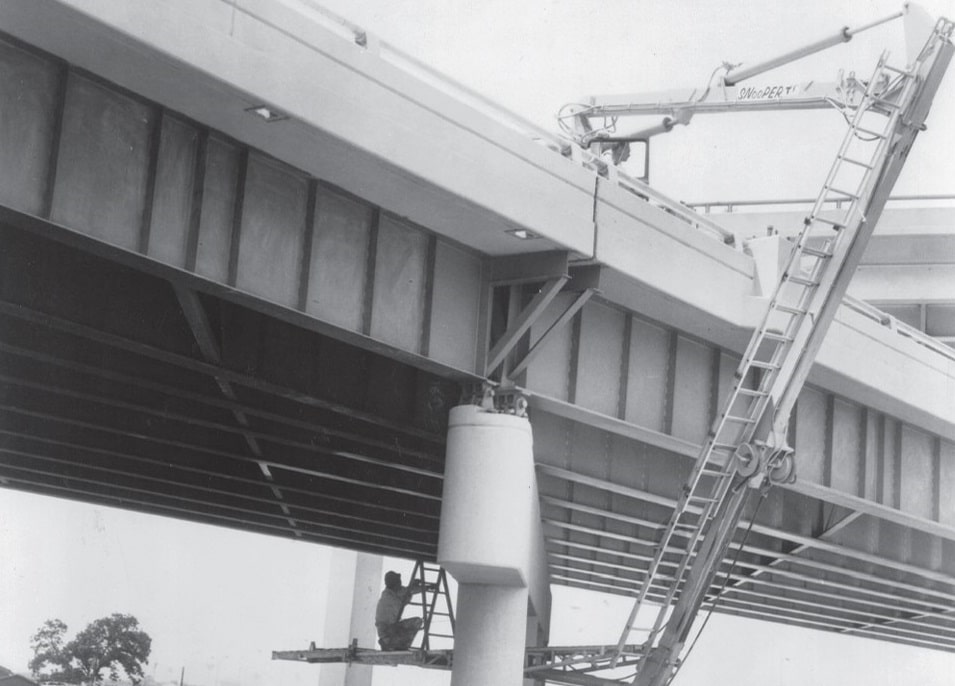 Not to mention painted.
While not all under bridge inspection vehicles are suitable for raising a bucket overhead, there are a few SNOOPER™ truck rentals that can certainly do the job. This can often be safer, easier, and more efficient than employing rope rigging or complex aerial scaffolding equipment.
Another not-so-common use for "snooper" type aerial lifts is on commercial piers.
Many times, accessing ships below the "deck," or pavement, level of the pier can be a bit problematic. However, a "snooper" can often be used in much the same way as it would be on a bridge. But instead of "over, down, and under" the operator simply places the work platform over, down, and then out from the pier.
You Can Rely on McClain & Co., Inc. for Reliable SNOOPER™ Truck Rental
The venerable SNOOPER™ truck has proven itself to be one of the most rugged, reliable, and versatile under bridge access vehicles produced. And the legacy continues today with new models being developed and introduced by Paxton-Mitchell, the manufacturer of the world famous SNOOPER™ truck.
And McClain and Company is proud to offer a wide range of SNOOPER™ truck rentals.
McClain & Co., Inc. was founded in 1998 to provide support services to government agencies and engineering companies and for bridge inspections and maintenance. In the more than twenty years since, our company has grown to become one of the largest Under Bridge Access Equipment suppliers in North America.
At McClain and Company, we not only believe in providing the best in customer service, but we also believe in offering our customers the very best in rental equipment. And that means highest quality equipment, which is why we are proud to offer a range of genuine Snooper™ trucks.
We also believe that your success is our success, which is why our primary goal is to do all we can to help you complete your project successfully.
If you have questions about our world-class inspection equipment rental services, or just want to learn more about under bridge SNOOPER™ Truck rentals hear you, you can contact McClain & Co., Inc., by calling us at 1-888-889-1284, or emailing us at [email protected].