Choosing the right bridge inspection equipment is critical to ensure the safety of the inspectors and the accuracy of the inspection results. There are several factors to consider when selecting the right equipment, including the location of the bridge inspection, the type and size of the bridge, and the specific requirements of the inspection.
In this article we will take a high-level look at the types of bridge inspection equipment that are commonly used and how to choose the right equipment for a project.
Considering the Various Types of Bridge Inspection Equipment
Highway bridge inspections are largely visual in nature. In other words, human inspectors are needed to perform "hands on" inspections of the various surfaces and structural components of the bridge. This includes not only the bridge deck, but any overhead trusses, arches, or cables, as well as the areas along the sides of the bridge deck and, of course, everything beneath.
While the primary means of inspecting is visual, various types of bridge inspection tools and testing equipment can be used including borescopes, drones, laser scanners, and ultrasonic testing devices. Along with securing safe and sufficient access to a bridge structure, it is also important to choose equipment that is reliable, durable, and easy to use.
Moreover, it is crucial that the equipment utilized meets the safety standards and regulations that govern highway bridge inspections and is appropriate for the specific type of bridge inspection being carried out.
Ultimately, selecting the right bridge inspection equipment can enhance the accuracy, efficiency, and safety of the inspection process.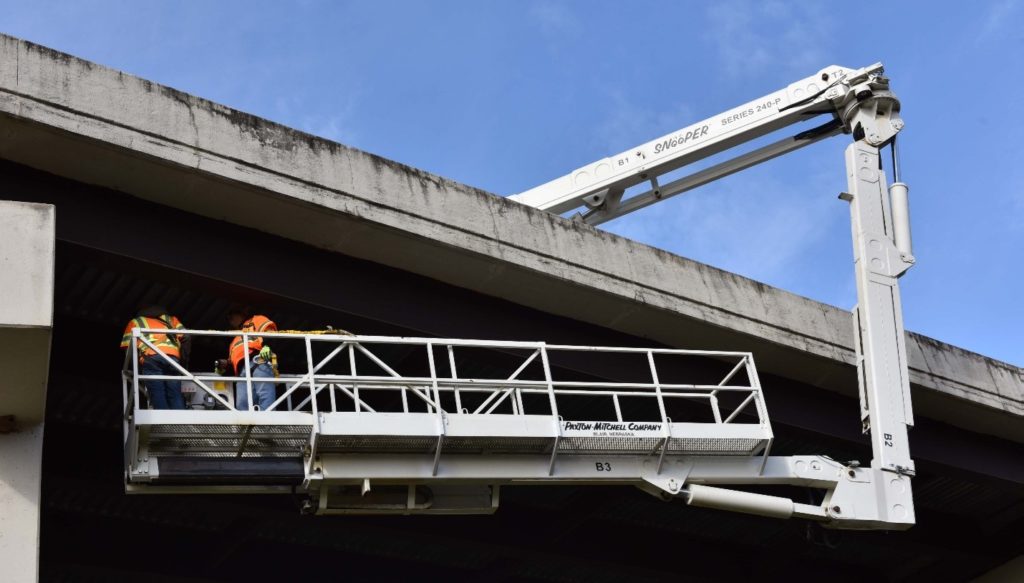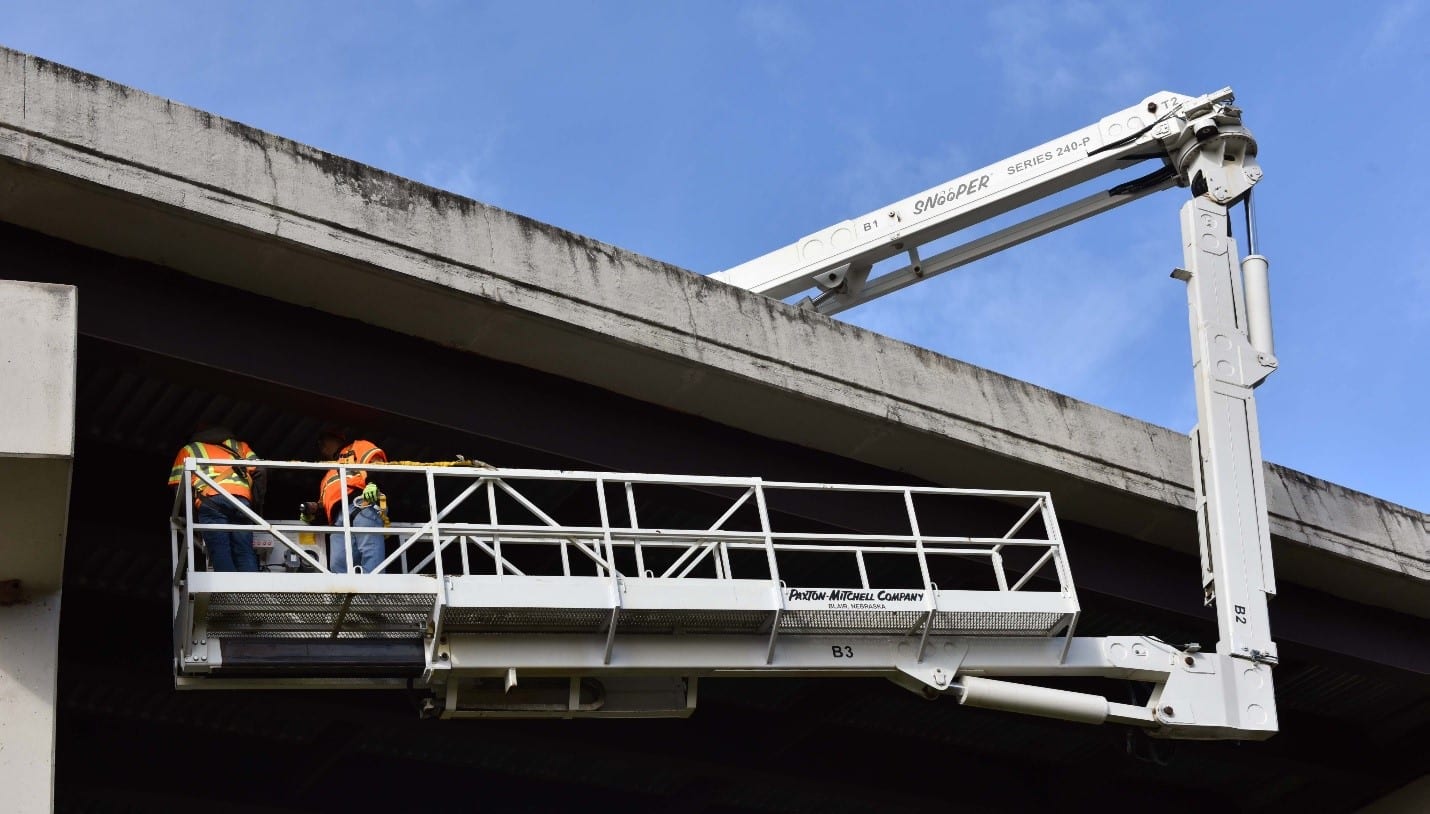 Types of Visual Inspection Tools
Because the visual aspect is vital to a properly executed bridge inspection, different types of visual inspection tools are often employed to aid and enhance visual inspections. These can include, but are not limited to:
Magnifying glasses
Binoculars
Cameras
Drones
Along with the visual component, experienced bridge inspectors often incorporate acoustic techniques which are performed by using a chain drag or hammer to identify changes in sound pitch. These tests is able to detect delamination, as well as the separation of coating or the splitting of a structure into layers. In addition, a technique called hammer sounding uses an acoustical representation to identify areas of delamination.
Non-Visual Tools for Non-destructive testing (NDT)
Bridge inspectors understand that visual and acoustic analysis alone cannot determine all the actual or underlying conditions or damage that are present on a bridge structure. This is where the use of more sophisticated and high tech equipment can come into use.
These tools are employed in what is known as non-destructive testing, or NDT. This is in contrast to other methods that require chipping, gouging, or boring into surfaces or components a bridge structure.
For NDT purposes, the most common equipment or tools used include:
Ultrasonic testing (UT)
Magnetic particle testing (MPT)
Radiographic testing (RT)
Eddy current testing (ECT)
Ground penetrating radar (GPR)
What to Look for in Bridge Inspection Equipment
Bridge inspection equipment, most of which is typically leased or rented, can vary in quality and effectiveness. In addition, not every tool available needs to be utilized nor are certain tools always the best choice in a given inspection scenario.
Factors to consider when choosing bridge inspection tools and equipment include accuracy. Essentially, this simply means the quality of a tool's ability to detect and measure defects. Because of the nature of highway bridge inspections and the stakes involved such as transportation safety, a high degree of accuracy is preferred.
In addition, inspectors should take into consideration the calibration requirements of the equipment they choose to use.
Hauling tools and equipment across bridge decks, over railings, and on confined under bridge platforms can be challenging, especially on larger bridges. Therefore, tools and equipment portability is a key factor for consideration.
Portability not only includes the ease of transportation but of the expected battery life of these high-tech tools. Lugging extra batteries is a factor that must be accounted for, as well. Then there is the issue of durability.
Durability not only involves the construction and robustness of design, but also a tool's resistance to environmental factors. Bridge inspections, by their very nature, occur in the outdoors and inspectors – as well as their equipment and tools – are exposed to the elements.
Familiarity with and training with certain equipment can also be a consideration as is, in some cases, the need for certifications. All of these factors must be given due consideration when renting, leasing, or even procuring tools for bridge inspections.
Factors to Consider When Choosing the Right Bridge Inspection Equipment
All bridges are not created equal.
Any bridge inspector who has spent time in the field knows quite well that highway bridges comes in a variety of lengths, widths, heights, and construction. While some regions and states may a have a preponderous of similar highway bridge structures, other areas can be home to a bewilderingly diverse collection of structures.
And each bridge has it's particular requirements for not only inspection tools, but for access equipment.
The primary aspects to consider are the type of bridge being inspected. This will include the size and span of the structure, the various materials used in the construction, and the physical location. Bridges spanning waterways, for example, may have differing access requirements than those low bridges over open ground.
Additionally, the type of inspection being performed will dictate much of what is required in terms of tools, equipment, and accessibility requirements.
For many bridges that have high volumes of vehicular traffic, the means of access for bridge inspections includes factoring in reasonable traffic delays and determining the most efficient means for gaining extensive under bridge access.
While the need for equipment is a given, consideration must still be given as to the cost of the equipment required. Because many state and county agencies run on tight budgets, purchasing expensive testing equipment or large under bridge access vehicles is often out of the question.
Consequently, equipment and tool rentals tend to be the norm for highway bridge activities.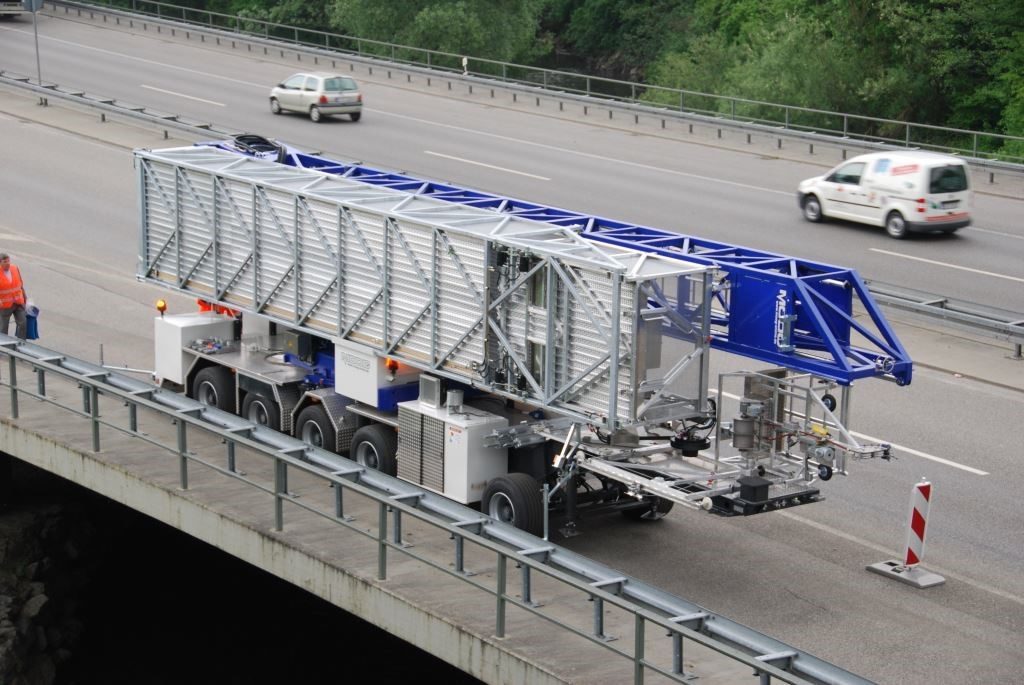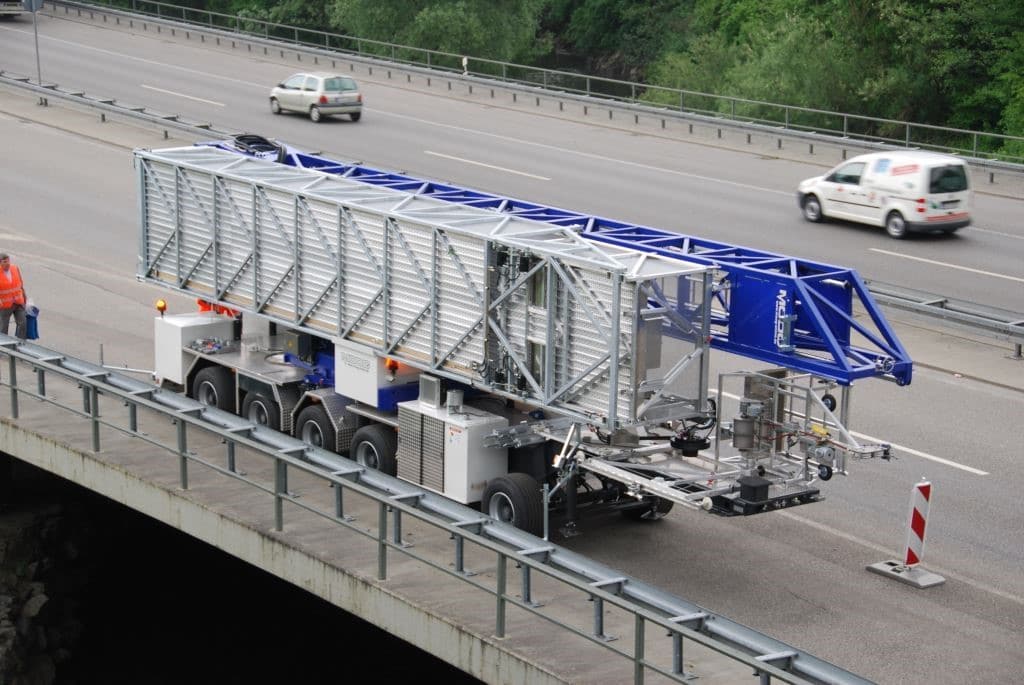 Conclusion: Bridge Inspection Equipment is a Critical Component of Effective Inspections
For the thousands of bridge inspection crews throughout the country that are tased with conducing inspections on our more than 600,000 highway bridges, the issue of bridge inspection equipment is one of paramount importance.
As we noted here, choosing the right bridge inspection equipment is dependent on a wide variety of factors. Chief among these is determining the right tools for the job, acquiring equipment that is durable, reliable, and safe, and securing the needed tools and equipment within the budgetary constraints of the state DOT, municipal agency, or contractor tasked with the inspections.
We also pointed out that among the key factors and features to consider are the type of inspection being carried out, the size and type of bridge being inspected, and the physical and environmental conditions the inspection is taking place in.
Because of recent legislation that has provided a significantly large amount of federal funding to made available for infrastructure work and rehabilitation, it is anticipated that tasks such as bridge inspection will become increasingly more frequent as agencies secure much needed funds and new bridge projects get underway.
At McClain and Company, we understand that inspection tools and testing equipment alone cannot allow inspectors to conduct comprehensive bridge inspections. Equipment for providing sufficient access on, above, and especially underneath these bridges is absolutely essential. Which is why we continue to strive to remain the premier under bridge access equipment supplier in North America.
McClain & Co., Inc. – The Leader in Quality Bridge Inspection Equipment
The team at McClain and Company believes in providing the absolute best in under bridge inspection equipment rentals. This also means offering our customers the best in customer service, as well.
Since 1998 we have provided support services to engineering companies and government agencies for the inspection and maintenance of highway bridges and continue to do so today.
We have a saying here at McClain and Company that our owner Daniel McClain has expressed many times, "Your success is our success."
This is more than a nice-sounding marketing slogan – we firmly hold to that belief. Which is why, when it comes to under bridge and aerial access equipment rentals, we continually make it our mission to do all that we can to provide our customers with the best under bridge inspection unit rentals for their specific projects.
And if you already know which model of under bridge inspection equipment you want to rent simply give us a call for a quote today, and we can often schedule your rental with us right then.
Also, along with our world-class selection of under bridge inspection units, McClain and Company offers a wide variety of Hi-Rail inspection equipment, utility and aerial equipment rentals, and other highway construction related services.
If you have questions about the various types of equipment rentals available from McClain or want to learn more about under bridge access equipment and under-bridge inspection unit rentals, simply contact McClain & Co., Inc. by calling us at 1.888.889.1284 or emailing us at [email protected].