Asking what it is about Snooper™ trucks that make them so ideal for bridge inspections might seem like a trick question to veteran bridge inspectors.
For many DOTs, engineering firms, and highway contractors, a Snooper™ truck is the epitome of the ultimate bridge inspection vehicle. In fact, the legendary Snooper™ has become almost synonymous with aerial access vehicles, particularly those used for under bridge access.
The term "snooper truck" is repeatedly used as a generic reference to these types of trucks.
"A snooper truck became available on October 30, 1989 and was used on this bridge for 2 days and then again on December 9."
The Loma Prieta, California, Earthquake of October 17, 1989, Highway Systems (1998)
"The access to underside of bridge superstructures was made possible via a snooper truck , which is normally used by the Ohio Department of Transportation crew for inspection purposes."
Structural Health Monitoring 2003 (2003)
"One of the most important pieces of equipment to facilitate the effective inspection of large bridges is the snooper truck…"
Safety Recommendation Volume 83 (1983)
But, as we well know here at McClain and Company, there is only one authentic Snooper™!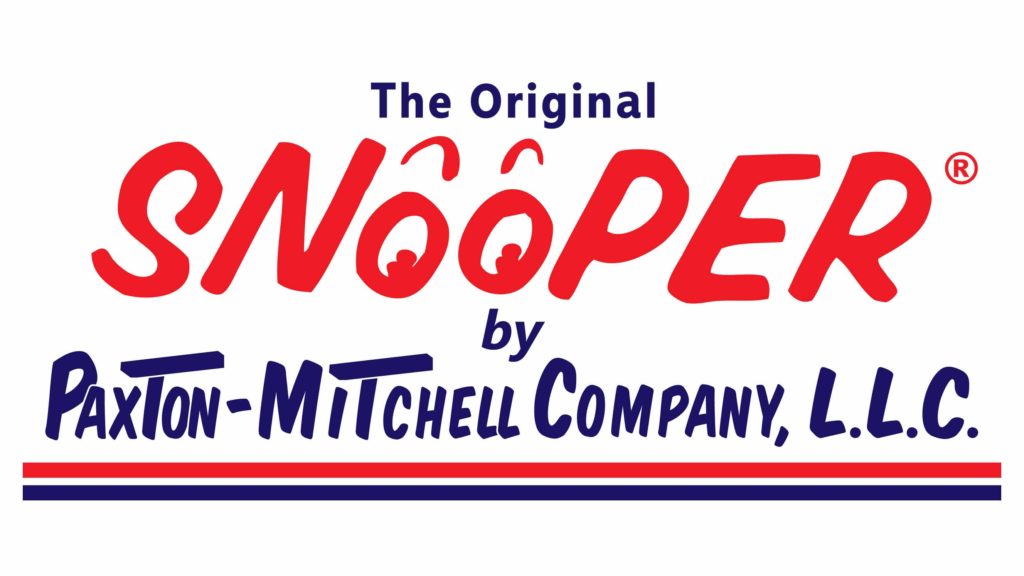 Paxton-Mitchell SNOOPER™ Bridge Inspection Trucks – Ideal Under Bridge Access
In the world of bridge inspections and under bridge access vehicles, not all equipment is created equal.
For almost 60 years, the line of Snooper™ bridge inspection trucks have set the standard for excellence in under bridge access vehicles. One of the ways they've done this for more than five decades is to produce truly multi-purpose units that consistently provide the most extensive reach capabilities.
The Snooper™ trucks are equipped with fully hydraulic and mobile cranes that allow inspectors to be positioned right where they need to be. This reach and ease of access means that workers can quickly and easily perform any type of under bridge task.
And, once the bucket or platform is in position, as many as three operators can work on most any type of bridges, trestles, viaducts, or other hard-to-access structures.
The Snooper™ truck's versatility, reach, and access is complemented by its robust and reliable construction.
Among the many durable and high-quality construction features included on these vehicles are safety check valves on every hydraulic function along with 'deadman' controls. In addition, the hydraulically extendible second boom can easily deploy the platform or basket over tall pedestrian fences or under and behind deep girders.
All of which means that bridge inspection workers can be placed right where they need to be – whether that's up in the structure or along the bottom of support beams.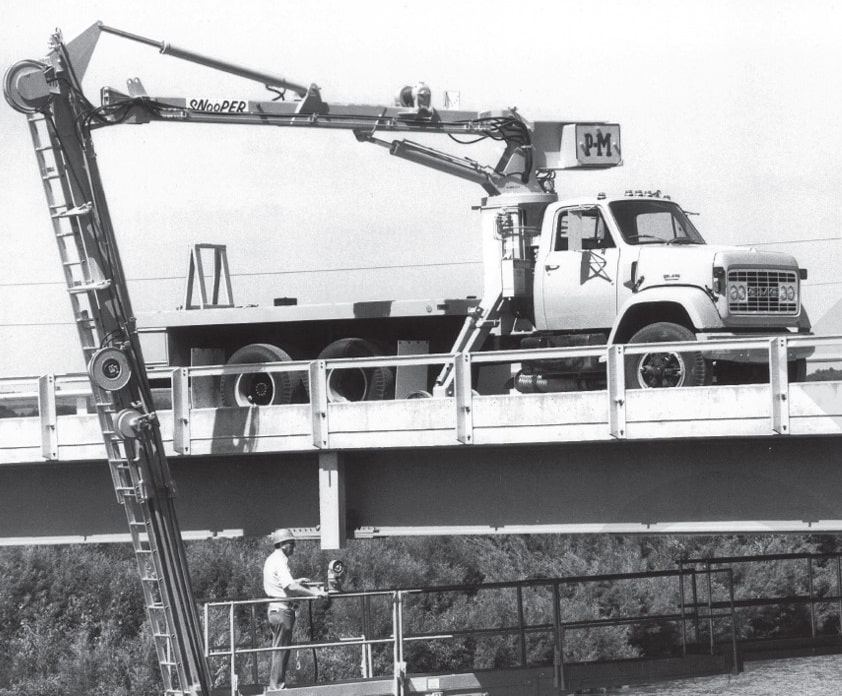 Reliable Bridge Inspections Require Reliable Under Bridge Access Equipment
Bridge inspections are a vital function in the overall maintenance and monitoring of our nation's infrastructure and highway system. Therefore, the quality and efficacy of bridge inspections is a priority.
What this means for those conducting these routine and other types of bridge inspections is the need for high quality and efficient under bridge access equipment.
And a Snooper™ truck has been the equipment of choice for over 55 years now.
There are a variety of methods for gaining access to the under bridge areas that need to be seen and inspected. There are specialized scaffolding rigs, rope access methods, and a wide variety of aerial access vehicles that can be used.
However, more often than not, under bridge access is best accomplished with the use of a Snooper™ truck as the ideal choice for any bridge inspection project.
A Snooper™ truck rental from McClain and Company is a reliable choice that you can always depend on to provide highly flexible reach with an articulated unit. These well-designed and well-maintained machines make it much easier for bridge inspectors to access hard-to-reach areas of bridge structures.
Making use of a McClain Snooper™ truck rental for a bridge inspection vehicle will provide a highly versatile, reliable, and robust work platform. And a Snooper™ truck can be utilized for any type of bridge inspection your project requires whether that's routine inspections, special inspections, hands-on inspections, or in-depth inspections.
For the Ideal Bridge Inspection Equipment Look to McClain and Company
At McClain and Company, we believe in providing our customers with world-class service. And that includes offering our customers the absolute best in under bridge access equipment rentals.
Owner Daniel McClain and the team at McClain and Company also believe that your success is our success, which is why our goal is to do everything we can to help you select the right aerial access equipment rental for your project.
Do you already know what pieces of equipment you'd like to rent? We'd be happy to give you a quote today and schedule your rental with us.
At McClain and Company, we offer much more than Snooper™ trucks and under bridge inspection equipment rentals. We also provide a wide variety of professional highway construction services and equipment rental in several states, along with Traffic Control Service and Device rentals, as well as Hi-Rail and aerial work platforms and access equipment.
If you'd like to learn more about Snooper™ trucks, or you have questions concerning under bridge inspection unit rentals, feel free to contact McClain & Co., Inc., by giving us a call at 1.888.889.1284 or emailing us at [email protected].