While not as vast as the trucking industry, freight rail in the United States represents a major segment of the goods being transported around the nation.
According to the Association of American Railroads (AAR), freight rail accounts for close to 40 percent of long-distance ton-miles, which is more than any other mode of transportation. The Federal Highway Administration (FHWA) forecasts that total U.S. freight movements will rise by 30 percent from around 19.3 billion tons in 2020 to 25.1 billion tons in 2040.
But when it comes to the actual percentage of freight being hauled around the continental United States, the breakdown of freight transportation is split among a variety of networks. The largest percentage of US freight is carried by trucks at 60 percent, rail at 10 percent, while ships and aircraft account for eight and one percent, respectively.
Other modes of transportation, such as parcels and intermodal freight, accounted for about three percent of the remainder.
However, the portion of the freight carried by American railroads is significant and wholly dependent on the reliability and safety of the nation's rail system. And this includes railroad bridges.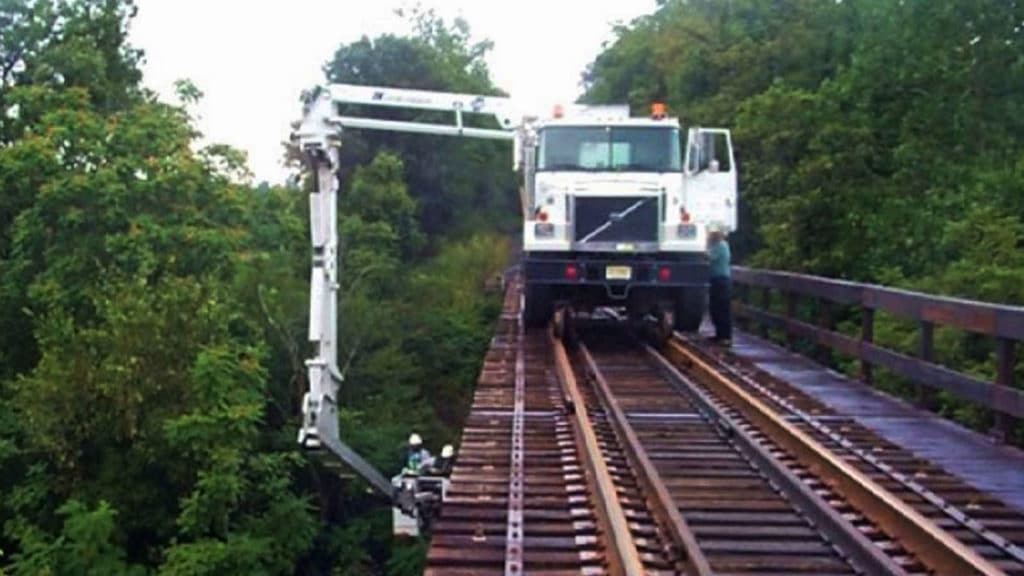 Maintaining the Nation's Railroads and Bridges with Hi-Rail Trucks
The U.S. Government Accountability Office (GAO) reports that freight railroads account for over 40 percent (by weight) of the nation's freight on a privately owned network that was largely built almost 100 years ago and includes over 76,000 railroad bridges and over 800 tunnels.
Unlike roadways, U.S. freight railroads are owned by private organizations responsible for maintenance and improvement projects. And that includes railroad bridge inspections, repair, and replacement.
Much like highway bridges in the United States, all of the railroad bridges connecting the almost 140,000 route miles of the U.S. freight rail network are required by the federal government to be inspected. And to comply with this mandate, railroads annually inspect the more than 61,000 Class I railroad bridges in the United States.
The Federal Railroad Administration (FRA) oversees all the bridge safety efforts the railroads undertake, which include the physical inspection, maintenance, repair, and replacement of railroad bridges.
Instrumental in the work of inspections and repairs are the tools and equipment required. And that often includes hi-rail trucks of various types. While the large railroads own fleets of trucks and other types of railroad equipment, in many instances, these companies take advantage of the benefits of outsourcing to hi-rail truck rental services.
When Hi-Rail Truck Rentals Make More Sense
Railroad bridge inspections are a significant part of every major railroad's maintenance functions. In fact, according to the AAR,
"Thousands of bridges are vital to rail's expansive network, which allow trains to cross rivers, gorges and ravines. Railroad overpasses also help pedestrian and highway vehicle traffic flow better. Without strong and structurally sound bridges, America's freight rail network would not work. That is why freight railroads invest billions of dollars annually, employ the most-well trained bridge safety personnel, and annually inspect… railroad bridges."
As the AAR points out, railroads employ inspection teams composed of a railroad bridge engineer, inspector, and supervisor to carry out the inspection functions. To conduct a rail bridge inspection, this team of experts visually reviews all bridge components on, above, and below the rail bridge deck. This visual review also includes its foundation, which sometimes requires diving crews to perform underwater analysis.
Ultimately, these inspectors are looking for any anomalies or structural changes.
Because of the vast number of railroad bridges and the requirement for continual cleaning, maintenance, and repair – along with 60,000-plus inspections each year – the need for specialized hi-rail trucks such as hi-rail bucket trucks as well as larger hi-rail under bridge inspection trucks can be overwhelming.
However, most railroads and their inspection contractors rely heavily on outsourcing to hi-rail truck rental services, such as McClain and Company.
There are numerous benefits of going the route of outsourcing in most any business and for almost any function. But for hi-rail truck rentals, in particular, the benefits can far outweigh the costs and limited availability of relying solely on proprietary equipment.
A Brief Overview of the Benefits of Using Hi-Rail Truck Rental Services
Outsourcing hi-rail truck rental services can provide several benefits for railroad businesses or contracted firms that require both highway and rail transportation services for their operations.
Some of the key benefits of outsourcing hi-rail truck rental services include:
Ongoing cost savings: Railroad companies find that outsourcing hi-rail truck rental services can often be much more cost-effective than purchasing and maintaining their own fleet of vehicles. Rental companies typically provide not only the vehicles, but the maintenance and repairs, which can save railroads large sums of money on upfront costs, as well as ongoing maintenance expenses, and insurance premiums.
Operational flexibility: Large equipment rental companies can often provide a variety of hi-rail truck options to meet different railroad transportation needs, from small pickup trucks to large under bridge inspection units. Outsourcing hi-rail truck rental services means that railroads or contractors have access to a wide range of vehicles with different specifications and capabilities. And that means being able to choose the best vehicle for each job and only pay for the equipment and time needed. Simply put, outsourcing hi-rail truck rental services provides flexibility in terms of duration of use, which allows these businesses to rent hi-rail vehicles on an as-needed basis without the commitment of a long-term lease.
Access to specialized equipment: Hi-rail trucks are designed to operate on both roads and railways, and certain jobs require specialized hi-rail equipment and training. By outsourcing these specialized hi-rail truck rentals, firms can have on-demand access to specialized equipment without the need to invest in expensive training or purchasing and maintaining the equipment.
Equipment and operating expertise: Hi-rail truck rental companies have specialized knowledge and expertise in the operation, maintenance, and repair of these types of vehicles. This means equipment renters can benefit from their hi-rail truck knowledge and experience to reduce the risk of accidents or breakdowns.
Increased overall productivity: Outsourcing hi-rail truck rental services can help railroads increase productivity by providing reliable and efficient transportation services. Rental companies typically maintain their vehicles to ensure they are in good working condition, reducing the likelihood of breakdowns or delays that can impact productivity.
Improved operational safety: Professional hi-rail truck rental firms have rigorous safety protocols to ensure their vehicles' safe operation. By outsourcing to a reputable company, hi-rail truck users can improve safety on their worksite and reduce the risk of on-the-job accidents or injuries.
Reduced administrative functions: Managing fleets of commercial vehicles and heavy equipment requires a great deal of administrative resources. Adding a fleet of hi-rail vehicles can make those administrative functions even more time-consuming and complex. But by outsourcing to a third-party provider, rail companies can reduce the administrative burden and free up time to focus on more critical functions.
Reduced liability and insurance costs: Rental companies typically carry their own insurance policies, which can reduce liability for rail companies in the unlikely event of an accident or some other incident. This can mean fewer costs and provide peace of mind while protecting businesses from potential financial losses.
Outsourcing hi-rail truck rental services can provide railroad companies with a cost-effective, flexible, and efficient transportation solution that can help improve productivity and reduce liability. In addition, it can represent a cost-effective and safe solution for railroad crews and inspectors to transport heavy equipment and materials on their railway tracks.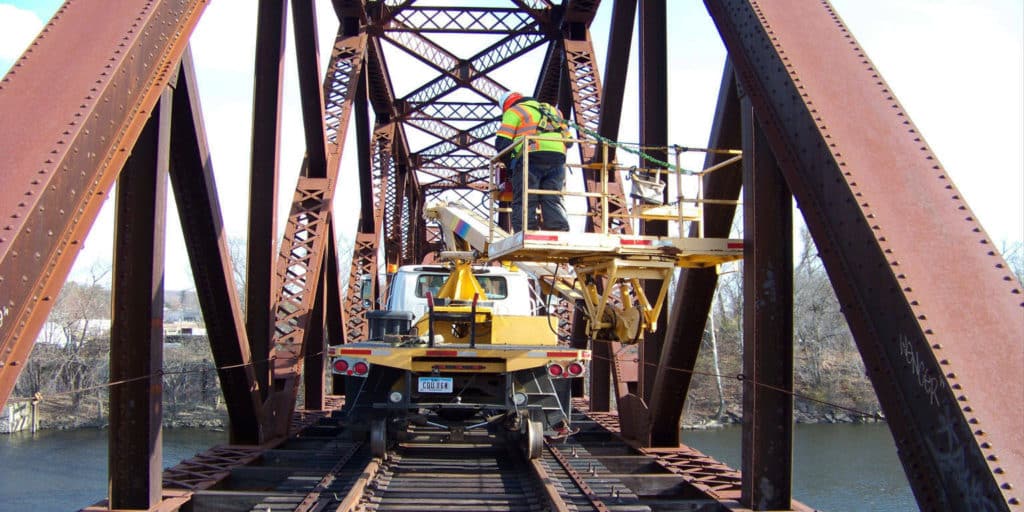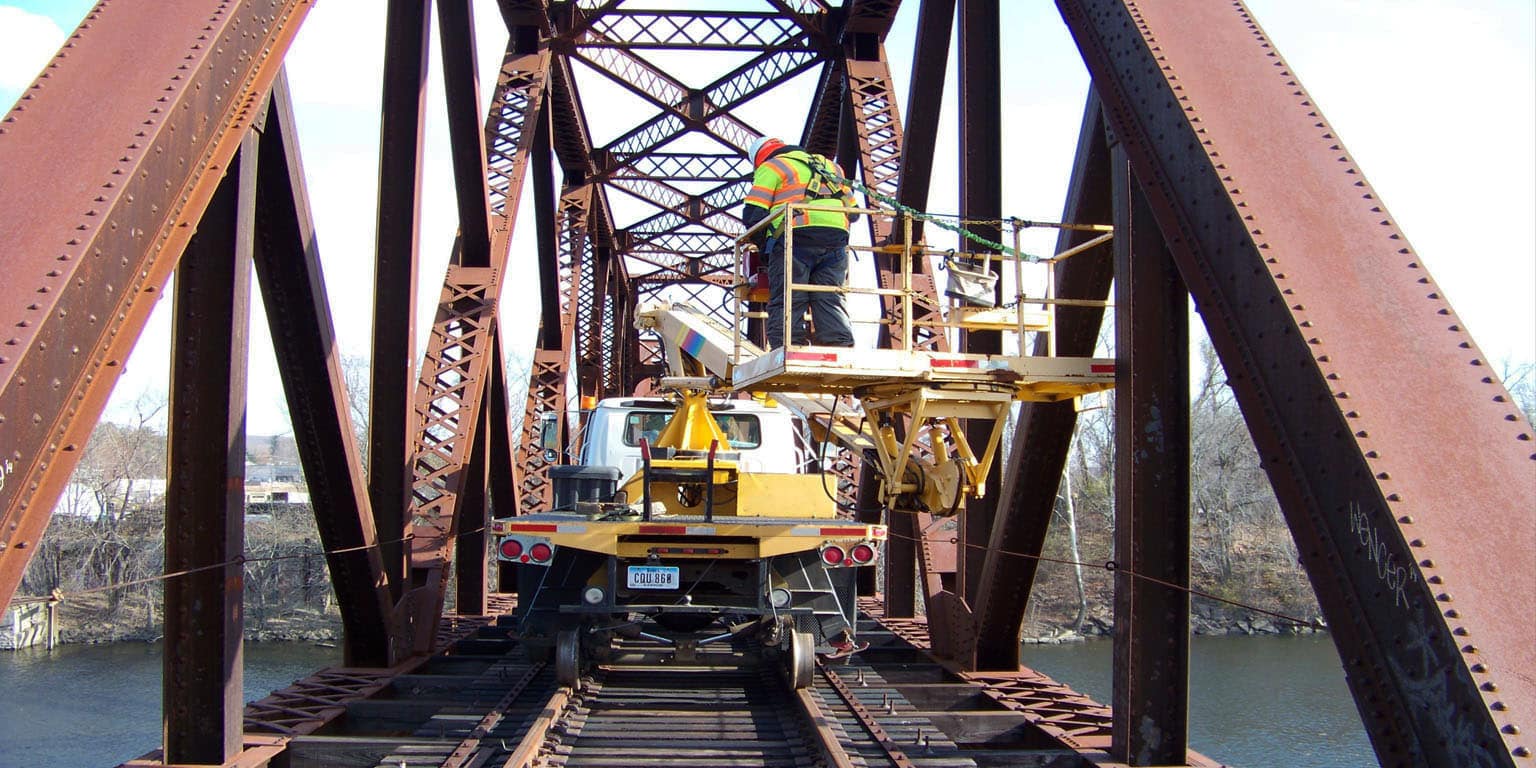 The Benefits of Working with McClain & Co., Inc. for Hi-Rail Truck Rentals
As we've noted here, the nation's freight railroads owned by private organizations are responsible for the inspection, maintenance, and repair of their railway systems.
And for railroad professionals and others working in the field, the key requirements for hi-rail truck rentals are safety, reliability, and affordability. Whether they are using hi-rail truck rentals for annual railway bridge inspections, for routine bridge or rail bridge maintenance, or occasional repairs, it is vital for them to have a reputable and knowledgeable outsourced vendor for hi-rail truck and equipment rentals.
And, when it comes to hi-rail rentals, McClain and Company is your preferred outsourcing option.
For the Best in Outsourced Hi-Rail Truck Rentals, Go to McClain and Company
The professionals at McClain and Company work hard to provide the highest hi-rail truck rentals and other equipment. And we do the same with customer service when it comes to not only renting hi-rail trucks but in everything we do.
In addition to our great selection of hi-rail equipment rentals, McClain also offers a wide variety of under bridge inspection units and utility and aerial equipment rentals, as well as other related services.
If you have questions about our hi-rail trucks or our other equipment rental services, or you just want to learn more about hi-rail rentals, we invite you to contact McClain and Company today by calling us at 1.888.889.1284 or emailing us at [email protected].