Bridges, like people, require maintenance as they get older. And the United States has plenty of aging highway bridges.
According to the most recent Infrastructure Report Card published by the American Society of Civil Engineers (ASCE), there are more than 617,000 bridges across the United States. However, more than 42 percent of those bridges are at least 50 years old. That's roughly 26,000 operational highway bridges carrying vehicle traffic every day. And the average age of America's bridges is 44 years.
In addition to routine bridge inspections, engineers, contractors, and state personnel across the country engage in ongoing – and backlogged – maintenance of highway bridges.
The Need for Highway Bridge Maintenance Throughout the United States
The Federal Highway Administration (FHWA) provides stewardship over constructing, maintaining and preserving the Nation's highway bridges.
The responsibility for maintaining and repairing the nation's highway bridges typically lies with the various state DOTs in those states that the bridges are located. And the actual work of highway bridge maintenance, cleaning, and repair is often contracted out to private firms.
Fortunately, the historic backlog of bridge maintenance, repair, and rehabilitation work will be greatly alleviated and shortened with the Infrastructure Investment and Jobs Act funding, which became law in November 2021.
The passage of the recent Infrastructure Law included the Bridge Replacement, Rehabilitation, Preservation, Protection, and Construction Program. This program will oversee the distribution of $5.3 billion in the Fiscal Year 2022 that will be made available to all the states, Washington D.C. and Puerto Rico.
Nationally, the Bridge Formula Program, as it is known, is looking to help repair approximately 15,000 highway bridges.
Deputy Federal Highway Administrator Stephanie Pollack stated in a U.S. DOT press release,
"Every state has bridges in poor condition and need repair, including bridges with weight restrictions that may force lengthy detours for travelers, school buses, first responders or trucks carrying freight."
Unfortunately, the bulk of the bridge maintenance and repair work done over the next five years or so will be reactive projects to take care of deterioration and repairs that, with sufficient funding and resources, may have been prevented or mitigated much earlier on.
On the bright side, the infusion of federal funds may dramatically shorten what was previously projected to be a 50-year-long project. As the 2021 Infrastructure Report Card noted last year,
"At the current rate of investment, it will take until 2071 to make all of the repairs that are currently necessary."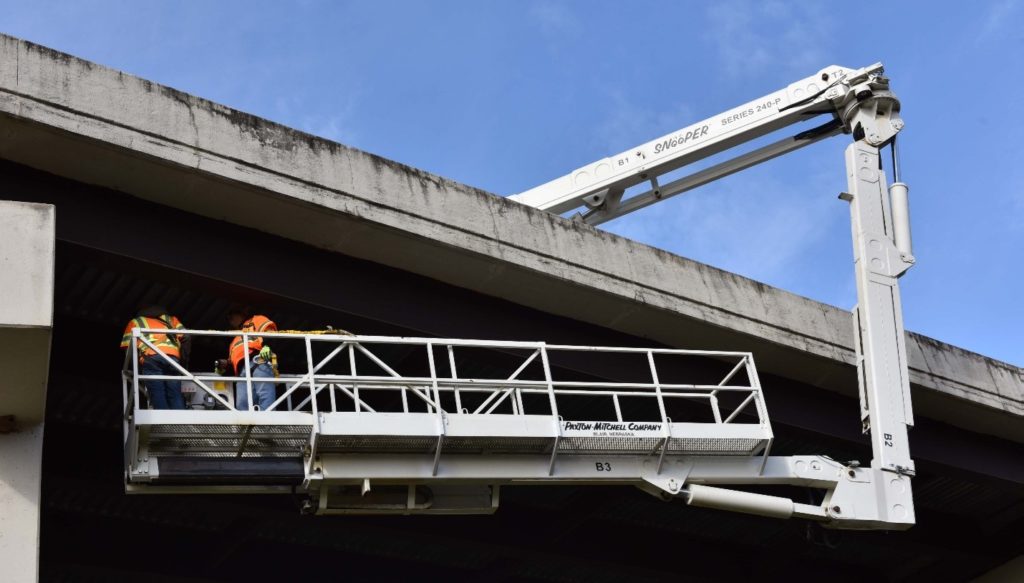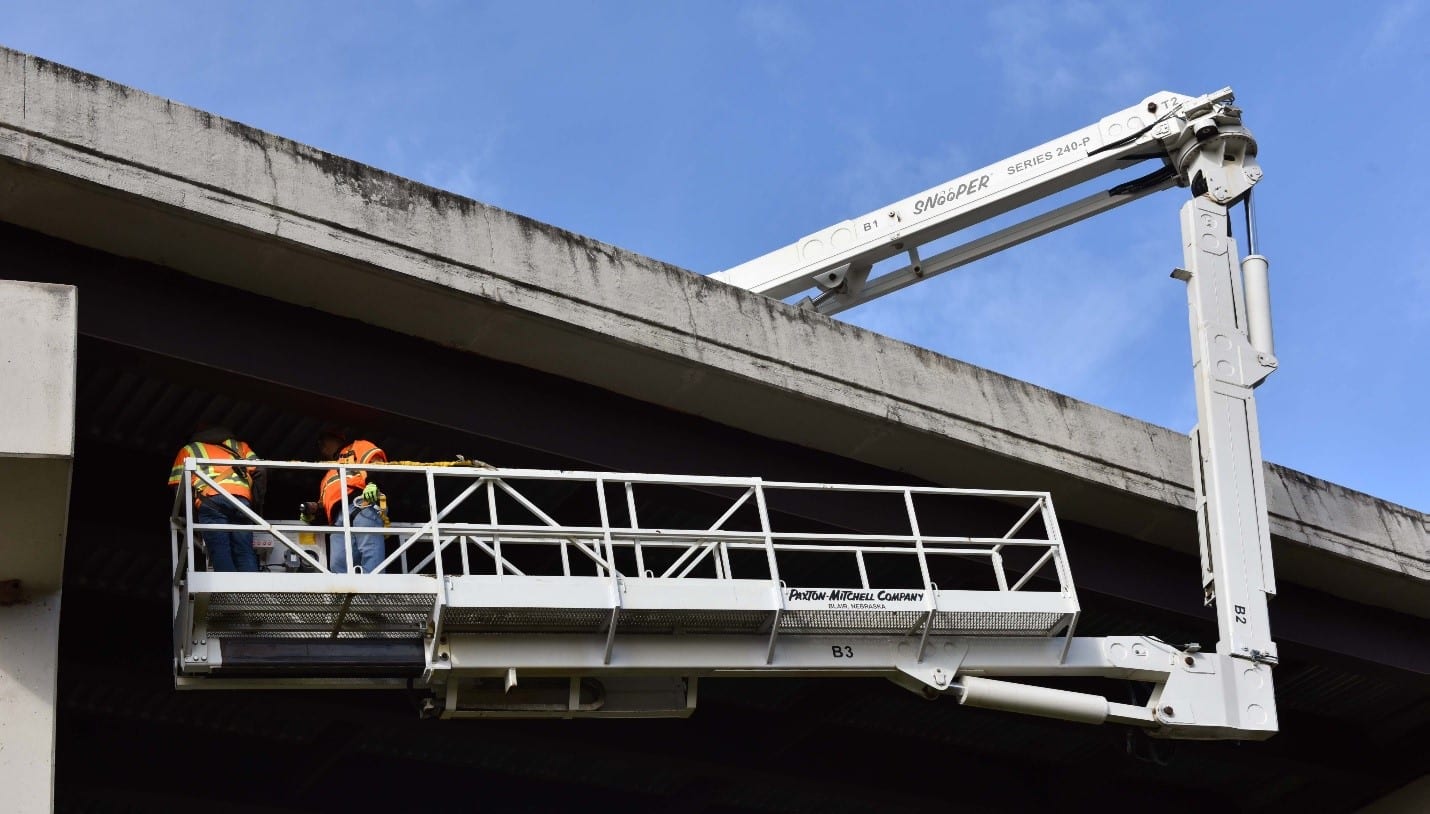 The Differing Approaches to Bridge Maintenance and the Use of SNOOPER ™ Trucks
Quite often over the last decades, highway bridge maintenance and repair agencies have been chronically understaffed and, according to some sources, woefully underfunded. One of the results of this state of affairs is that bridge maintenance tended to take on a "reactive" approach.
In other words, bridges would be regularly maintained in an ideal world, and every minor issue would be addressed quickly and comprehensively. However, in far too many locales, DOTs and other entities have had to approach bridge maintenance and repair by focusing on the worst damage found on the structures.
This can be seen as a reactive approach akin to the proverbial squeaky wheel getting the grease. Often this plays out as the result of a routine inspection report that cites unacceptable levels of cracks or certain types of corrosion, for example. Or, as in the case of the Hernando de Soto Bridge over the Mississippi River, a large and previously unreported fracture in a girder beam.
A far better approach, and one that almost all parties responsible for bridge maintenance and repair strive for, is a responsive or proactive approach to bridge work.
With sufficient personnel and the use of efficient bridge access equipment like SNOOPER ™ trucks, state DOTs, engineering firms, and bridge work contractors can focus on preventative maintenance.
Ideally, the bridge maintenance programs utilized by these entities would take the form of scheduled, recurring maintenance activities that are normal for all bridge structures.
What kind of activities? Examples include:
Washing and cleaning bridge decking
Lubricating bridge bearings
Sealing and waterproofing concrete bridge decking
Longer-term maintenance projects might include "zone coating" steel beams and girder ends and even installing new deck overlays on concrete decks.
Depending on the height and width of a bridge, most of the routine and preventative maintenance and cleaning tasks carried out will require special access to the bridge. In other words, not everything can be reached by standing on the bridge deck!
And that's where under bridge access equipment like a SNOOPER ™ truck comes in.
SNOOPER ™ Trucks, Bridge Maintenance, and Under Bridge Access
Highway bridges are composite material structures. Steel is commonly used in the highway bridge superstructure for beams, bearings, floor beams, girders, reinforcing bars in concrete, armoring expansion joints, traffic barriers, and trusses.
On the other hand, the bridge decks use a great deal of concrete. For example, one article points out that many highway bridges are composed of multiple-span steel or prestressed concrete girders simply supported at piers or bents. The girders support cast-in-place concrete decks.
In addition, reinforced concrete or prestressed concrete bridge decks are often overlaid with asphalt concrete or Portland cement concrete.
The deck surfaces are, of course, the easiest to clean, maintain, and repair aside from the temporary traffic control requirements. All of the components and bridge structure surfaces elsewhere usually require some form of under bridge access.
While smaller highway bridges that are less than 20 feet or so above the ground might be accessed with a light-duty aerial access vehicle, most under bridge areas must be accessed with truck or trailer-mounted access equipment positioned on the bridge deck.
For example, an average size highway bridge might be accessed sufficiently with 40-feet horizontal reach, Paxton-Mitchell SNOOPER™ bucket truck.
A wide variety of maintenance and minor repair work occurs under a bridge deck, and sufficient and reliable access to under bridge structural components is vital. Without this level of access, maintenance can become difficult and intermittent.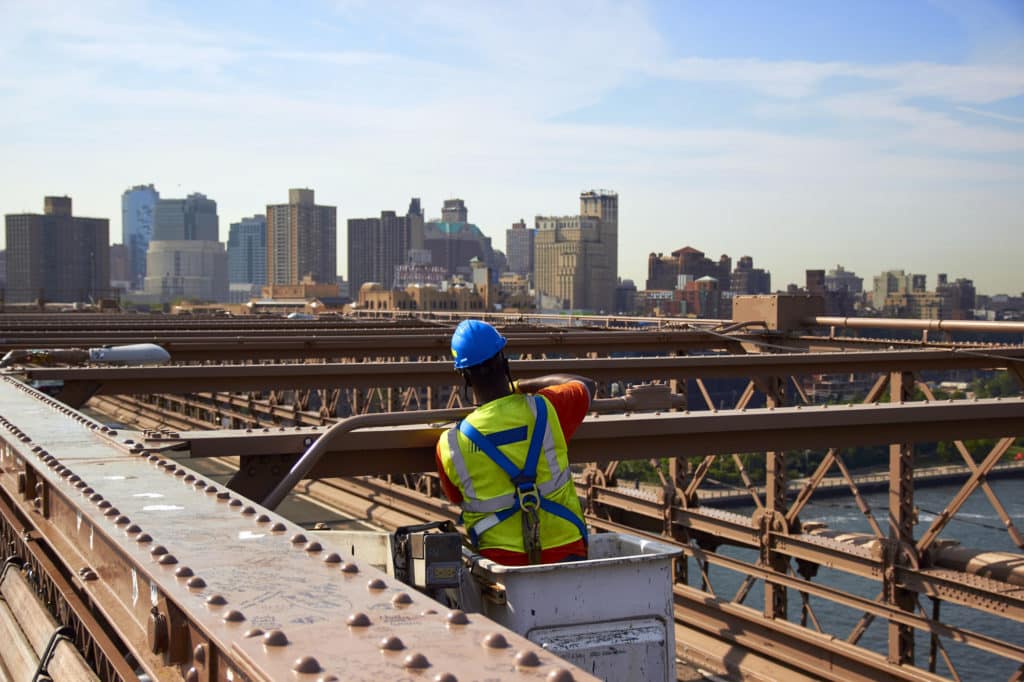 Under Bridge Access is an Essential Requirement for Comprehensive Bridge Maintenance
Regardless of whether the maintenance work is planned or the result of routine inspection findings, reliable under bridge access is required. The work can be as simple as installing protective coverings for the utility components mounted under bridges or as complex as painting and coating all steel components.
While this is the best way to avoid component deterioration and prevent corrosion of critical steel structural elements, it is necessary as these bridge elements are often the most costly and difficult to replace.
Another process often employed to treat contaminated reinforced concrete bridge structures is known as ECE; according to a paper from the Federal Highway Administration,
"Electrochemical chloride extraction (ECE) is a process that extracts or removes chloride ions from chloride-contaminated reinforced concrete structures. An electrical current is applied between the embedded steel and an external anode as a rehabilitation option to mitigate ongoing corrosion of the embedded steel.
ECE is becoming popular as a rehabilitation option for chloride-contaminated reinforced
concrete structures to mitigate ongoing corrosion of embedded steel."
Other preventative under bridge maintenance tasks requiring access equipment like SNOOPER ™ trucks include repairing and replacing components prone to metal fatigue and fracturing. In addition, treating exposed sections can help prevent permanent damage to them and the areas they are connected to.
Both metallic and paint coatings, sometimes used in combination, are often applied to protect steel bridge components.
SNOOPER ™ Truck Rentals and Bridge Inspection and Maintenance Equipment
At McClain and Company, we are proud of our reputation for always providing our customers with exceptional customer service. And one of the ways we have done this is to offer our customers only the best in under aerial access and under bridge access equipment rentals, like SNOOPER™ trucks.
The team at McClain and Company stands by the belief that "Your success is our success." And it is this motivation that inspires us to help each one of our customers succeed with every project, every time. At McClain, we make it our mission to do everything we can to help you choose the right under bridge access equipment rental for your needs.
In addition to SNOOPER ™ trucks and other top quality under bridge bucket and platform equipment rentals, McClain offers a variety of related services.
We provide professional highway construction services and equipment rentals to our customers in several states, along with Traffic Control Service and Device rentals. Not all bridges are highway bridges which is why they also offer Hi-Rail equipment rentals and a variety of specialized aerial work platforms and access equipment.
So, give us a call, and we can give you a quote today and schedule your rental with us.
And if you have questions concerning any of our equipment rentals, such as SNOOPER ™ trucks, feel free to contact McClain & Co., Inc. by calling us at 1.888.889.1284 or emailing us at [email protected].