This Blog Was Updated In November of 2022
There were more than 617,000 bridges in the United States as of 2019.
Out of these, close to 260,000 of them – or 42 percent – are at least 50 years old. In addition, it's been reported that 46,154, or almost eight percent of our nation's bridges, are considered structurally deficient (S.D.). These statistics come from the 2021 Infrastructure Report Card issued by the American Road and Transportation Builders Association.
The report noted that while the average age of our highway bridges has increased to 44 years, the total number of structurally deficient bridges have continued to decline over recent years. This is due largely to the renewed infrastructure efforts and the ongoing program of routine bridge inspections.
However, the need nationwide is still pressing. According to the report's Executive Summary,
"A recent estimate for the nation's backlog of bridge repair needs is $125 billion. We need to increase spending on bridge rehabilitation from $14.4 billion annually to $22.7 billion annually, or by 58%, if we are to improve the condition. At the current rate of investment, it will take until 2071 to make all of the repairs that are currently necessary, and the additional deterioration over the next 50 years will become overwhelming."
Highway bridge inspections are critical, essential, and required to maintain our nation's key infrastructure and ensure safety. Routine highway bridge inspections allow inspectors and engineers to identify small defects, minor structural damage, and other potential problem areas on bridge structures before they develop into major issues.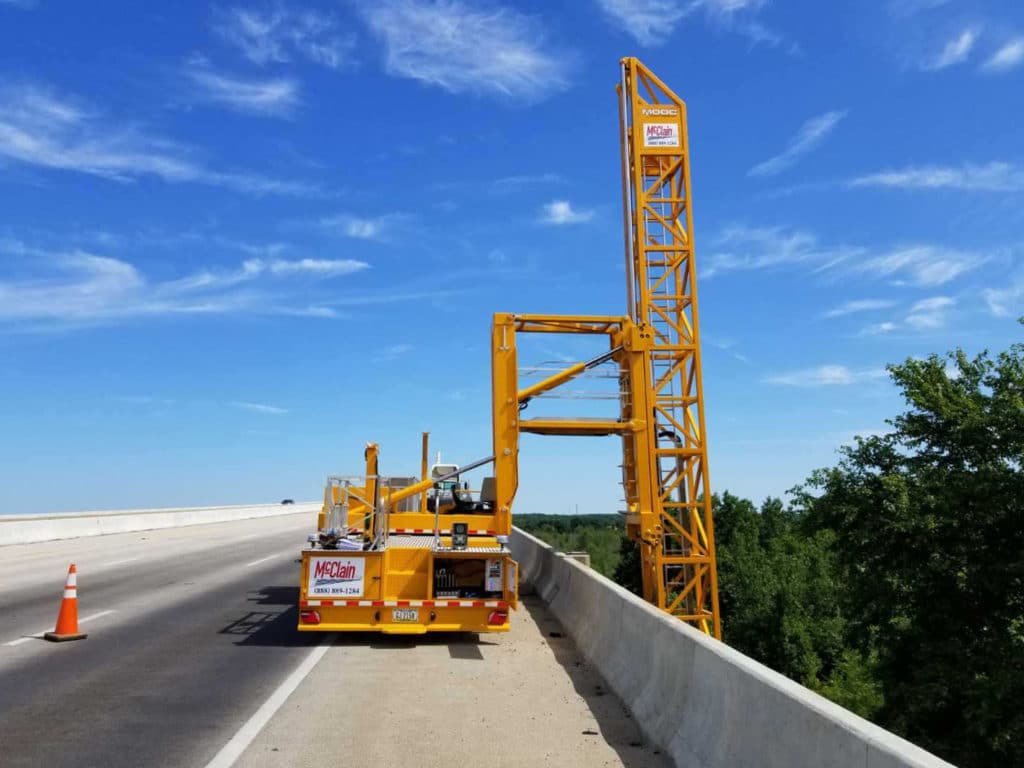 Federal Bridge Inspection Standards and the Need for Under Bridge Inspections
On December 5, 1967, the worst bridge collapse disaster in the United States happened as the Silver Bridge between Point Pleasant, West Virginia, and Gallipolis, Ohio, fell into the Ohio River. The disaster claimed 46 lives and triggered a demand for improved highway bridge safety.
As a result, legislation was passed, and the National bridge inspection program (NBIS) was created.
A significant component of the program was the establishment of regular inspections of roadway bridges throughout the United States that include extensive under bridge inspections.
According to the U.S. Department of Transportation (USDOT),
"The NBIS requires safety inspections at least once every 24 months for highway bridges that exceed 20 feet in total length located on public roads. Many bridges are inspected more frequently. However, with the express approval by FHWA of State-specific policies and criteria, some bridges can be inspected at intervals greater than 24 months. New or newly reconstructed bridges, for example, may qualify for less frequent inspections."
The National Bridge Inspection Standards were established along with a bridge inspection program and regulations. In addition, a bridge inspector's training manual was prepared along with a training course to provide specialized training.
Because of the various requirements and different types of bridges throughout the country, many state and local inspection standards have been established in addition to federal standards.
The need for more, improved, and consistent bridge inspections were underscored by a recent Congressional Research Service report that noted, among other points, that even though the number of bridges classified as poor has declined gradually for many years, there were still about 44,000 bridges in poor condition as of June 2021.
The report goes on to point out that,
"The vast majority of bridges in poor condition, over four out of five, are in rural areas, and these bridges tend to be small and relatively lightly traveled. In urban areas, bridges in poor condition, while far fewer, are generally much larger and, therefore, more expensive to fix. In 2021, 58% of the deck area classified as in poor condition was on urban bridges.
Bridges on roads carrying heavy traffic loads, particularly Interstate Highway bridges, are generally in better condition than those on more lightly traveled routes. Although improvements have been made in most states, there remain major differences among states in the share of bridges in poor condition."
The good news is that the nation's highway bridges are arguably the safest in the world, and the processes and systems committed to ensuring their safety are constantly being improved.
As one recent article stated,
"After a half-century and millions of bridge inspections, FHWA's bridge inspection standards continue to ensure that only safe bridges are open to traffic. For years to come, the program will continue to evolve, using state-of-the-art training and equipment, to serve the needs of the nation's traveling public."
More Funding, Improved Inspections
In May 2022, the Federal Highway Administration (FHWA) announced an additional $1.14 billion in "formula funding" for bridge repair and replacement.
According to a press release on the FHWA website,
"The $1.14 billion in funding for bridge replacement and rehabilitation was provided by the Department of Transportation Appropriations Act, 2022 and complements the Bipartisan Infrastructure Law's focus on bridge improvement and safety, which included $27.5 billion for the Bridge Formula Program and $12.5 billion for the Bridge Investment Program."
As part of the Federal Highway Administration's efforts to improve and "upgrade" the efficacy of the current highway bridge inspections program, they also issued a final rule that updates and revises its highway bridge inspection standards for the first time since 2009.
The new regulation was published in the Federal Register on May 6, 2022, and was mandated by the 2012 Moving Ahead for Progress in the 21st Century Act, or MAP-21, as it is known.
One of the critical provisions of the updated standards focuses on the required minimum interval between inspections. According to an article in Engineering News-Record,
"In general, bridges now must be inspected every 24 months. State departments of transportation (DOTs) can seek FHWA approval for longer intervals than 24 months. The maximum is 48 months, and some bridges are subject to 12-month intervals.
Under the new standard, there are options for state DOTs and other inspection organizations allowing routine inspection intervals of up to 48 months and a maximum of 72 months for underwater inspections."
Of course, there is much more to highway bridge inspections than bi-annual routine inspections.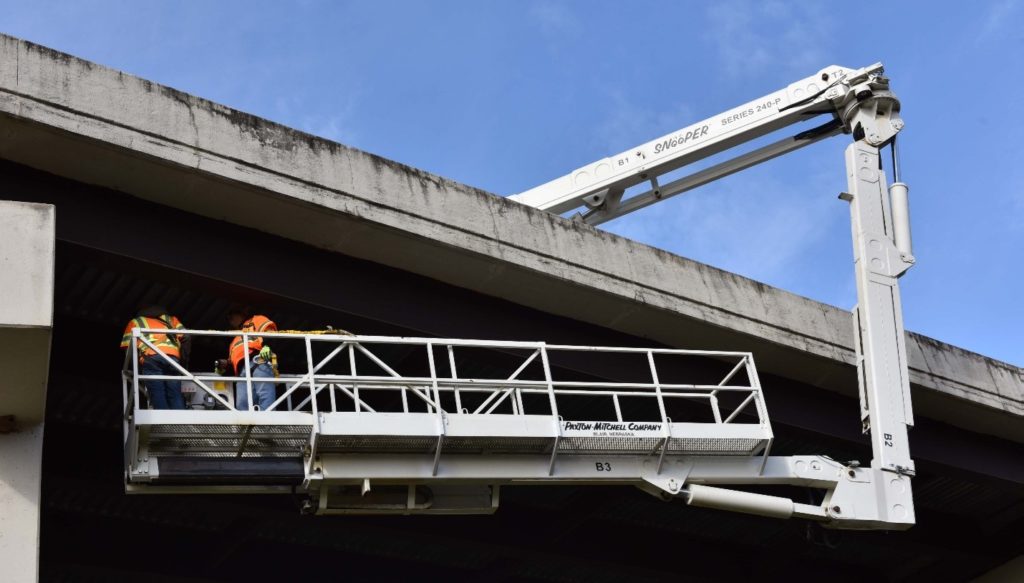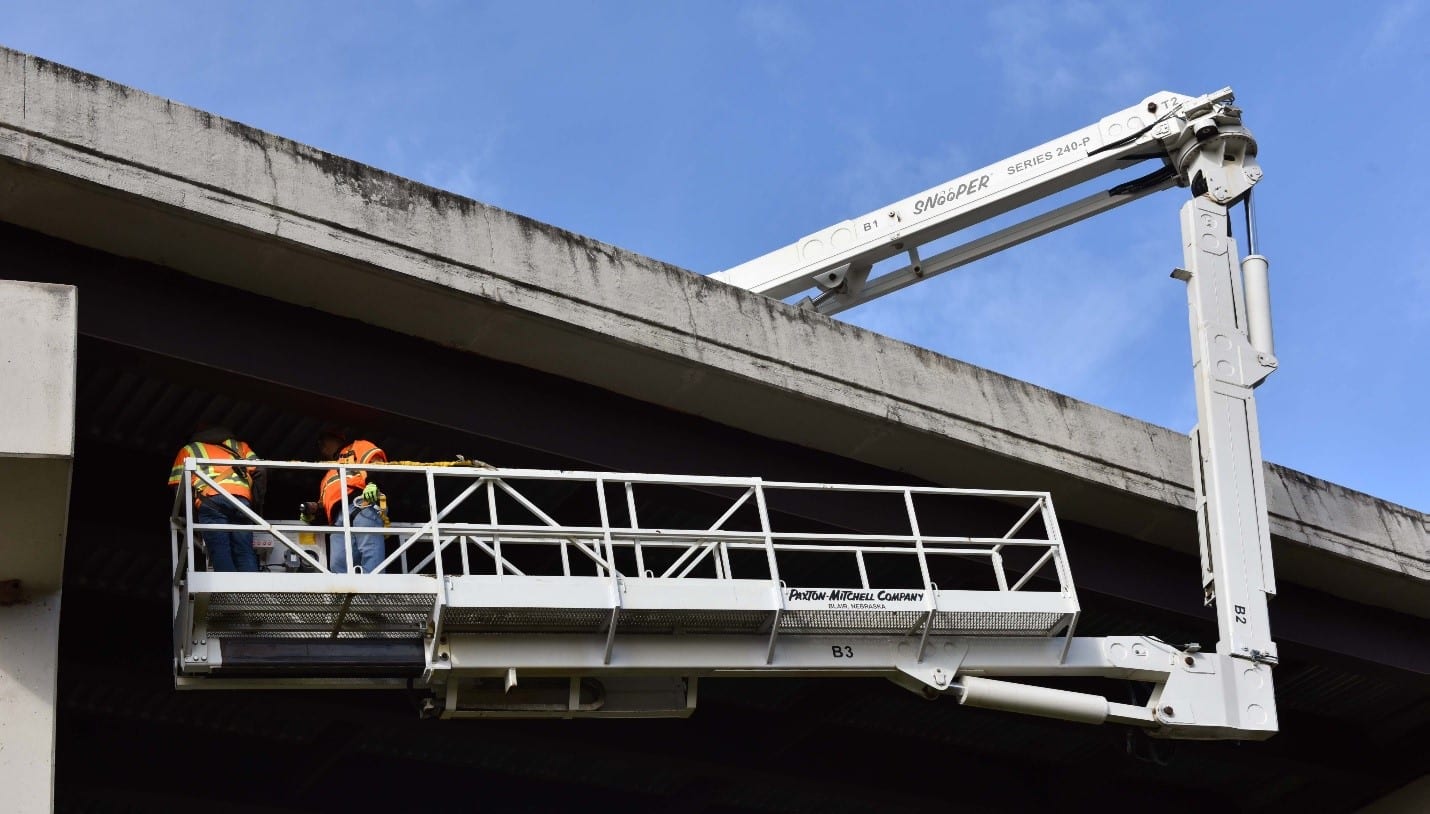 Regular Bridge and Under Bridge Inspections
Not all bridges are subject to the same inspection schedules.
Most bridges are inspected every two years unless they're rated as being in "very good" condition, in which case they are only inspected every four years. Highway bridges that are labeled as "structurally deficient" are required to be inspected annually, though many states inspect these bridges far more often.
Information from the USDOT shows that approximately 12 percent of the nation's highway bridges are inspected annually. Just five percent are inspected every four years, leaving 82 percent of bridges that are inspected every 24 months.
According to the USDOT, there are "five basic types of bridge inspections" that are conducted:
Initial inspections
Routine inspections
In-depth inspections
Damage inspections
Special inspections
"The 'routine' inspection is the most common type of inspection performed and is generally required every two years. The purpose of "routine" inspections is to determine the physical and functional condition of a bridge on a regularly scheduled basis."
It is these routine inspections that make up the bulk of bridge inspections carried out by contractors, engineers, and state DOTs most frequently. And they are almost always involved in bridge inspections and under bridge inspection equipment.
Routine Inspections and the Need for Under Bridge Inspection
The primary purpose of routine inspections is to determine the physical and functional condition and integrity of a bridge structure.
However, bridge structures are not limited to the bridge deck and superstructure just as critical is the bridge substructure, which includes all the vertical supports, piers or columns, caps, and other components that are located underneath the bridge deck.
Bridge inspectors conducting under bridge inspections look for flaws, defects, or potential problem areas that may require maintenance. The goal is to identify these issues early to avoid more extensive problems. Routine inspections are often visual inspections using a variety of tools for cleaning, probing, sounding, and measuring.
Some of the techniques used include:
Visual inspections
Inspectors visually assess the condition of the bridge structure by standing directly in front or beneath components, usually from a bucket or platform on an under bridge inspection unit.
Acoustic inspections
Hammers and other tools allow inspectors to observe changes in sound pitch. This technique can detect defects in the bridge materials, such as coating splits or delamination issues.
Thermal inspections
Thermal or infrared tools can detect changes in infrared radiation from the surface areas of bridge components, possibly indicating degradation or delamination in the concrete.
Coring and Chipping inspections
Essentially, these are minimally destructive inspection methods that involve drilling holes into the surface of a bridge deck to obtain data on the condition of the steel reinforcement and access any corrosion damage. In addition, this allows inspectors to determine the physical and chemical properties of the concrete elements. Indications of deterioration or any unexpected results can indicate a significant structural problem.
Other, less common, methods for inspection include Ground-penetrating radar (GPR) inspections that use electromagnetic radiation to look below the concrete surfaces of bridges and a non-invasive testing method known as half-cell potential to check the voltage between the steel reinforcement within the concrete and to monitor corrosion levels.
Inspectors performing routine inspections assess the condition of the bridge and note changes since the last inspection. They look for defects like cracking in the concrete, unusual movement in the bridge, or issues with any bearings that may be used.
In addition, signs of decay, such as rust, corrosion, or paint loss, can be indications of underlying structural issues that have developed over time.
The goal is to ensure that the bridge is still safe to operate according to existing standards.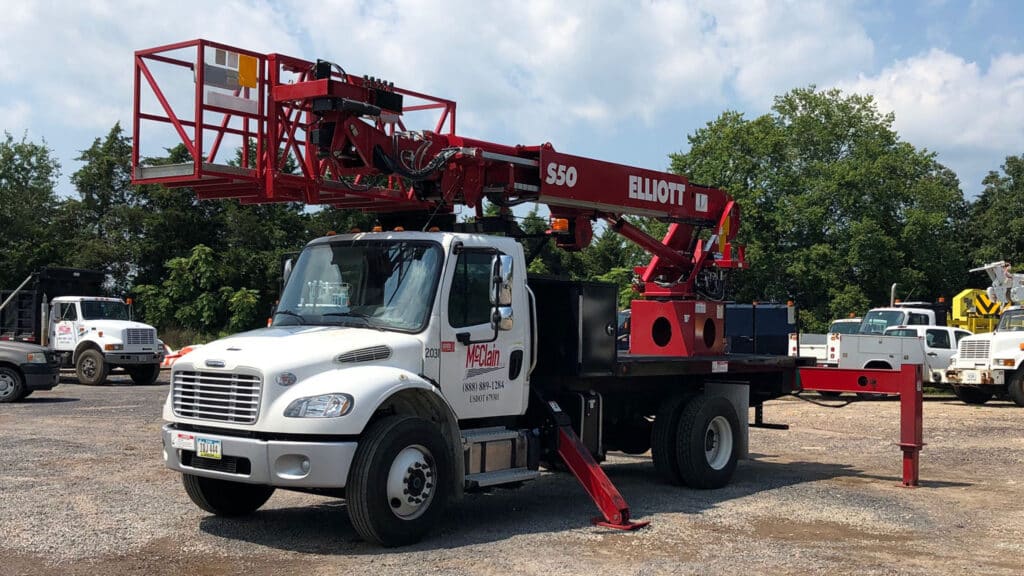 Under Bridge Inspection Equipment and Under Bridge Inspection Truck Rental
According to a 2007 testimony transcript from the U.S. Department of Transportation,
"Bridge inspection techniques and technologies have been continuously evolving since the NBIS were established over 30 years ago and the NBIS regulation has been updated several times, as Congress has revised the inspection program and its companion program, the Highway Bridge Program (formerly Highway Bridge Replacement and Rehabilitation Program)."
A large part of these bridge inspection technologies includes the various vehicles used for under bridge inspections, repair, and maintenance work.
The most common and efficient method for gaining under bridge access is with an under bridge inspection unit. These versatile under bridge buckets or platform vehicles are often the only reliable means for accessing under bridge areas.
Most every professional working with bridge repair, cleaning, maintenance, and inspections uses some type of under bridge inspection platform.
Recently, technology has moved into highway bridge inspection equipment in various ways, including the increased use of Unmanned Aircraft Systems, or UAS, also commonly known as drones.
For decades now, Under Bridge Inspection Trucks (UBITs) have been the most common tool utilized for gaining access to difficult and hard-to-reach areas of bridges throughout the country. These versatile and often agile trucks allow bridge inspection personnel to get underneath bridge decks to visually inspect areas that would otherwise be unreachable.
That being said, it is clear that as the capabilities and technology of drones, or UAS, improves, their use will become more widespread and common among engineers and bridge inspectors. But it is doubtful that they will bring about the demise of UBITs.
As an article on the Caltrans website has made clear,
"Though the use of a UAS can be limited due to several factors, including weather, landscaping, and wildlife, these eyes in the sky have already proven their ability to be an effective tool, and in some cases, it is as if the inspector was in the UBIT basket.
While the use of UAS will never replace the ability to be able to get up and touch and inspect a damaged bridge, they are slowly becoming more common during inspections and are creating a safer and more efficient process for bridge inspectors."
Turn to the Experts in Under Bridge Inspections: McClain & Co., Inc.
McClain and Company owner Daniel McClain and the McClain team of service and equipment rental professionals are committed to providing the very best in customer service. And we believe this also means offering our customers the best in aerial access and under bridge inspection equipment rentals.
A principle of ours that we genuinely believe in is summed up in the sentiment that "Your success is our success."
This is also why it is our goal at McClain to do all that we can to provide you with the best under bridge inspection equipment rentals for your particular project.
It's possible that you already know which model of under bridge inspection equipment you want to rent.
If so, you can simply request a quote from us today, and we can schedule your rental. Keep in mind, too, that along with our wide selection of Under Bridge Inspection Equipment rentals, McClain and Company also offers a number of different Utility and Aerial Equipment rentals, as well as other related services.
Our rental units are available as under bridge inspection truck rentals for inspectors, contractors, and engineers working on highway bridges and similar structures.
To learn more, you can reach us at [email protected] or call us at 1-888-889-1284 today!