Bucket trucks have a long and interesting history.
Over the years since their inception, bucket trucks have been referred to by many names, including cherry pickers, aerial lifts, man-lifts, and boom trucks. In addition, they've been called elevated work platforms, aerial work platforms, and basket cranes.
In the heavy equipment industry, the larger capability telescopic bucket trucks are also often referred to as "squirt booms" or "stick booms."
When bucket trucks first came out in the early half of the twentieth century, they were commonly known as "cherry pickers" since the first trucks featured platforms that could be elevated so that workers could pick fruit without ladders.
These platforms were wide and relatively stable, and this access approach also minimized damage to the trees that ladders often caused and were much safer than ladders.
But they soon caught on with other occupations besides orchard farmers.
The Evolution of the Bucket Truck: A Brief Look
Several manufacturers were part of the initial crop of bucket trucks being designed and built, and the very first boom truck is variously attributed to different people and places.
Van Ladder® built an elevating ladder mounted in the bed of a pickup truck and the ladder had a narrow bucket attached at the top. This was in 1968.
But the first bucket truck, or aerial work platform – or so many claim – was invented in 1951 by Walter E Thornton-Trump. His device would eventually become known as a cherry picker. However, a firm in Connecticut called T.E.Y. Manufacturing was said to have produced and sold the very first bucket truck starting in 1950, the Sky Lift Bucket Truck.
And, as we noted in an earlier article here, Jay Eitel, the founder of the Telstra Corporation in Sunnyvale, California, apparently designed a "maneuverable, telescopic steel structure was mounted on a truck chassis and had a one-lever control" in 1944. Later versions of this aerial lift were used in the utility industry.
While it may never be satisfactorily settled who built the very first bucket truck, we know that they were widely used by 1964.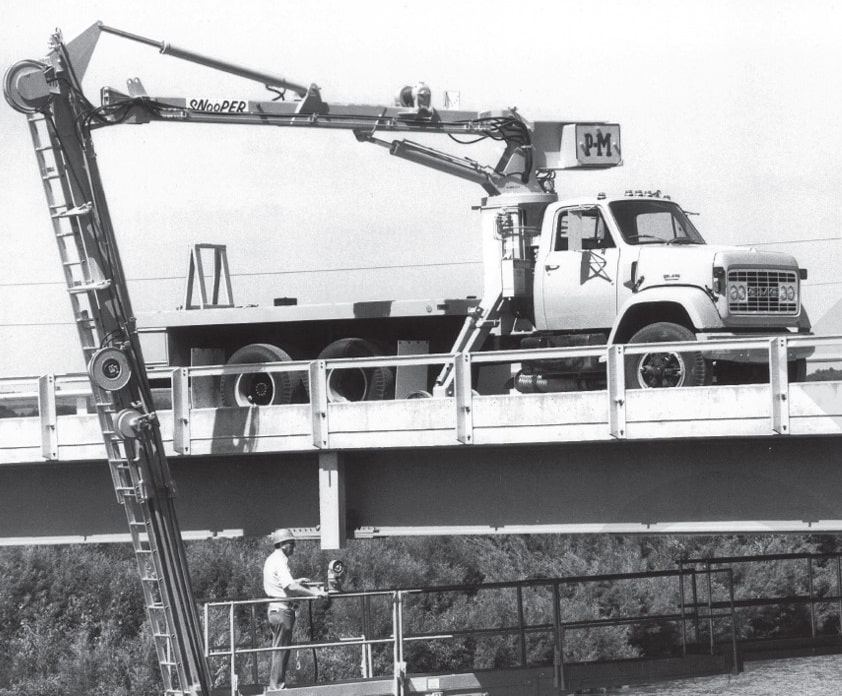 The Birth of the SNOOPER™ Under Bridge Inspection Bucket Truck
And it was in 1964 that Paxton-Mitchell Co., LLC. began to establish a global reputation after designing and manufacturing the world's first "underbridge inspection bucket truck." back in 1964.
While most bucket trucks prior to 1964 were commonly used for accessing elevated, hard-to-reach areas, the SNOOPER™ bucket truck was the first vehicle specifically designed to provide worker access down and beneath bridge decks.
However, the majority of bucket trucks in use today are used for overhead access and in a wide variety of settings and industries.
For example, early on in the 1960s and 1970s, many other industries adapted the use of these so-called "cherry pickers." Utility companies and municipal agencies found that bucket trucks were much easier and safer to use for working on power lines, streetlights, and other tasks that were difficult and dangerous to access otherwise.
Over time, many other industries began to make use of bucket trucks, especially as telescopic and articulate booms became the norm for these types of equipment. Everyone from building painters to window washers to signage and lighting installers could be seen in a bucket truck.
In addition, bucket trucks also found use in construction, mining, and forestry applications.
When Wheels aren't Enough: Track Mounted Bucket Lifts
Most traditional bucket truck designs make use of wheeled trucks (or vans.) And for most work situations and conditions, these rugged vehicles serve as capable and versatile platforms for boom lifts supporting bucket work platforms.
However, these types of bucket lift equipment have limitations. And some environments and worksites require greater accessibility than wheeled vehicles can provide.
This is why some bucket lifts utilize tracks for mobility.
These units employ large track assemblies that resemble those used on large farms, mining equipment, and even military vehicles because of worksite surface factors such as pitch or slope, lack of traction, and terrain. In addition, ground pressure is often a critical consideration. Ground pressure is defined as the pressure exerted on the ground by a vehicle's tires, and is one measure of its potential mobility, especially over soft ground.
All of which play a role in determining when a track-mounted bucket lift should be used as an alternative to a truck-mounted bucket lift.
Depending on the location, a worksite might be in places with rough, uneven, or swampy terrain. These worksites are typically those with hills having steep grades, standing or shallow running water, ice and snow, and various other types of uneven or rocky terrain.
In other words, not every job requiring a bucket lift is found on asphalt, concrete, or gravel lots. So, a track-mounted bucket lift can be a rugged and versatile solution.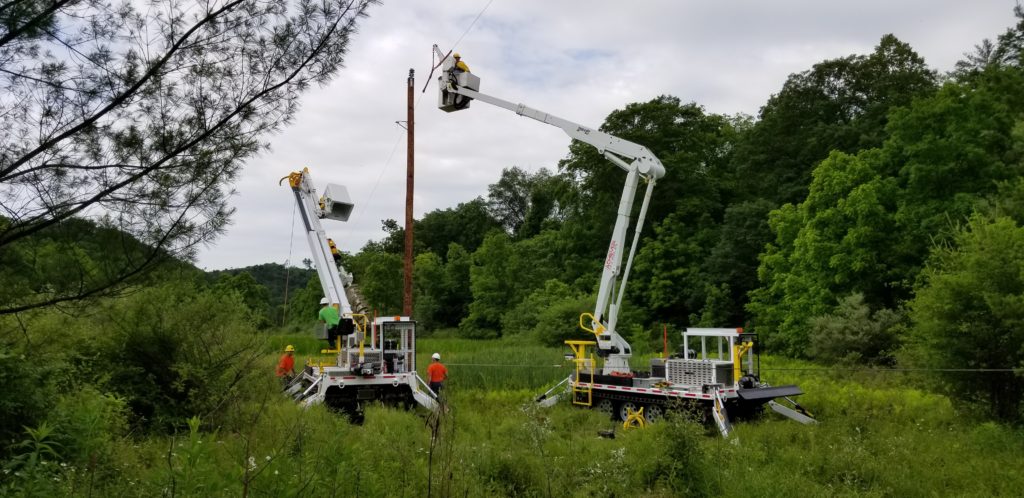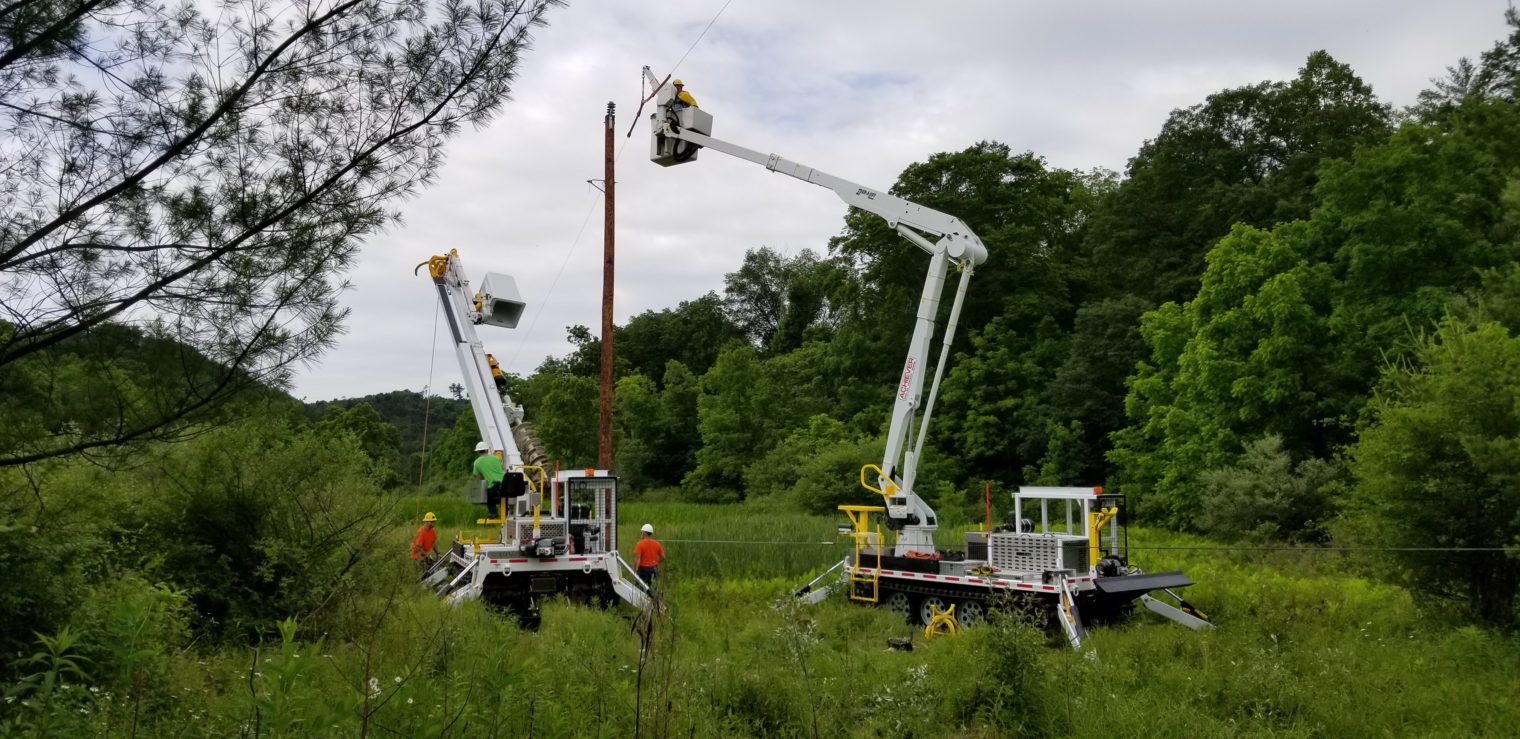 Types of Jobs that Can Require a Track Mounted Bucket Lift
The actual work being performed by technicians, mechanics, and other workers while using a track-mounted bucket lift is often no different than that carried out in a traditional bucket truck. However, the terrain and lay of the ground can be strikingly different.
Here are some common examples of the types of work that often require a track-mounted bucket lift:
Tree trimming and arborist work.
Arborists often work in residential and commercial settings that allow them to make use of bucket trucks. However, they also find themselves in settings where the trees are located on hillsides, along gullies and ravines, or across rugged and damp terrain.
Using a track-mounted bucket lift means they can perform tree planting and removal services, as well as tree trimming and pruning, regardless of the conditions or terrain.
Light pole installation, maintenance, and repairs.
Many landscapes across the United States are filled with picturesque wilderness areas and rugged terrain. And many of these places also have streetlights and other types of pole lighting that are in hard-to-reach areas.
Yet they, too, need to be maintained and repaired. Oftentimes these light poles are situated in spots that cannot be accessed with a truck, so a track-mounted bucket lift is necessary.
Overhead utility repair and maintenance work.
Power lines and telephone wires still run across much of the country, and they all require repairs, replacements, and ongoing maintenance. But not all of them can be gotten to with a standard pickup truck-mounted boom lift.
On the other hand, a track-mounted unit makes accessibility easy and achievable for utility crews and others who must reach this equipment.
Flagpole repair and maintenance work.
Many enterprises and commercial structures use various flags outside their campuses, which can often be reached with scissor lifts and other aerial access equipment. But when these flagpoles are positioned on hillsides and similar terrain, access can be challenging for even a truck.
Ski lift and aerial tramway repair and maintenance.
The very nature of ski lifts and aerial tramways, or gondola lifts, requires access up hills and across often rugged and challenging terrain. And these structures require regular maintenance, repairs, upkeep, and cleaning.
With the ability to traverse hillsides with as much as a 40-degree slope, track-mounted bucket lifts are all but mandatory for carrying out this type of work.
Building cleaning, maintenance, and repair.
Although most buildings sit on flat ground, many are also built into the sides of hills or perched alongside sloping terrain, ravines, and even streams. While accessing the upper levels on one side of a given structure can be achieved with a bucket truck, these other faces often require a vehicle that can traverse the obstacles along them.
You Can Rely on McClain and Company for the Best in Bucket Truck Rentals
When it comes to bucket truck rental equipment, McClain and Company always strives to provide the absolute best in both equipments and in customer service.
And that includes the D.P.M.-52 D.U., our powerful and versatile tracked aerial lift. With the ability to climb a 40-degree slope, this machine can also cross through up to three feet of water. The D.P.M.-52 D.U. track-mounted bucket lift can be used as a single-person material handling basket or as a two-man personnel lift.
Featuring 29-inch-wide tracks that produce just 2.5 PSI ground pressure, the D.P.M.-52 D.U. tracked aerial lift provides a working height of 57 feet with a maximum work height of 67 feet when needed. The boom also offers great placement capacity, with a maximum side reach of 31 and a half feet.
At McClain and Company, we only offer our customers the highest quality bucket truck and under bridge inspection equipment rentals.
One of our operating principles is the belief that "Your success is our success." In practice, we always make it our goal to do all we can to help you select the best aerial access and under bridge inspection unit rentals for your project.
And if you already know the bucket truck unit you'd like to rent, we invite you to request a quote from us today and schedule your rental with us.
If you have questions about our world-class equipment rental services or want to learn more about bucket trucks or other under bridge inspection unit rentals, you can contact McClain & Co., Inc. by calling us at 1.888.889.1284 or emailing us at [email protected].