One of the fundamental aspects of transportation infrastructure maintenance is the regular, or routine, inspection of highway bridges. And an essential element are the various bridge inspection programs that are in place or being initiated by transportation departments across the country.
In addition, bridge inspections are conducted on new construction as well as for various types of bridge rehabilitation projects. Thanks in part to the recently approved bipartisan infrastructure law known as the Infrastructure Investment and Jobs Act, federal programs such as the Bridge Investment Program (BIP) are available to provide grants to "improve bridge condition and the safety, efficiency, and reliability of the movement of people and freight over bridges."
On the federal level, these grants are being awarded for three types of transportation purposes that are referred to as "Large Bridge Projects" that will be in excess of $100 million, "Bridge Projects" which are under $100 million, and "Planning Grants" to facilitate the planning, feasibility analysis, and revenue forecasting of projects to be submitted for BIP funding.
Key Transportation Bridge Inspection Programs Started in 2022
According to information provided by the U.S. Department of Transportation's Federal Highway Administration (FHWA), there were four major "Large Bridge Project" grants awarded that involved five different states. The total grant awards came to just over $2 billion.
Here is a brief overview of these initial large bridge projects that were begun last year:
In California, the $400,000,000 Golden Gate Suspension Bridge Seismic Retrofit project will replace, retrofit, and install critical structural elements on the Golden Gate Bridge to increase resiliency against earthquakes.
The Illinois International Port – Calumet River Bridges rehabilitation project grant totaled $144,000,000 and will serve to improve a series of four bascule bridges over the Calumet River all located on the south side of the City of Chicago.
To the east of Chicago, Kentucky and Ohio will share a grant totaling $1,385,000,000 for a project that will rehabilitate and reconfigure the existing Brent Spence Bridge (BSB). Known as the Brent Spence Bridge Corridor Project, this project will improve the span carrying I–75 and I–71 traffic across the Ohio River at the border of Kentucky and Ohio.
Connecticut was the recipient of $158,150,000 grant to fund its Gold Star Memorial Bridge Northbound Structure Rehabilitation project. Designed to rehabilitate the northbound structure of the Gold Star Memorial Bridge that carries I–95 traffic over the Thames River between Groton and New London, Connecticut.
In addition to federal funding, many states in the nation have recently launched major investments in their transportation infrastructures.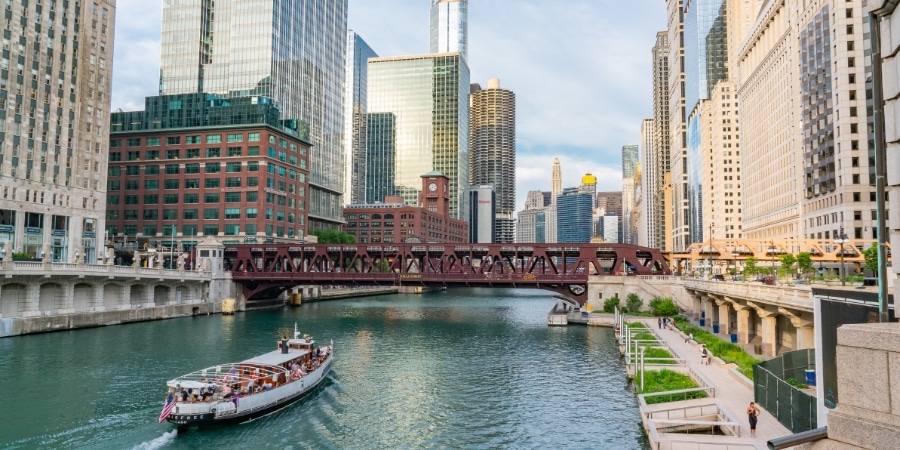 The Sunshine State Sees a Substantial Statewide Investment Passed
In addition to the need for addressing periodic infrastructure damage resulting from hurricanes and flooding, Florida is a rapidly growing state with major pressure being placed on its existing roads, highways, and bridges.
Florida is the third most populous state in the nation boasting more than 22 million residents and sees an influx of almost 100 million visitors every year. All of this means that it is absolutely vital for the state to be able to provide a safe transportation system that not only ensures the mobility of people and goods, but serves to enhance the state's economic growth, while preserving the quality of the environment.
In June of 2022, Florida Governor DeSantis signed the state's Freedom First Budget which made record investments in Florida's transportation infrastructure.
As a press release from the Florida DOT noted,
"The historic $12.6 billion in funding for statewide transportation projects for FDOT's current five-year work plan reaffirmed Florida as an innovative leader in transportation. Strategic investments were emphasized, including $4.4 billion for highway construction to include 180 new lane miles, $1.2 billion in resurfacing to include 2,690 lane miles, $236.6 million for bridge maintenance repairs and replacements, $135.9 million in seaport infrastructure enhancements, $314.5 million for aviation improvements, $867 million for rail and transit program advancements, and $160.1 million for safety initiatives."
Alabama Continues to Fund State Transportation Projects Going Into 2023
Since the passage of Alabama's Rebuild Alabama Act in 2019, the state has awarded more than $140 million in state transportation funds. These funds have been released through the Alabama Transportation Rehabilitation and Improvement Program-II (ATRIP-II); an annual program created by the Rebuild Alabama Act.
For fiscal year 2023, there were 33 projects selected for funding for a total of just over $40 million in state transportation funding. Of those awarded projects, 18 were from cities and counties putting forward more than $7 million in local funds.
In southeast Alabama, crews have been working on a $32 million project to replace six functionally obsolete bridges along Interstate 85. The project is funded with federal and state dollars, including a $10.8 million grant that the Alabama DOT received from the USDOT Competitive Highway Bridge Program. Construction is expected to be complete by the second quarter of 2024.
The State of Maine and Their 3-Year, $4 Billion Infrastructure Plan
Up in the far Northeast of the nation, the state of Maine has officially announced an ambitious three-year plan to improve its transportation system.
The plan aims to improve highway maintenance and operations efforts and provide planning initiatives and administrating programs with $3.94 billion in funding from the bipartisan Infrastructure Investment and Jobs Act (IIJA) to shore up financing for projects which has seen construction prices rise due to inflation.
According to an article from Roads & Bridges,
"MaineDOT is using $2.2 billion for highway and bridge capital projects. This includes 302 bridge projects at a cost of $706 million. It would use $575 million for preservation paving of 1,178 miles of roads, and $475 million used for 271 miles of highway construction and rehabilitation. 264 highway safety and spot improvements will be made at a cost of $190 million, and 2,073 miles of Light Capital Paving will be conducted at a cost of $116 million."
In addition to highway bridges, a portion of the plan's projects include upgrades and rehabilitation of several rail bridges throughout the state.
As the Maine DOT Three-Year Work Plan states,
"A project on CSX's Waterville-Mattawamkeag line will replace approximately 75 miles of rail, including approximately 55,000 ties, upgrade 72 grade crossings, and reinforce five bridges in central Maine. A project on CSX's Waterville-North Yarmouth line will rehabilitate and modernize 75 miles of mainline track, eight bridges, and 89 rail crossings."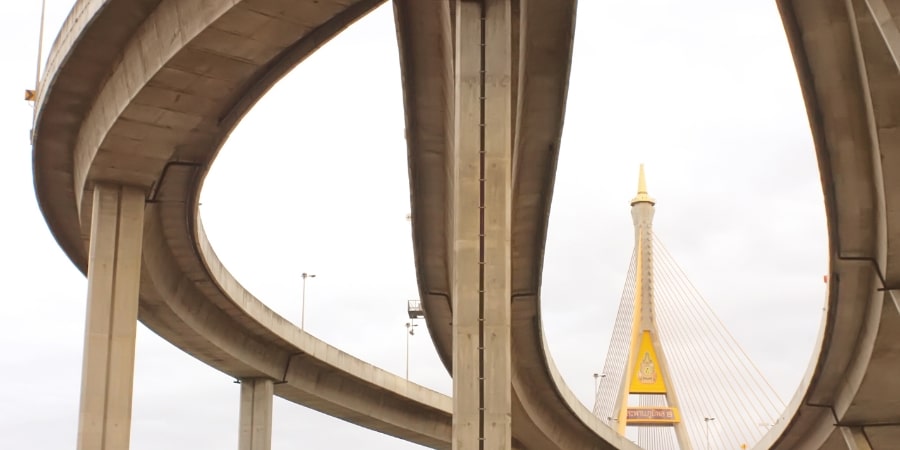 Spotlighting Infrastructure Investment in Montana in 2023
According to a January 2023 report from TRIP, a National Transportation Research Nonprofit,
"Seven percent of Montana's bridges are rated in poor/structurally deficient condition. Most bridges are designed to last 50 years before major overhaul or replacement, although many newer bridges are being designed to last 75 years or longer. In Montana, 41 percent of the state's bridges are 50 years old or more."
However, the report notes that Montana's highway investment is poised to increase thanks to the IIJA, which will provide $3.26 billion in state funds for highway, bridge, and transit investments in the state over the next five years, including a 33 percent funding increase in the remainder of FY 2022. And funding from the Infrastructure Investment and Jobs Act allocated for Montana's roads and transit system will add an additional $627 million in state GDP each year.
While many Americans tend to picture Montana as a bit distant and sparsely populated, the reality is that from 2000 to 2019, vehicle travel in Montana has increased by 30 percent.
This added stress on the state's aging transportation infrastructure is compounded by the already declining condition of the roadways and bridges overall. For example, when it comes to the state of Montana's highway bridges, sixty-two percent of the state's bridges are rated in fair condition, while only 31 percent are in good condition.
You Can Count on McClain and Company for Expert Bridge Inspection Support
McClain and Company believes in providing our customers with very the best in service. And that includes both the "front end" as well as all we do "behind the scenes." In addition, we believe that the "very best" in customer service includes providing our customers with the best in under bridge inspection equipment rentals.
At McClain, we hold to the principle that providing you with quality under bridge and aerial access equipment rentals is just one way that we can ensure that your projects are successful. And that matters greatly to us since we also hold to the principle that your success is our success.
This is why we have always made it our mission to do all we can to provide you with the right under bridge inspection unit rental for your specific project.
If you already know which model of under bridge inspection equipment you want and are ready to begin, we invite you to give us a call for a quote today. In fact, in most cases, we can even schedule your rental with us right then.
In addition to offering an extensive and high-quality selection of under-bridge inspection units, McClain and Company also offers a wide variety of utility and aerial equipment rentals and Hi-Rail inspection equipment, as well as traffic safety equipment and highway construction-related services.
If you have questions about equipment rentals from McClain or want to learn more about under bridge access equipment and under bridge inspection unit rentals, simply contact McClain & Co., Inc. by calling us at 1.888.889.1284 or emailing us at [email protected].