One of the great things about aerial access equipment, such as bucket trucks and bucket vans, is their wide-ranging utility. While they are commonly used for tasks such as work on power lines, overhead signage, and streetlights, for example, they can be used for much, much more.
During certain times of the year, businesses, small towns, and other communities find that a bucket truck rental lends itself quite well to jobs that are needed before – and after – the holiday festivities.
Consider the need for exterior holiday decorations, for example.
While ladders and perhaps even a scissor lift can be used for some of this type of work, anything above a two-story structure can be far more easily and safely accessed with bucket truck rentals. In fact, there is really nothing else that is either as versatile, agile, or efficient as a bucket truck for this type of work.
Scaffolding, for example, would be too cumbersome, labor-intensive, and time-consuming to use. And ladders can only reach 40 feet or so, but they must be manually repositioned and require fall safety gear at heights above 24 feet.
Ladders are also quite limited when it comes to positioning, providing a secure working platform, and the extent of access reach.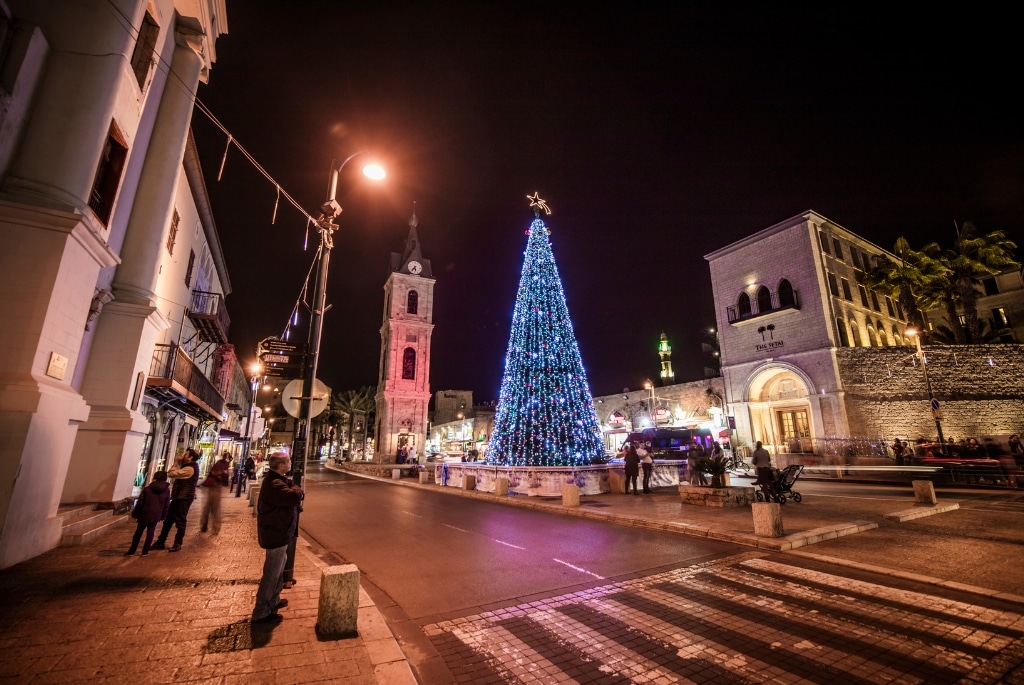 When You Need to Install Holiday Lighting for Making Everything Merry and Bright
Perhaps one of the most popular uses for bucket truck rentals during the holidays is for installing holiday lighting along structures, light poles, and across streets and courtyards.
Strings of lights, lighted decorative structures, and various other holiday-themed decorations, along with various arrangements of lights, require reliable and versatile overhead reach and accessibility.
And bucket trucks are just the right type of equipment for the job!
Of course, setting these items up, installing, and securing them is only the first part of the job. Throughout the duration of the holidays, these decorations, light strings, and other overhead holiday installations must be maintained, often repaired or replaced, and generally remain accessible. The agility and versatility of bucket truck rentals means this can be attended to quickly, easily, and reliably.
Then, when the holiday festivities have ended and the season is officially over, all the lights and decorations must then be removed and placed back in storage.
This, too, will require the extensive services of bucket truck rentals.
Holiday applications of a bucket truck's capabilities can also include topping off a municipal Christmas tree in preparation for the traditional tree lighting that is customary in many communities. Special signage that is only set up and installed once a year at businesses is another common holiday chore for these hardy vehicles.
Many larger businesses also use these types of aerial access equipment to install lighted displays above their windows along storefronts or, in some cases, on top of their buildings. The use of a bucket truck can help make these applications far easier and faster than ladders or other means.
McClain and Company has Bucket Truck Rentals for All Seasons of the Year
Whether you only need a bucket truck rental once a year for your holiday decorating extravaganza, or multiple times throughout each year for various – less festive – purposes, McClain has you covered.
For those smaller height reach requirements or jobs that entail access into tight quarters, a bucket van rental can be just the thing. Providing an ample working height of 34 feet, these standard-size vans support a one-person, 350-pound capacity work platform bucket on a sturdy telescoping boom.
Suppose your holiday lighting installation project requires a bit more reach. In that case, however, we also offer bucket truck rentals with telescoping booms that can raise a one-person, 350-pound maximum capacity work bucket between 40 and 45 feet. The boom is also articulated, with two points of articulation and a telescoping third boom. Both the boom and bucket are mounted on a two-ton pickup chassis for rugged performance and robust stability.
In addition, for those even harder-to-reach heights, McClain has a truly, heavy-duty bucket truck rental featuring an articulating, telescopic boom that can attain a working height of 60 feet and provide a "non-over center" maximum reach of just over 43 feet.
In addition to fully articulating and possessing a rotation of 360 degrees, the boom supports a large work bucket that can hold up to 700 pounds.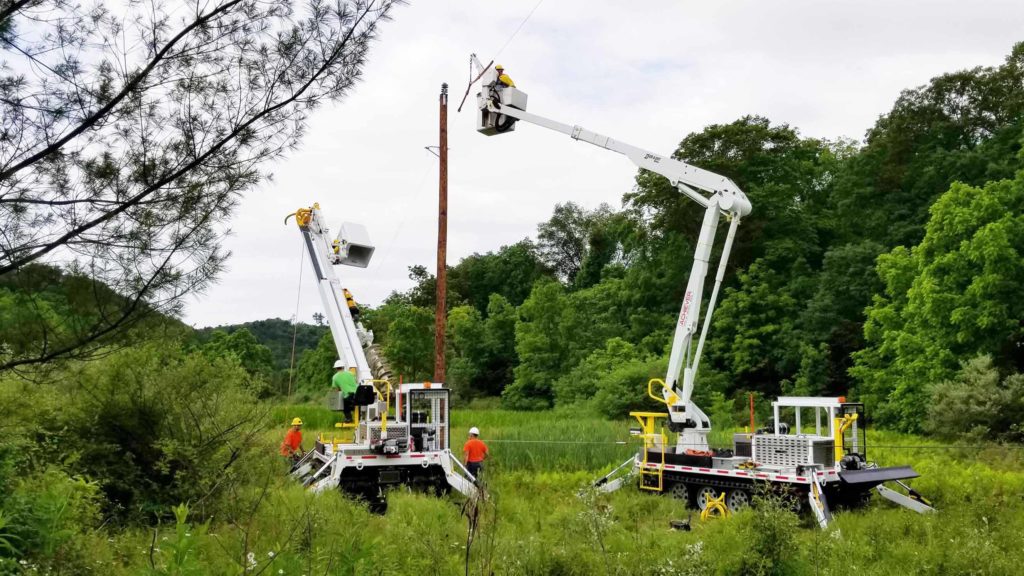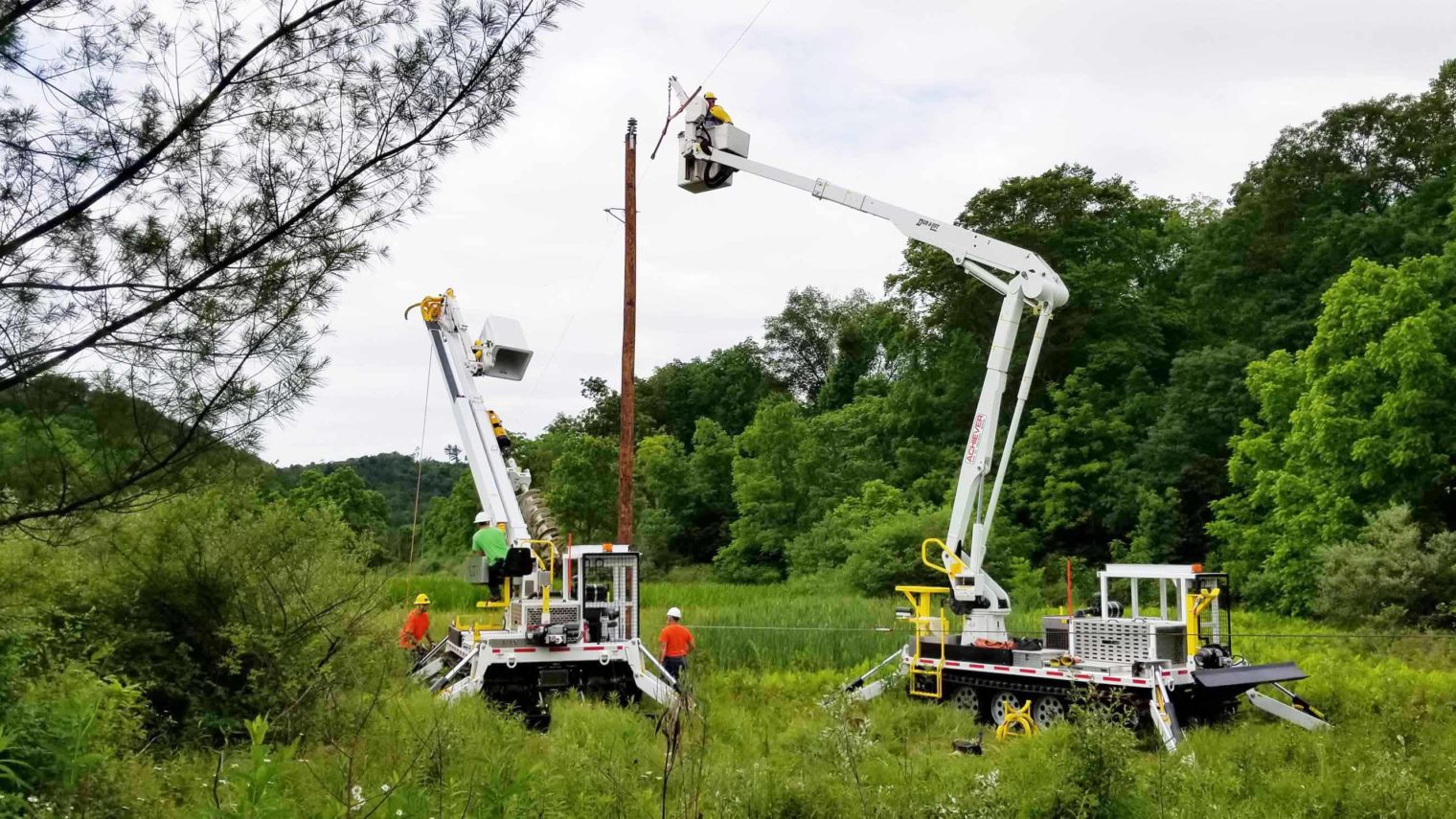 Bucket Truck Rentals for the Holidays – And Any Other Time of Year
While the Christmas holiday season is probably the truly "big" time of year for installing decorations and lighting high overhead, there are other occasions.
Many communities still go out of their way to install elaborate and often high-reaching decorations during the Fourth of July and other popular holidays. Flags, bunting, banners, signs, and even patriotic light displays of various kinds can be seen in towns and cities across America each year.
And many of these were installed using bucket truck rentals.
In addition, there are State and County Fairs throughout the country that necessitate the use of rented bucket trucks and bucket vans to carry out any number of setup and decorating tasks. Everything from overhead speakers and sound systems to decorative and functional lighting installations to banners and other types of signage must be set up and secured.
Sporting events often entail the use of bucket truck rentals for many of the same types of tasks. Because the seasonal or periodic nature of these types of bucket truck uses means that having a fleet of these vehicles is not necessary nor cost-effective, renting bucket trucks is often a far more efficient and cost-effective option.
Bucket Trucks: A.K.A. Cherry Pickers, Boom Trucks, and Snoopers
Bucket trucks haven't really changed much in their fundamental design or function over the almost seven decades since the first rudimentary vehicles came about.
And during that time, they've taken on a wide variety of monikers.
Since the days of workers using simple bucket trucks to pick fruit from tall orchard trees, these unique vehicles have gone by many names. And they've also gone through an impressive mechanical and technological evolution over the years.
The very first truck-mounted boom lifts were ostensibly designed for picking fruit though they were quickly adapted to other tasks by utility companies and others early on. Recognizing the need for a much more specialized application, the folks at Paxton-Mitchell Co., LLC designed what they christened the SNOOPER™ truck that was first introduced in 1964.
This particular version of a bucket truck was developed to allow workers and inspectors to access the regions underneath bridge decks. And since that time, the various types and designs of bucket trucks have increased almost exponentially.
Workers in specific industries still have their particular names for these versatile and hard-working vehicles.
However, regardless of what they are called by those who use them, the venerable bucket truck is a piece of equipment that is designed and used for one primary purpose. And that purpose is to provide overhead access to hard-to-reach areas that either ladders are unable to reach or that don't allow for safe or efficient use of scaffolding.
As we've noted here already, some bucket truck rentals are small, such as those mounted on vans. May others are larger – sometimes much larger. These can include multi-ton trucks with booms that can raise a large capacity work bucket up to six stories or more, to massive truck or trailer-mounted booms that can place work buckets down and under structures such as highway bridges and viaducts.
And McClain and Company is proud to offer a wide range of bucket truck equipment rentals for both under bridge access use and construction and utility work.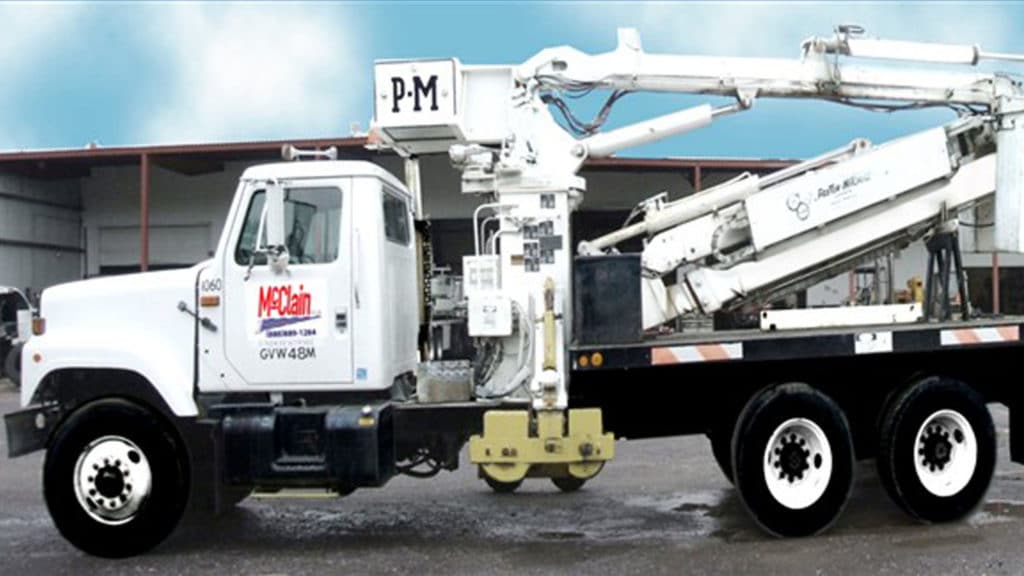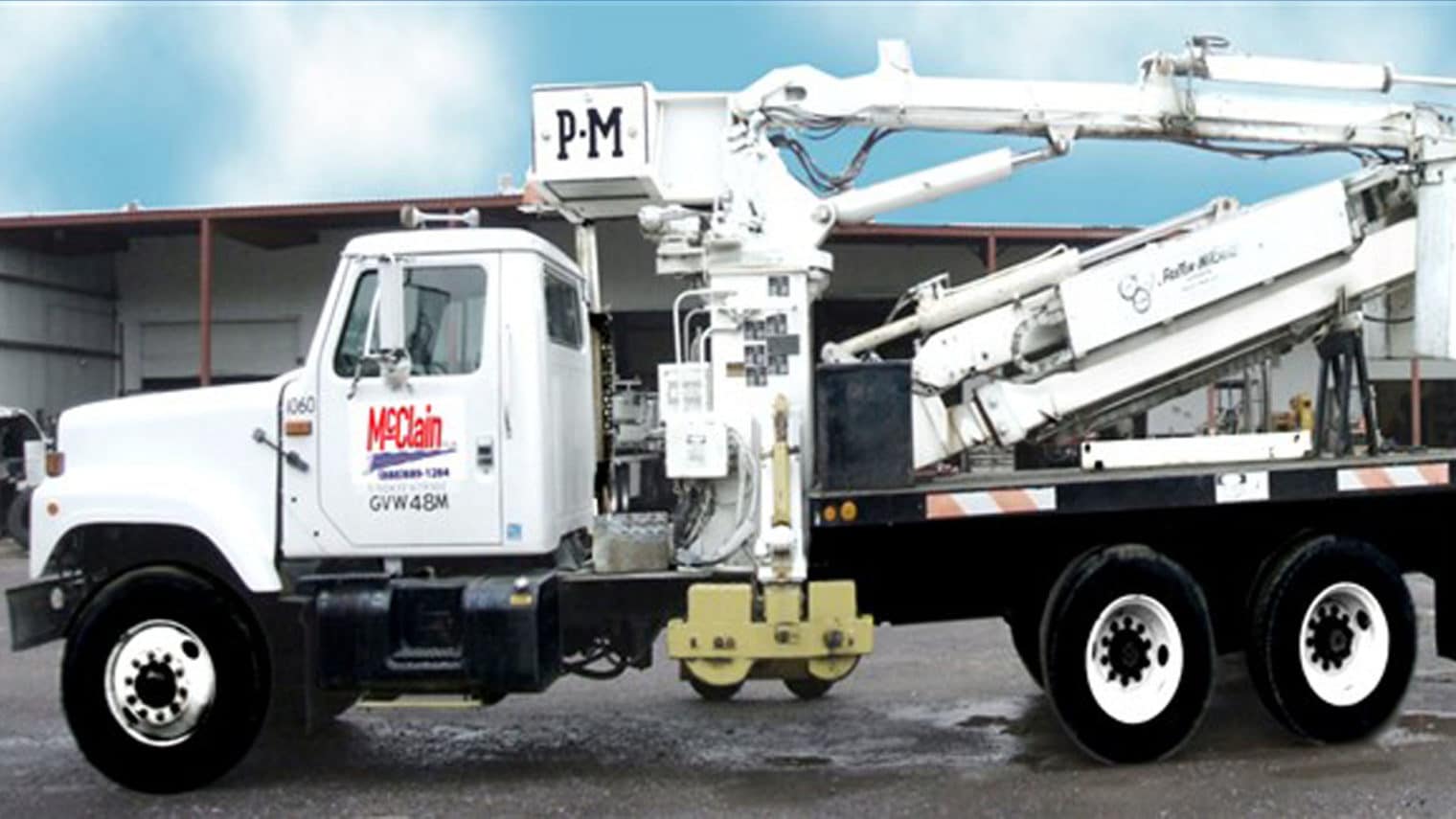 McClain and Company for All Your Aerial Access and Bucket Truck Rental Needs
When it comes to bucket truck rentals for the holiday, you can rely on McClain and Company to provide the very best in quality equipment rentals and exceptional customer service.
This is because, at McClain and Company, we have continually made it our mission to only offer our customers the most reliable and versatile bucket truck and under bridge inspection equipment rentals. Something we've been doing consistently since 1998!
For example, when it comes to bucket truck rentals, we can provide you with vehicles ranging from our 55-foot bucket trucks to our 35-foot or 45-foot versions and to the nimble 29 to 34-foot bucket van units.
McClain & Co., Inc. has always operated on the strongly held belief that "Your success is our success."
What this means in practice is that we always make it our mission to do all we can to help you select the best aerial access and bucket truck rentals for your particular project. Of course, if you already know which bucket truck unit you'd like to rent, we welcome you to call and request a quote from us today and let us schedule your rental with us.
And if you have questions about our other equipment rental services or simply want to learn more about bucket trucks or our under bridge inspection unit rentals, you can always contact McClain & Co., Inc. by calling us at 1.888.889.1284 or emailing us at [email protected].