Working on under bridge projects is one of the more challenging aspects of highway bridge and road work.
While some bridges can be accessed from underneath with the use of smaller aerial work platforms such as bucket trucks or bucket vans, many highway bridges have span heights that put them beyond the reach of ground-based aerial access equipment.
For decades, under bridge work has been accomplished by using a variety of access solutions. For example, a common approach has been to lower specialized scaffolding from the sides of a bridge deck to provide a degree of under bridge access. This method, however, does have limitations.
Other solutions include rope rigging. For example, the famed Golden Gate Bridge in San Francisco, California, is regularly inspected and maintained through industrialized rope access.
However, there are many situations when inspectors, contractors, and engineers face more complicated under bridge problems.
When Gaining Under Bridge Access Is a Challenge
Major repair work or even bridge restoration or rehabilitation projects can present accessibility challenges, for example. These can range from keeping traffic flowing during work to acquiring safe and sufficient under bridge access for workers.
In addition, many bridge structures feature high fences along the outer perimeters of the bridge deck that present vertical reach challenges to work crews. It is necessary in these instances to have equipment that provides sufficient downward reach and under bridge access and the ability to go "up and across" bridge deck barriers.
Another complication highway bridge inspectors and others face are gaining under bridge access on a structure constructed with especially large or deep, lower truss systems. This requires under bridge access equipment featuring extensive downward reach and sufficient accessibility under the bridge deck.
Most highway bridges are designed and constructed with little or no "above deck" superstructure aside from light poles and fence barriers. Others do, however. These can include bridge types such as cantilever bridges, suspension bridges, cable-stayed bridges, tied-arch bridges, and venerable truss bridges.
The difficulties that can arise from these various bridge structures stem largely from overhead accessibility. Again, scaffolding, industrialized rope rigging access, and other means can sometimes be employed; most often, however, the easiest solution to this problem is using specialized aerial access equipment.
An example of these vehicles is our 55-foot bucket truck rental, which can provide up to a 60-foot working height above a highway bridge deck.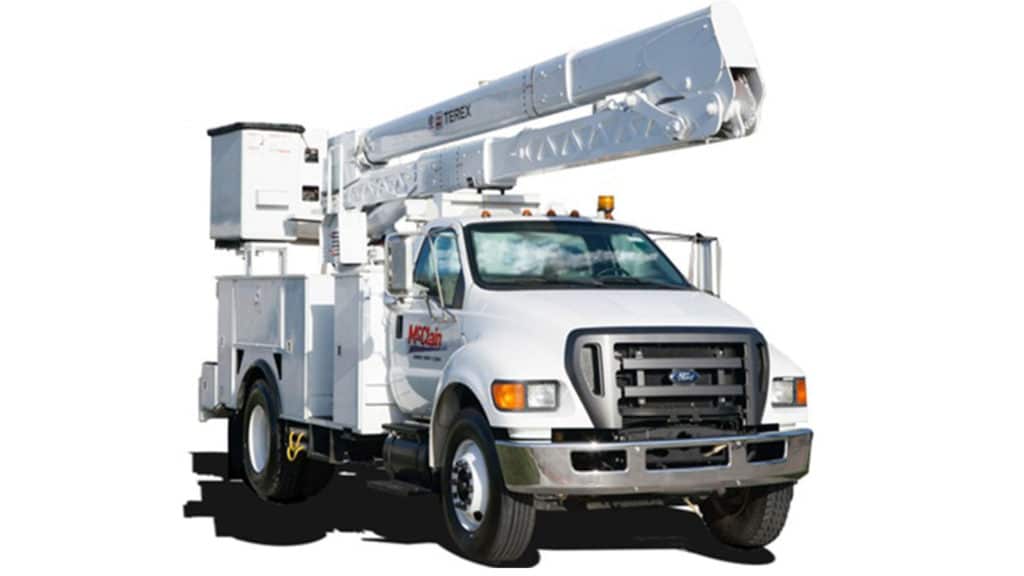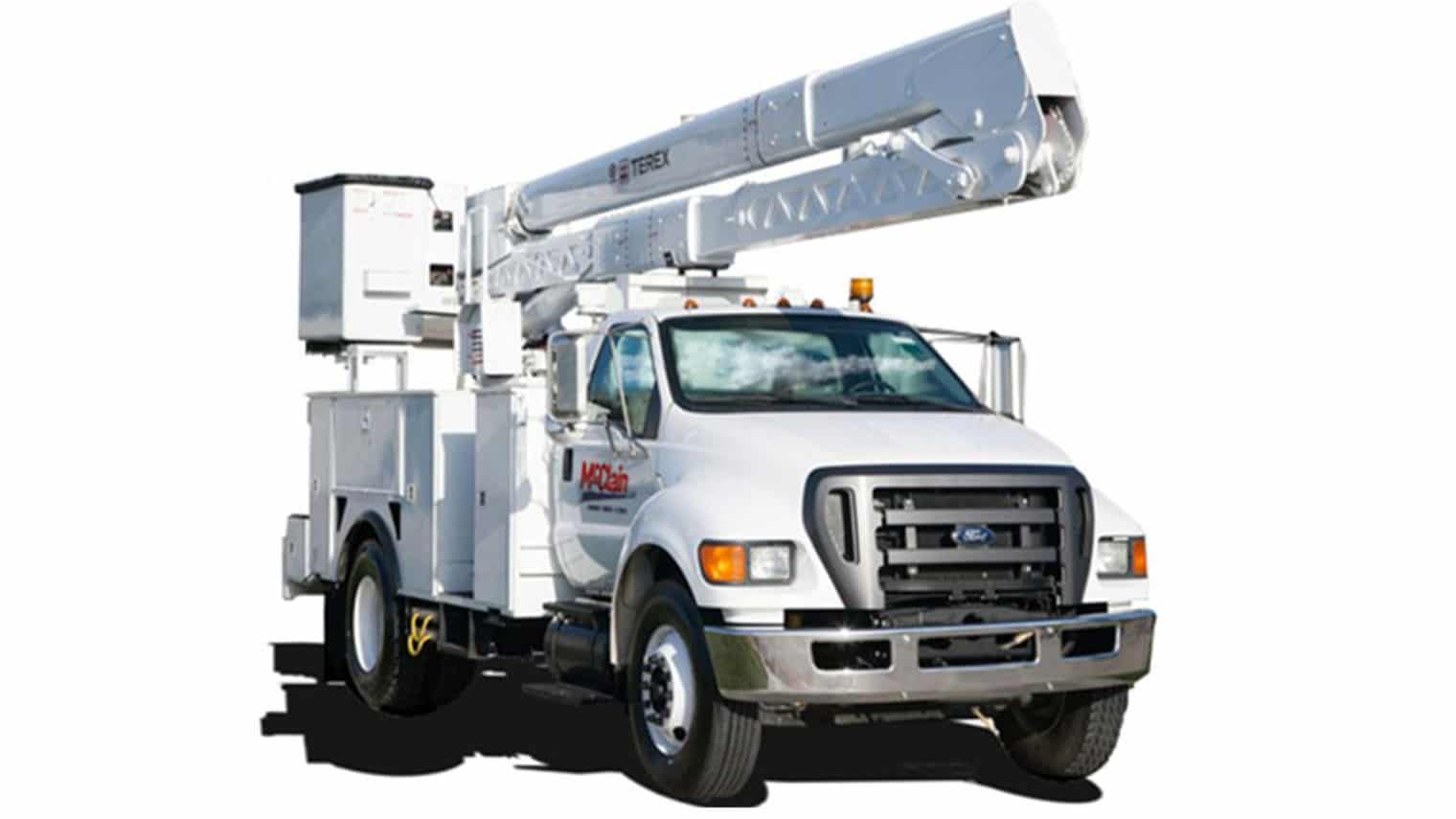 Under Bridge Access Equipment for Easy Solutions to Complicated Under Bridge Problems
Another common problem that can complicate highway bridge work is a structure's weight or load limit.
According to the Federal Highway Administration (FHWA),
"Bridges on the Interstate System highways are designed to support a wide variety of vehicles and their expected loads. As trucks grew heavier in the 1950s and 1960, something had to be done to protect bridges. The solution was to link allowable weights to the number and spacing of axles."
What this means for large vehicles, such as under bridge access equipment, for example, is that the vehicle's gross weight cannot exceed the maximum weight determined by the Bridge Formula.
As one source explains it,
"The Federal Bridge Gross Weight Formula, also known as Bridge Formula B or the Federal Bridge Formula, is a mathematical formula in use in the United States by truck drivers and Department of Transportation (DOT) officials to determine the appropriate maximum gross weight for a commercial motor vehicle (CMV) based on axle number and spacing. The formula is part of federal weight and size regulations regarding interstate commercial traffic."
The FHWA points out that the stress on bridge members as a longer truck rolls across them is much less than that caused by a short vehicle, even though both trucks have the same total weight and individual axle weights. That is because the weight of the longer vehicle is spread out, while the shorter vehicle is concentrated on a smaller area.
Smaller bridges generally have lower bridge weight limits. These limits are typically indicated by signs posted on the approaches to the bridge. According to one FHWA document,
"Weight limit signs carrying the legend WEIGHT LIMIT XX TONS are used to indicate the maximum gross vehicle weight (including equipment being towed by the vehicle) that can safely cross the bridge."
Fortunately, an easy solution for bridge inspectors and others who want to use an under bridge access vehicle to conduct highway bridge inspections or bridge maintenance work is to opt for a lighter weight unit that still provides ample platform reach.
Popular Under Bridge Access Solutions for Complicated Bridge Problems
An example of a 'light weight' unit would be the Aspen Aerials B-32.
This unit can be the perfect and easy solution for working on smaller bridges with minimal gross weight restrictions. This nimble yet far-reaching vehicle has two turntables, three booms, and a hydraulic platform extension. In addition, the Aspen B-32 can be used by workers to operate above ground level as well, even when not operating from a bridge deck.
The B-32 is a lighter-weight under bridge access unit that still provides far-reaching access with:
A horizontal under bridge reach of 44 feet, six inches
A maximum lowering depth of 47 feet, three inches
Bridge deck fence clearance of 10 feet
And a sidewalk clearance of 11 feet, 5 inches
Another commonly utilized under bridge access equipment choice for larger bridge structures is the Aspen Aerials A-75.
The Aspen A-75 has the robust capability of placing workers at practically any location underneath even the widest highway bridges. With an articulated boom design that provides access around all types of bridge members it can also easily reach over structures such as fences, railings, and light supports.
The Aspen Aerials A-75 has one of the most extensive reaches of under bridge inspection units, making it far easier for workers to repair, inspect, and perform maintenance on even the widest highway bridges.
The A-75 features one of the largest inspection platform capacities available with a large platform built to support up to 700 pounds. With a telescoping fourth boom, bridge inspectors and other highway bridge workers and engineers can easily gain access behind even the deepest bridge girders.


McClain and Company Has Been Providing Easy Under Bridge Solutions Since 1998
With a national reputation earned during the last twenty-five years, McClain and Company has always been committed to providing world-class customer service, exceptional quality, and enduring professionalism.
As a result, the name McClain & Co., Inc. has become intimately associated with integrity, reliability, and expertise in our industry. Our top-notch equipment rental service also exemplifies our longstanding reputation for quality.
We strongly believe that, as McClain, we are the best at what we do largely because of our continual emphasis on employee training and certifications. In addition, we have always pursued a deeply held commitment to always providing superior customer service.
This stems from the leadership of our owner Daniel McClain and his leadership team. Under their guidance, the folks here at McClain and Company have always made high quality the standard for everything we do and for every type of equipment and service we provide.
And we firmly believe this has been the basis for our success as a company.
One of the ways we provide this level of quality is to work with our clients to ensure that they receive all they need to help them complete their projects cost-effectively and efficiently.
This is just one of the ways we demonstrate that customer service is our number one priority.
For the Best Under Bridge Inspection Equipment Rentals, Look to McClain and Company
As we've said here, the folks at McClain and Company believe in always providing the best in customer service. And this includes offering our customers the best in under bridge inspection equipment rentals.
At McClain, we firmly hold to the belief that, when it comes to providing you with under bridge and aerial access equipment rentals, your success is our success. This is why we always make it our mission to do all we can to provide you with the best under bridge inspection unit rental for your specific project.
If you already know which model of under-bridge inspection equipment you want to rent, then please feel free to give us a call for a quote today. In fact, we can even schedule your rental with us right then.
Not only to we provide an extensive and broad selection of under-bridge inspection units, McClain and Company also offers a wide variety of Hi-Rail inspection equipment, utility and aerial equipment rentals, and traffic safety and highway construction-related services.
If you have questions about equipment rentals from McClain or want to learn more about under bridge access equipment and under bridge inspection unit rentals, simply contact McClain & Co., Inc. by calling us at 1.888.889.1284 or emailing us at [email protected].